8 Easy Ways to Liven Up a Dark Room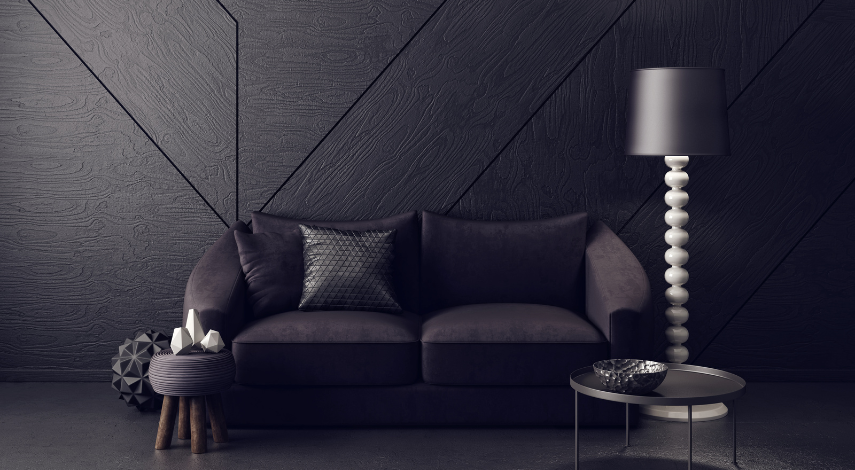 Are you remodeling a home theater room that is a bit dark? If so, then you'll want to find several ways to brighten a dark room that seem less dark – essentially pushing back the shadows.
Dark rooms can also be described as closed-in and closed-off. A dark room may not be a great space to hang out and spend time with friends because it doesn't feel friendly. The goal is to find a compromise that feels amazing and is fun but also still creates an awesome home theater experience.
This article will highlight several things that you can do to liven up a dark room during a remodel. Continue reading to learn more.
Add Lighting
A few easy ideas include adding soft ambient lighting around the room, such as a dimmed hanging lamp or track lighting, or adding smaller lamps that can be directed in the direction of artwork or the couch. You can also bring in small candles or fairy lights to create a decorative touch and brighten dark corners.
Installing dimmer switches for overheads is another great idea – this way, you can control the exact amount of light in the room depending on the mood or occasion. Finally, try to bring natural lighting to a dark room with no natural light.
Consider Custom Mirrors
Mirrors reflect light and make a room appear larger and brighter than it actually is. When placed in strategic areas, like beside a window or next to artwork or furniture, mirrors can instantly bring life to a room. This can be especially effective in dark rooms, as the mirrors make the most of available light.
Custom mirrors come in all shapes, sizes, and designs so they can fit any room's aesthetic. Not only are they aesthetically pleasing, but they also have a functional purpose. Mirrors gracefully disguise dark spots and invite more natural light into the room. Ask a designer today to learn more about custom mirrors that could be incorporated into your room.
Consider Light-Colored Walls
Whether you're looking to add a bit of pizzazz to a living room, dining room, or bedroom, a fresh coat of a crisp, light hue can often make a big difference. Botanical greens, sky blues, and creamy yellows are all great options for brightening up a room. A two-toned wall with an off-white at the top and a darker color below the chair rail can help make a room look taller and more open.
Additionally, if you want a unique look, consider a wall treatment like beadboard, wallpaper, or a special pattern for an extra boost of style. Be sure to use light fixtures, lamps, and window treatments that also further brighten the room. 
Use Light-Colored Furniture
Furniture pieces like sofas, chairs, and tables with light tones not only add brightness to the space but can bring a certain energy to the room and create a more inviting atmosphere. If decorating with a white or light beige sofa, try adding colorful, patterned throw pillows or a bright rug to make the room more vibrant.
Light wood furniture or whitewashed pieces can also bring a splash of color and help reflect the light around the space. Transparent chairs such as lucite or clear acrylic can also help to open up and lighten up a dark room without overcrowding the space.
Use Window Treatments
There are many different types of window coverings to choose from, such as roller shades, drapes, and even curtains. You can choose to add a bit of color to a dark room by choosing vibrant colors and textures or even sheer white or off-white colors to brighten up a dark living room.
You can also try adding patterned shades or a bold print to add some visual interest and texture to the space. Besides helping to lighten the room, window treatments can also add some privacy and help with energy efficiency. Another fun idea is to add hanging window treatments such as beaded strings and even dream catchers.
Add Plants
As a natural source of light, plants like succulents, ferns, and ivy can reflect light into the room and brighten up the area. Other plants, such as air plants, do not need to be rooted in the soil and can be hung from the ceiling, adding a unique and colorful element to the room.
Adding vibrant, larger plants like snake plants or spider plants to the room can create a fun focal point to add a pop of color and energy to the area. The combination of color and light that plants bring to any room will help add life and energy to even the darkest corners.
Utilize Accent Pieces
Wall art, decorative pillows, rugs, and wall hangings can all be used to brighten up the space and bring a subtle touch of color. Wall tapestries and hanging shelves, as well as wall sconces and lanterns, can add layers of texture and reflection to create a more cozy look.
Mirrors can be used to open up a room, while plants and succulents can create living points of interest. As well, changing out furniture fabric or upholstery with bold, bright colors can help draw the eye and bring light into the room. 
Use Scented Candles and Fairy Lights
Scented candles come in a variety of colors, scents, and sizes, so there's sure to be one perfect for every room. Candles can also provide a gentle, calming atmosphere, perfect for when you need to relax after a long day. Additionally, fairy lights provide a gentle glow, allowing for a more inviting atmosphere and a little bit of extra light.
Place them strategically around the room to give a comforting ambiance and help brighten up the dark spaces. There is something special about the warmth of a room decorated with flickering candles and twinkling lights, which can provide a cozy atmosphere. 
Start Decorating To Brighten A Dark Room
In conclusion, avoid dark, stuffy rooms and be creative in your approach to lighting them up. To brighten a dark room, start by analyzing what, if anything, the room lacks, and then get creative with colors, furniture, and decorations.
Make the space warm and inviting, and watch your room transform into something truly beautiful.
If you need help with any of these tips, or if you're looking for helpful advice in other home-related areas, then check out our blog!
Browse by Category