9 of the Best Temp Service Jobs in 2023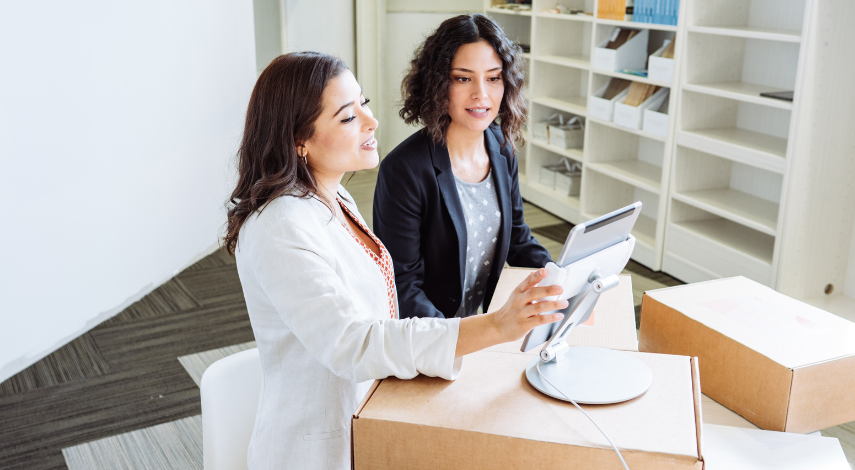 Are you ready to dive into the exciting realm of temporary employment? In 2023, opportunities abound for those seeking short-term roles with long-term potential. Join us as we explore nine of the most sought-after temp service jobs.
Every job, whether in retail or event staff, provides different experiences and opportunities to learn new skills. So, read on as we unlock new possibilities and embark on a rewarding journey in the world of temporary work!
1.Administrative Assistant
An office needs an administrative assistant to provide necessary support for daily tasks. Their responsibilities encompass data entry, scheduling, document management, communication, and maintaining office supplies. Organizational skills, attention to detail, and effective communication are paramount in this role.
Part time jobs in this role are an excellent way to gain experience. This is a great choice if you're looking for a short-term job with long-term possibilities. It can open doors to other administrative roles like Office Manager or Executive Assistant.
2.Customer Service Representative
A Customer Service Representative (CSR) is a vital role in helping customers and solving problems. They have to answer questions on the phone, email, or chat, address issues, and give help.
Strong communication skills, empathy, and the ability to remain calm under pressure are essential for CSRs. Working as a customer service representative can give you valuable experience and skills. You can use these skills in various customer-facing jobs in different industries.
3.Warehouse Associate
If you like doing physical tasks, you can try working as a Warehouse Associate. You might find these jobs through agencies like Sydney Workforce Hire. This kind of work can open doors to careers in managing logistics and supply chains. Warehouse associates ensure the smooth functioning of warehouses, distribution centers, and storage facilities.
It's essential to be careful and accurate to prevent errors when handling inventory. Their duties include managing inventory, collecting orders, packaging items, and sometimes handling shipments. The people in this job need to be strong and able to lift heavy things because it often involves physical work.
4.Data Entry Clerk
The Data Entry Clerk is an important role. They manage and organize data with precision. Data Entry Clerks input and maintain data accurately in systems, databases, or spreadsheets.
They check data to ensure it's accurate and complete, fix it, and keep it reliable. To do this job well, you must pay close attention to details. If you make mistakes when entering data, there can be serious consequences.
Data Entry Clerks handle essential and secret information. They must be responsible and trustworthy. Working as a temporary Data Entry Clerk gives you experience managing data. This experience can be helpful for jobs like data analysis or administrative support.
5.Retail Sales Associate
A Retail Sales Associate is pivotal in offering customer service and sales expertise. These workers help customers, manage inventory, and contribute to a store's success.
Retail Sales Associates must have good people skills to interact well with customers. You can learn customer service and sales skills when you work as a temporary Retail Sales Associate. This can lead to different sales and marketing jobs. It's a dynamic role that offers hands-on experience in a customer-centric environment.
6.Event Staff
Working as an event staff is an exciting and dynamic temporary employment opportunity. Event staff members are crucial in ensuring the smooth execution of various events and gatherings. Their duties include organizing events, handling registrations, and providing logistical support.
Event staff are the behind-the-scenes heroes who make events run seamlessly. They work with event organizers and vendors to ensure everything goes as planned.
Working as an event staff provides valuable experience in planning and managing events. It's a field where adaptability and attention to detail are highly valued. You can network with professionals in different industries and learn about event coordination.
7.Substitute Teacher
When regular teachers are absent, substitute teachers play a crucial role in education. These professionals keep the classroom safe and productive. They use the regular teacher's plans and make sure students keep learning and moving forward.
Substitute Teachers need to be flexible, patient, and good at communicating. They work with students of different ages and educational levels. Substitute teaching jobs offer a chance to learn about the education industry.
You will also learn to manage your classroom and enjoy helping students learn and grow. It can also help you start a career in teaching or education administration.
8.Call Center Agent
A call Center Agent plays a crucial role in customer service and communication. These professionals handle customer inquiries and resolve issues via phone, email, or chat.
Call center agents must have good communication skills, patience, and the ability to stay calm in difficult situations. They usually use scripts and guidelines to answer customer questions consistently and accurately.
Working as a temporary Call Center Agent helps you gain customer service and communication skills. You can use these skills in different jobs, like managing customer service or working in sales.
9.Healthcare Support Staff
Temporarily working in healthcare support staff roles is a valuable way to contribute to the sector. There are many different jobs in healthcare, like medical assistants and phlebotomists. These roles help support healthcare facilities.
Temporary healthcare support positions offer hands-on experience and potential for long-term career growth. For example, medical assistants can get more training and certification. This can lead to new job opportunities in healthcare.
If you enjoy healthcare and want to make a difference, working as a temporary Healthcare Support Staff can give you experience. You'll also get to explore different parts of the healthcare industry.
Start Your Career With the Best Temp Service Jobs
Temp service jobs in 2023 offer a diverse range of opportunities. You can use these roles to gain experience, try out new industries, or make some extra money. They can even help you move towards a better future.
Remember, flexibility is key in the world of temporary jobs. So, start your job search today and discover the rewarding world of temporary employment!
Looking for inspiration and fresh perspectives? Uncover a wealth of valuable information on our blog. Start exploring today!
Browse by Category