How to Achieve a Modern Look with Black Painted Kitchen Cabinets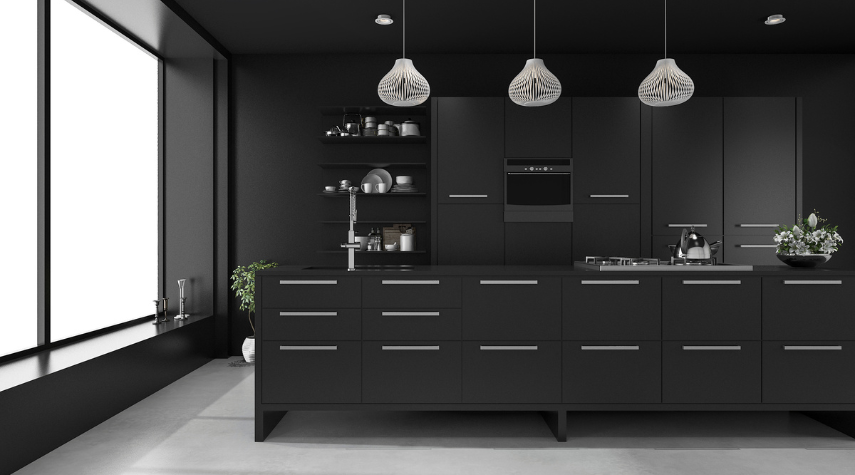 If you're looking to update your kitchen, you might be thinking about going with a black-themed design. The black kitchen has been a growing trend for several years and continues to kick right along.
Are you wondering how to achieve a modern look with black-painted kitchen cabinets? If so, then you need to know more about why black is such a popular color to include in your design. Then you can see how you can work with it.
Be sure to read below for guidance on how to turn your kitchen around with a black color scheme!
Choose the Right Cabinet Style
One of the best ways to achieve a modern look with black-painted kitchen cabinets is to choose the right cabinet style. There are various options available, from petite shaker-style cabinets to sleek, modern cabinets.
Not only does the style of the cabinet affect the overall look, but the finish also plays a key role. For a modern look, seek out cabinets with a matte black finish for a sleek, minimalist design. Pair this look with complementary colors such as white, gold, or even shades of gray.
Consider Cabinet Hardware
Think about the cabinet hardware when thinking about how to make black kitchen cabinets look more modern. Choose an eye-pleasing finish for the hardware style you decide on, like a soft satin or décor-friendly oil-rubbed bronze. This hardware is used to accentuate the cabinet as a focal point in the kitchen.
Use different textures in the kitchen, like natural wood and stone, to give it an eclectic feel. The modern cabinets should be the focal point. This combination of finishes and textures creates a truly modern kitchen finish.
Embrace Minimalism
With help from a painting company, embracing minimalism while achieving a modern look with black-painted kitchen cabinets is a great way to update your kitchen. One should begin by taking out and clearing off countertops and removing any outdated accessories or shelving units.
Next, one should sand any surfaces that could use it and wipe them down with a damp cloth. The next step is to carefully select a black paint that will blend seamlessly with the existing kitchen and apply it with a brush.
Finish off the look with modern silver handles and knobs to complete the look. Remove any unnecessary appliances and decorations to help create a more minimalist look. Refrain from using too much color or decorative elements to keep clutter and distraction to a minimum. This clean, simple style looks great with black cabinets and can give your kitchen a modern look that is both warm and classic.
Balance with Lighter Elements
For a modern look with black-painted kitchen cabinets, it's important to balance out the dark with lighter elements. Begin with white wall paint to provide a light contrast to the dark cabinets.
You can also add details like white trim work and crown molding to help create a fresh, clean look. Another option is to introduce lighter colors of your choice to the space through either bright accent pieces. This can be artwork and decorative accents or simply through incorporating pops of hue on the walls.
Light and dark accents can be made to look better together by adding wood flooring or furniture with natural wood colors. This gives the room warmth and texture. Finally, for an updated modern look, the addition of metal fixtures and appliances can aid in creating a contemporary feel. With a balance of light and dark, you can create a stimulating yet sleek modern space.
Focus on Lighting
The best way to achieve a modern look with black-painted kitchen cabinets is to focus on lighting. To create a modern look, the cabinets should be painted a deep black color, such as ebony or charcoal.
Next, focus on the lighting. Install bright LED lighting fixtures or energy-efficient pendant lights above the countertop. Put task lighting under the upper cabinets and spotlights on your favorite items or artwork to show them off.
Lastly, add personal touches like checkered wallpaper, colorful textiles, and floral wall art. The right lighting and accessories can make black-painted kitchen cabinets a statement piece in a modern, stylish kitchen.
Open Concept Design
An open-concept kitchen is the perfect space for creating a modern look with black-painted cabinets. To achieve this look, choose black cabinets made from durable materials such as hardwood or metal. Select a modern design that features cabinet fronts with minimal ornamentation or straight lines.
The cabinets should be paired with sleek countertops, preferably in lighter colors like white or cream. Also, include a modern-style backsplash made of glass tile mosaic or stainless steel. To complete the modern look, add stylish appliances with stainless steel accents.
To add a personal touch, introduce bright-colored accent pieces or accessories, such as a vase of colorful flowers or a wall art piece. Getting assistance from a professional painter can enhance the beauty of your open-concept kitchen featuring black-painted cabinets that will make you feel proud of the outcome.
Incorporate Reflective Surfaces
Adding reflective surfaces with the help of a painting contractor to a modern kitchen that is painted black can really make the room come alive. Consider adding a glossy black Tile backsplash to capture and reflect light to create a warm and inviting atmosphere.
A black-framed mirror with a modern pattern or geometric shapes embossed on it can also add to the modern look. For additional visual appeal, use metallic accents such as:
stainless steel appliances

polished nickel cabinet hardware

brass accents
Choose lighting fixtures with an industrial-style aesthetic, such as dark bronze pendant lights, to add contrast and texture to the style you desire. Modern black-painted kitchen cabinets will look the most complete when combined with a variety of reflective surfaces, and surfaces can really bring the space to life and make it a unique and beautiful area of your home.
Black-Painted Kitchen Cabinets for a Modern Look
To achieve a modern look with black-painted kitchen cabinets, remember to keep the interior design neutral, aim for subtlety, and pay attention to details.
Try adding bright lights, chrome accessories, and wooden finishes to create a winning combination. Feel free to be creative and have fun with this project!
For more informative topics, check out the rest of our site.
Browse by Category