How to Create a Floral Arrangement in Five Steps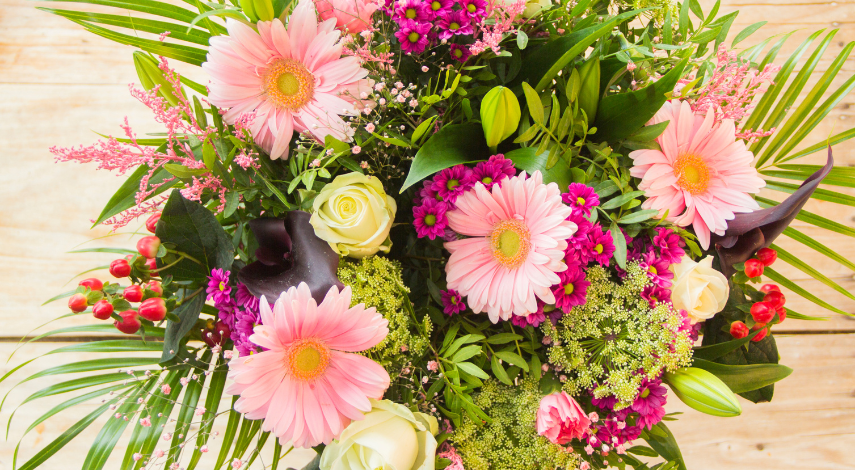 Are you looking to become more creative? Boost your confidence in your crafts and artistic abilities.
Learning how to make a floral arrangement has never been easier. Not only is it a convenient way to send a loving gesture to a friend or family member, but also a fantastic way to decorate your home.
Simply follow our guide to learn how to make a floral arrangement. You'll be commenting on your arrangement in no time.
1.Gather Materials
Start by gathering all the materials for creating your flower arrangement. You will need a vase, fresh flowers and foliage, scissors, a knife, floral preservative, flower food, ribbon, and if desired, a selection of decorative items such as pebbles, wire, moss, and leaves.
Once the fresh flowers and foliage are purchased, make sure to cut a few inches from the stem with a sharp knife or scissors, re-cutting the stems at a 45-degree angle to allow for more efficient absorption of water.
2.Choose a Vessel
To create a floral arrangement, the next step is to choose a vessel. The vessel should be proportional to the number and size of the flowers you plan to use. For example, a single rose would look balanced in a small vase, while a dozen roses would need a larger vase.
Additionally, you should consider if adding foliage will be part of the arrangement. In this case, a larger vessel may be a better option to create a fuller, more textured design. Once you have identified the size and type of vessel, the next step is to choose a material.
3.Create a Base With Large Statement Flowers
Creating a base with large statement flowers is an essential element in making a beautiful floral arrangement. Choose perfect flowers that are similar in size and color so that the arrangement has a unified look.
Place the flowers in the vase so that the stems are oriented in the same direction to create a balanced appearance. Use the larger statement flowers to outline the arrangement and then fill in the gaps with smaller flowers of similar color and texture.
4.Add Height With Taller Flowers
To create a floral arrangement with added height, start by selecting taller flowers. Consider combining different varieties of taller flowers together to create layers of different heights.
Lastly, fill in with smaller-sized flowers or baby breath to add more detail and texture to complete your arrangement. By adding taller flowers to your floral design, you can create a statement look with added wow factor.
5.Fill It in With Greenery
To begin, carefully choose flowers and greenery that will work best together. Start off by choosing a base, such as a tall vase or an attractive basket. Place various stems of greenery into the base and then begin to create the arrangement by adding filler flowers and other pieces of greenery.
Be sure to add a variety of textures, colors, and sizes that will make your arrangement look more natural. For a classic look, try arranging the flowers and greenery in an O shape or line, and for a more dramatic look, try clustering the flowers and greenery in small chunky bunches. Discover a florist here to help you come up with the best flower arrangement.
Read More About Floral Arrangement
Creating floral arrangements doesn't have to be intimidating! With just a few easy steps and some creativity, anyone can create a beautiful floral arrangement. For even more tips and advice, be sure to read more about floral arrangement. 
Did you find this article helpful? Check out the rest of our blog for more!
Browse by Category