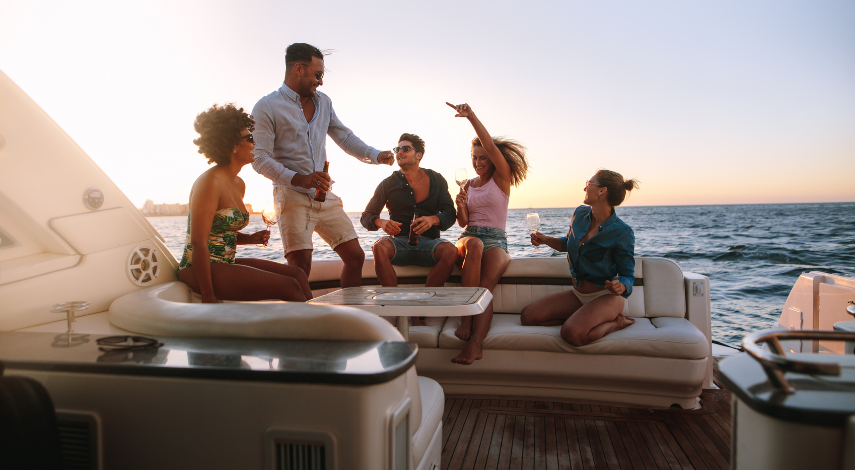 Although the pandemic was difficult on many industries, the boat-building market has managed to weather the storm. These days, the boat-building industry generates about $12 billion in revenue in the United States alone each year. More than 41,000 people work on building new boats so that people can enjoy their time on the water.
But why is there so much demand for new boats all the time? If you have ever been to an amazing boat party, you will understand why. Almost nothing can enhance a party more than having it out on the water.
However, there are a lot of details to consider when you are organizing a boat party. Having a party on a boat requires that you invest greater attention to detail and careful planning. So what should you focus on to make your next boat party a huge success?
Read on to learn all about the most important steps to take throughout the boat party planning process!
Set a Firm Party Boat Budget
Some people imagine that having no constraints allows people to be as creative as possible. However, the truth is that we need boundaries to help us come up with ideas. One of the clearest boundaries you can create for your boat party planning process is a budget.
There are a couple of different strategies for creating a budget. One is to create a loose party vote budget. This is a budget number that represents what you hope you will end up paying for your party in the ideal scenario.
However, a loose budget number is also one that moves around as you encounter new expenses and discover that some prices are higher than you expected.
If you set a loose budget number, there is a good chance that you will end up paying much more than you intended in the beginning. On top of that, it will make your decision process much more difficult throughout your planning process.
Each time you discover something that will take you outside of your budget, you will have to agonize over whether or not it makes sense to move your budget number again. However, you can avoid all of these problems by setting a firm party boat budget number instead.
This is a number that doesn't change no matter what you encounter. If some things turn out to be more expensive than anticipated, then you can change your boat party plans rather than your budget number.
Because you have already decided in advance not to move your firm budget number, this can save you from agonizing over and over again about whether to spend a little extra.
Consider Chartering a Boat
Planning a party on your own boat can provide an amazing experience. However, there are many situations in which chartering a boat might make more sense.
When you rent a boat this way, you can have staff to help you navigate the boat. You can also worry less about making sure that the boat is clean ahead of your party.
On top of that, you might want to invest in an incredible experience like a party boat booze cruise. At the end of the day, you'll have to decide whether it makes more sense to rent a boat or use your own. However, if most of your parties have been on your own boat, it might be worth mixing things up a little.
Choose the Right Yacht Party Refreshments
The refreshments you choose for your boat party will have a huge effect on the enjoyment people have. You might want to get in touch with your guests and ask them about what they might like to have during the party. After all, why guess about what people will enjoy when you can simply ask them?
You can also take this opportunity to ask for advice about general boat party refreshments. Some of your guests may have experience with boat party refreshment choices and can point you toward options you are not aware of.
Bring Sunscreen to Your Party on a Boat
When people come to a boat party, they will hopefully bring their own sunscreen. However, you should bring plenty of extra sunscreen for anyone who does not have it or who runs out. Spending many hours out on a boat can lead to intense sunburn without proper precautions.
You might also want to bring a variety of different kinds of sunscreen. Some people are picky about the sunscreen they use.
Create a Fun Boat Party Theme
Themes are a powerful way to help people remember a boat party forever. Some of the most obvious things you can pick are related to the water.
If you are having a boat party for kids, then you might pick a theme like The Little Mermaid. Or, you can choose a Gilligan's Island theme for adults.
However, you can also choose themes that have nothing to do with water. In fact, the less your theme has to do with the water, the more your boat party may stand out in the memories of your guests.
Follow the Best Boat Party Planning Tips
With the right preparation and planning, your boat party can be an unforgettable experience. However, it is essential that you start the planning process as soon as possible to make the most of your upcoming boat party. Following the tips in this article will help you create a stellar event that accounts for all of the most important details.
To learn more about the latest information in boats, business, and more, take a look at our other articles!
Browse by Category