Lawyer Web designers: Website Design and SEO for law firms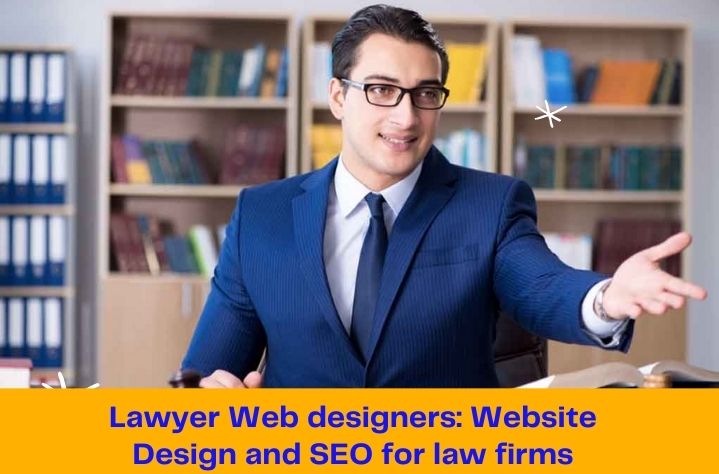 Just like other industries, the legal industry is a competitive one. The increasing competition has made it essential that every lawyer and law firm takes the right step to make sure that they stand out from others. A very first and significant step to make sure that your potential client notices you is by creating a website for the area in which you practice law and show them that you have the necessary skills and have what is required to take their case and win it. 
Creating a website is not rocket science with the modern tools available. It is easy, but if you wish to stand out from the crowd, you need to do something out of the box, and not everyone is doing it. If you want to gain knowledge about an exceptional lawyer website design and wish to learn tactics such as Search engine optimization to enhance the reach and increase the quality and quantity of online traffic of your law firm's website, you have just come to the right place.
Lawyer's website design tips:
The lawyer website design tips will make sure that your website shows essential information. The visitors will have the best possible user experience irrespective of their gadget to visit your site.
The website should be responsive and fast.
A slow website is a deal-breaker. No one wants to explore a website that takes ages to load. Nowadays, almost everyone uses a smartphone, and the same smartphone is used to search for things online. Therefore, the website should be responsive enough to adjust as per any gadget that the visitor is using.
Adjusting means resizing according to the screen size of the device that the website is viewed on. Don't let viewers on the mobile phone leave your website just because they have to scroll in all directions to search for a topic that they are visiting the website for. A responsive website allows visitors to access your content without any problems on any device.
Easy to use
A fast and responsive website will make the website easy to use, but few other points should be considered to make the website more user-friendly.
The text should be easy to read.

The main navigation should be completely free of unnecessary links

Minimize the distractions on the website, such as pop-ups and animations.
List your services
The visitor can immediately know whether to hire you or not. If you are capable and possess the necessary skills for the particular situation they are looking for, your website clearly states what services you offer and how you can help your clients. 
The best and practical marketing tips
The below-mentioned tips will not only put you on the map and make you visible on search engines but will also help you to lure more quantity and quality online traffic.
The effective use of Search engine optimization for law firms
To enjoy the benefits of organic traffic, your website should be optimized for search engines. Using WordPress for the website is recommended as WordPress has excellent and adequate built-in SEO features. Not just that, WordPress also comes with lawyer and attorney WordPress themes that are optimized for SEO.
Here are some tips to keep in mind when it comes to SEO.
Use alt text and proper names for images; good naming helps the search engine better understand your website's content.

Do not stuff your posts and website pages with keywords relating to your practice area, which can harm search engines penalizing your site.

Do proper formatting of text to make it easier for the search engine to read and understand its content and posts' importance.

Your links should use contextual description instead of " HERE" or "Click This." This makes it easier for the visitors to understand what the link is about and helps search engines determine whether or not you are linking to relevant sources. Read more about Lawyer Website Designers by

clicking here

.
List your Law firm's website with Google.
Listing your law firm on Google my business is entirely free of cost, listing your website on the same makes it more accessible to the visitors, makes it interactive, and also increases the chances of your website to show up on the search when a similar thing is searched for by the visitor.
Testimonials.
Sharing testimonials of your clients is the thing that can never be missed to be added to your website. Reading teAs a result, testimonials of your clients and seeing that the same problem has been handled efficiently by your law firm in the past gives confidence to the visitors and helps them decide to hire you. Get more information on Law firm Search Engine Optimization, click here.
To conclude –
These lawyer website design tips will help you take your law firm website to the next level. The information will help you create a website that will help you turn your visitors into clients. If you are just getting started, these tips will put you on the right path to design and market the website that you can be proud of.
Browse by Category