10 Tips to Boost Your Sales and Strategize Your Sales Team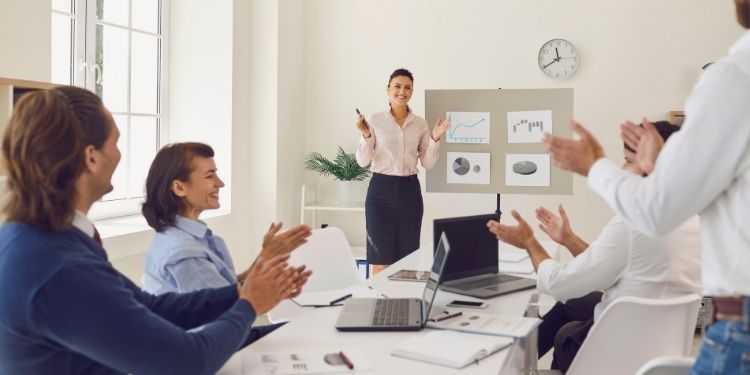 The sales and marketing team is the 'backbone' of your company. Because no matter how unique your product is, if there is a lack of right marketing, you will fail as a business. Driving in more sales and serving total satisfaction to your customers doesn't come easy. You need to apply many strategies, hire a quality workforce, and invest in the right tools for your business. There are more tips to increase your revenue like:
Focus on the Right Customer
When you develop any product, you must have a specific set customer base in mind that you prefer to target. But over time, you forget about them. The sales managers and reps are so committed to selling the products/services that they often forget to focus on the target customers or quality customers.
It is important to always follow: quality over quantity. This will help you in achieving your long-term goals. You should focus on the right qualitative customers, the ones for whom your products and services can be useful and solve their problems simultaneously. Remember, your products/services should target the goal of increasing your customers' productivity.
Analyze Your Growth
I understand your urge to sell products and services to prospective customers and provide them with quality services. But, there are two cases when people usually don't buy your products/services:
Either they are not finding your product/services useful or
They are not ready to buy your product/services at the moment
If it is the second scenario, you and your team need to find where the problem is and immediately fix those marketing or technical issues. This is why you should analyze your growth on a regular basis. It gives you insights into your working or failing strategies so that you can improve them.
Build the Trust
Standing as a trustworthy company is not easy as it takes a lot of effort and proof to gain the audience's trust. Show your company's work, certificates, client testimonials, about your company/products, etc. All these proofs will help you to increase your company's reputation and gain more prospective clients.
Know Your Product
This is the first and crucial thing that your team needs to understand. The fact is that one cannot sell something that they don't know about. So, understand your product, invest your faith in it and move ahead with confidence while marketing the product. This will build faith and confidence in your staff and customers for your business.
Understand Your Customers' Requirements
Understand what your customers need and make changes accordingly to fulfill their requirements and expectations. It is equally important to continuously keep taking feedback from your customers. This will help you know what they want. Thus, you can then find ways to improve your product and serve them with all their needs.
All these processes require a lot of back and forth processes, intense research, and strong team support. But, if you continue to involve your customer's interests in your business, it will help you for a long time.
Serve Personalization
Make your customer feel special by providing them with personalized dashboards. The customer portal gives them the freedom to paint their dashboards with different themes, fonts, etc. Allow them to save their wish list, secured payment methods, contact details, etc. in their personal dashboard. This dashboard can help your employees to keep track of your clients, get records of potential customers, leads, etc.
Use the Right Helpful Products
There are more than many products available in the market today, but the question is – which suits your business the best? Dynamics CRM mapping, customer portal, dynamics CRM calendar are a few of the necessary tools to enhance our productivity and increase sales. Dynamics 365 Calendar can be useful to manage your team's task sheet, set reminders, and analyze individual employee's reports.
MS maps tool is an extraordinary extension that will help your sales managers and representatives to streamline your sales operations. It is a productive tool that helps everyone to stay on the same page and work together efficiently. You should give this extension a try. Why? Because it provides:
Sales managers can provide marketing teams with exclusive and curated data based on location. This helps them perform location-based marketing, understand each user's requirements, and then provide services accordingly.
Increase Team's Productivity
With the help of Dynamics 366 CRM Field Mapping, your team can dodge unnecessary back and forth communication between managers and team members. Team members can share their daily routes with their managers and vice versa. Additionally, managers can live track their team member's locations and send daily schedules to them. This leaves no spot for misunderstanding, and it also helps to keep everyone on the same page.
Enhance Your Decision Making
It allows your sales managers to visualize and analyze the insights of CRM data. They can understand this data using pie charts, heat maps, etc. Through this, you can get better insights into your products, selling, revenue, etc. This all will help your sales team to take the necessary decisions and promote more sales.
Learn About Competitors
You should always keep an eye and analyze what the competitors are offering to their customers. Learn new techniques and think of ways to outdo them. Competition is both a challenge and an opportunity to boost your sales. By accepting your weak points and using your competitor's weak points, you can maximize your strengths.
Use Social Media Marketing To Your Advantage
I am assuming that you are well aware of how social media has the power of marketing your products. It has a wide range of audiences including all gender, age groups, and interests. You can use social media sites like Facebook, Twitter, Instagram, and your blog to your advantage. We all know how social media possesses the power of attracting more audiences to your stage. You can use the social media paid marketing tools, tricks, and tips for making the best out of them.
Some of the benefits of applying social marketing include:
More channels to sell your products
Lower costs to acquire customers
More access to qualified leads
Pick the Right Price
Perform market research on your competitors to determine the correct price of your product in the market. If you give a high price to your products, be prepared to over-deliver the quality to your customers. You can determine the price by the "perceived value" of your product. If your product possesses any uniqueness and reflects any superiority in front of your competitors, then you can charge a higher price for it.
Wrapping Up
Investing in the right tools and setting the right working environment for your sales team is the code for more sales and customer satisfaction. These tips will help you stay ahead of the competition and serve your sales team and your customers with nothing but quality.
Browse by Category