6 Reasons to Love Urochart EMR in 2021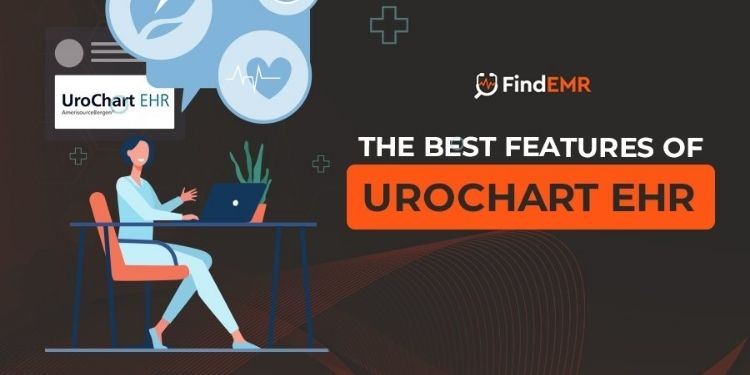 Selecting the appropriate EMR solution to improve practice workflow efficiency is a constant struggle that most healthcare providers have to go through. Since each medical facility has unique problems and needs, the software chosen for them should fit their needs criteria. In this article, we will discuss one of the most top-rated EHR systems – Urochart. It offers a number of robust features that help users streamline their daily workflows and boost operational efficiency.  
Urochart – An Overview
Developed by IntrinsiQ, Urochart EHR is a urology-specific health recording solution designed to improve practice efficiency. This cloud-based platform helps users automate daily workflows, align integrated tasks, and deliver the best patient care possible. It offers comprehensive solutions to facilities catering to urology practices. In addition to this, the software offers all the features urology practitioners need to ensure the smooth functioning of their facility. Users can also utilize its customizable interface and flowcharts to improve productivity. 
The platform allows users to easily handle patient information with the help of its EMR feature. Healthcare providers can focus more on patient care instead of spending all day on administrative tasks. They can manage patient history on a cloud-based database. This is beneficial even for the practices with remote users and enables them to access data on the go.
6 reasons physicians love Urochart EHR
Following are the top 6 reasons physicians love this software solution (and we think you will too).
Urochart Mobile to improve remote functioning
In today's digital world, remote functioning is a must-have for most healthcare practices. This software allows users to carry their health recording solution with them in their pocket by providing them with a completely remote solution through the Urochart Mobile. It is a mobile app that lets them manage schedules and hospital round lists. Not only this, but they can also connect with their patients using the mobile messaging option and manage appointment schedules remotely. 
Electronic Prescribing of Controlled Substances (EPCS) is available
The security of patient information is a major concern for healthcare practitioners. Urochart EMR makes it easy for providers to achieve the level of trust and ensure full information security by preventing abuse and fraud of controlled substances. The software's controlled e-prescribing feature enables its users to easily share prescriptions online with various pharmacies and manage everything remotely. This way, users can save a lot of time and pay attention to patient care.
Offers customizable templates
This software solution comes with customizable templates that enable users to organize data and view patient history at a glance. These customizable templates also help users by eliminating double data entry and allowing them to manage patient history efficiently. The ability to customize templates according to their requirements provides users more autonomy over how they want the data to be kept.
Managing patient appointments is quick
UroChart EHR software also offers a robust patient scheduling tool. This tool helps users manage the daily calendar and enables them to schedule, reschedule, or cancel patient visits without any hassle. Physicians can automate the entire scheduling process using this feature. Moreover, the software automatically sends reminders to patients to significantly reduce no-shows. This helps practices in improving the daily capacity, overall revenue and so much more. Automating the process of patient scheduling allows them to increase the number of patients that show up to a clinic.
A robust patient portal to improve patient engagement
This patient portal is another reason why physicians love Urochart Software. It helps users to connect with their providers remotely and also lets them actively participate throughout their care process. They can share documents, access test results, images, request prescriptions refills, and communicate securely with their healthcare providers. In addition to this, patients can schedule their own appointments and book a time slot that is suitable for them. 
Integrated direct messaging for seamless communication
Urochart EMR solution provides a direct messaging feature that helps users to connect with their colleagues and internal staff easily. They can share documents, get in touch with other healthcare experts, send files, images, and a lot more. This lets physicians manage their staff properly and supports effective collaboration between different aspects and teams of an organization.
Overview of benefits
Based on top Urochart reviews, we have noted the following benefits for this product:
This software was developed by IntrinsiQ to maximize operational efficiency as it streamlines day-to-day tasks for medical experts, allowing them to focus on patient care and practice revenue.

It comes with a number of useful features that benefit users in various ways. Some of the highly acclaimed features include patient eligibility checks, multi-user accessibility, and easy navigation options. 

UroChart EMR is an ONC-ATCB certified platform that offers a touch screen interface for a more interactive experience, a timeline that graphs the patient data chronologically, an easy-to-use navigation system, notes, scanner, and access on iPhone via the internet.

This healthcare IT platform allows users to keep patient charting and records with their routine diagnosis with the help of pre-designed templates. These templates can be customized as doctors can replace widgets and arrange them according to their unique requirements.

Based on top Urochart reviews, automated email reminders help clinicians boost productivity and patients seem to benefit from the patient portal.

This urology-specific solution offers an aesthetically pleasing and user-friendly interface that allows users to modernize patient care.  

It gives urologists all the tools they need to navigate patient care in the most effective way possible including forms, charts, and templates.
Final Thoughts
We have put together some of the reasons that set Urochart EMR software apart from other providers in the industry. But before investing in this software solution, we recommend you test-drive this product by booking its demo version. Visit FindEMR to find out more about the best-suited EMR software for your practice.
Browse by Category