9 Outstanding Features From Aesthetics Pro Online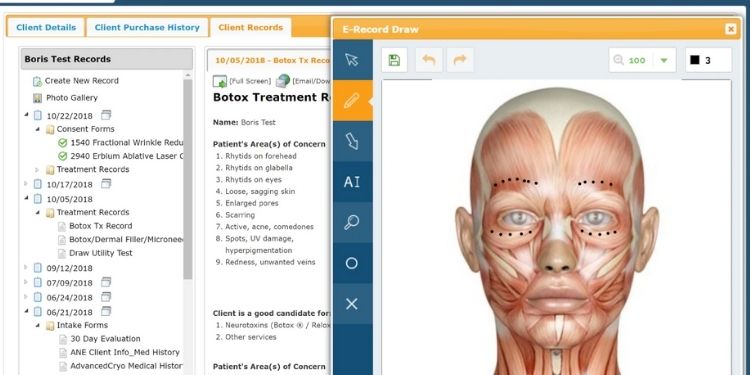 How do you truly decide if any medical software is right for you? In order to do so, you need to assess a few aspects of the software in question. Some practices opt to do this by looking at the customizability and flexibility of the software. Aside from this, other practices can also do this by looking at the features that the medical software has to offer instead.
When it comes to Aesthetics Pro Online, the features are just so amazing, they can be hard to ignore when making a decision. So in order to make it easier for you to decide, we have found nine amazing features that make a huge difference. After reading through the points for each of these, you may be able to figure out if Aesthetics Pro works for you.
About Aesthetics Pro Online
Aesthetics Pro Online is a system through which practices and other aesthetic facilities can manage some crucial areas of their work. It allows them to keep track of their client data with the use of records, along with other tools. It is a medical spa software that can be also be used for billing, reporting, marketing, and a lot of other applications needed at the facility.
You can ask for an Aesthetics Pro Online demo by talking to the vendor. The demo includes information about all the features offered by the software. The vendor can also give you information about the Aesthetics Pro Online pricing. You just need to tell them about the features or add-ons you are looking for. Then, you can get a customized quote.
Features of Aesthetics Pro Online Software
There are plenty of features available in this software. In fact, there are so many features that we cannot even try and add them all to this article and do them justice. However, there are some features that stand out when you are using Aesthetics Pro. Therefore, we took nine such features and highlighted them here so you know what you are getting!
Manage Client Records
Whatever the number of clients at your facility, you can store all of their data in one place. This includes all of their records, notes, images, balances, and much more. This helps you have a comprehensive direction of care across all the work that you do. With this in hand, you always have access to all of the data at all times, which can even be easily shared.
Schedule Visits And Rooms
Scheduling isn't just about the doctors and clients. It is also about the staff, rooms, and all of the equipment used. This software helps you create dynamic schedules that can be adjusted to the needs of your calendar. It helps to keep everything running smoothly. This is also the best way to make the most of your calendar, and spread shifts in the most effective way.
Access Reporting Tools
When you use Aesthetics Pro, you get to use the ultimate reporting tools. What really makes them stand out is that they can give you comprehensive analytics for your facility. The criteria for the report are set by you, which helps you have complete control. The benefit is that reports like this can be used to improve revenue generation, and can be downloaded.
Faster Client Intake
When you use Aesthetics Pro Online, you can also improve the way clients enter the system. For example, you can use the software to create forms that allow clients to enter their own information. This makes clients feel like they are an active part of the process, and it also helps to reduce the workload on the front-desk staff members.
Effective Marketing Strategies
No practice can grow without some kind of marketing. Whatever your strategy is, you can use Aesthetics Pro to enhance what you are doing. It will help you create email campaigns, and even target a specific demographic. The software helps you create dynamic messages that will attract clients to your practice and help improve your reach to new demographics.
Retain The Clients Who Visit
Once you have gotten new clients to come and visit your practice, the next task at hand is to keep them coming back. One of the ways you can retain clients is through loyalty programs. This will help you reward patients who visit most often. Loyalty programs are also effective because they incentivize clients to come back for more services and improve revenue.
Manage Your Online Reputation
An online reputation is one of the main stakeholders in how facilities grow in this day. You can use Aesthetics Pro Online to get customers to give feedback on their experience. This is helpful so you can show other prospective clients what your facility has to offer. It makes it a lot easier for people to find you and consider you for their next visit.
Set Up A POS System
Point of sale systems are essential so you have a good mechanism to collect payments. You can do this with Aesthetics Pro so your clients can easily pay for services. The software lets you generate invoices for clients after their visit. This can even be done automatically to cut down on the manual work you need to carry out.
Allow Online Bookings
Lastly, one of the best features of Aesthetics Pro is that it moves with the times. This has allowed the software to let clients book their visits online from the comfort of their own homes. The system is also automated to send updates about their visit as soon as they book it online. With a system like this, you can be more efficient and have more bookings.
Final Note
When looking at Aesthetics Pro Online there is no doubt that there are a lot of features. However, make sure to do your research before you decide what the right course of action is for you. For example, looking at the Aesthetics Pro Online pricing can give you a good insight into whether it is the choice for you You can weigh all the information and decide.
Browse by Category