Common Mistakes To Avoid When CCTV installation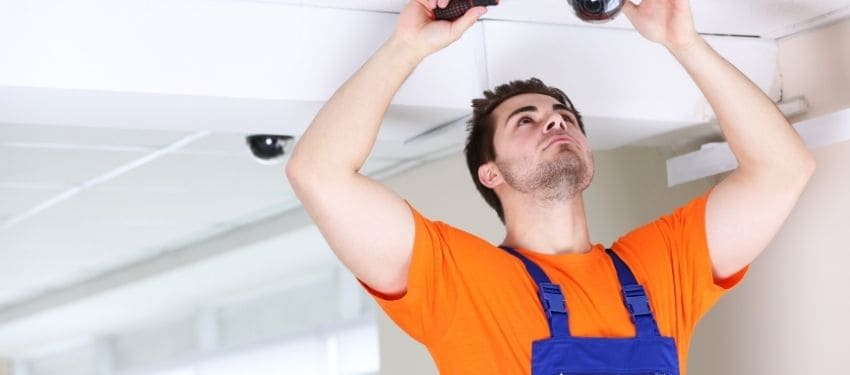 This article discusses the value of CCTV installation in schools. The increasing incidences of child abuse and negligence have generated queries in the minds of all parents and responsible citizens. Checking up for any deviations or oddities in children's behavior is something we can all do to help in this battle.  But, as humans, we sometimes miss things or let our guard down. So how can we protect children?
Significance Of School
CCTV installation
SP Networks has put together this guide to give people in charge of school CCTV Installation Services the tools they need to make the best security system investment.
Preventing Antisocial Behavior
One of the many advantages of CCTV camera systems in schools is that they deter vandals and criminals. Unfortunately, schools are frequently targets of theft, vandalism, and other antisocial behavior. Thieves frequently target bike sheds. When the school is closed, scumbags break in and wreck windows, property, etc. Bullying, drug peddling, and alcohol abuse are examples of antisocial behavior.
School security officers confront all of these issues regularly.
A well-designed HD or IP CCTV system can help deter antisocial behavior. Security cameras can cover recognized hotspots, and warning signs can dissuade petty thieves and vandals. You can use a CCTV camera to catch offenders if antisocial behavior occurs. Prevention is always better than cure. We recommend a monitored CCTV installation in high-crime schools. It improves security and reduces crime.
Safety Of Students
Parents expect their kids to be protected at school. Unfortunately, fights and other situations do occur, necessitating an inquiry. In today's environment, drug peddling in schools is a terrible reality. Unauthorized access is another issue. CCTV systems can detect and track drug dealers, known trespassers, and gangs from rival schools to combat these security threats.
Teacher And Staff Security
Everyone deserves a safe workplace, including school teachers. No one should have to go to work in danger of violence or other forms of antisocial behavior. Generally, schools have only a few isolated cases of criminality. Unfortunately, some schools have a more difficult climate than others. In each scenario, one can establish a robust, reliable CCTV system to provide teachers peace of mind, knowing they are protected from irate students.
We would always propose a remote CCTV monitoring service for schools operating in more demanding environments where security is paramount. An offsite professional monitors a school's security camera system 24/7 via CCTV surveillance. As a result, dangers are identified as they arise and can be dealt with quickly.
Dealing With Emergencies
School criminality has gradually increased in recent years. Knife crime in schools was reported as a major issue last year. School security officers have a difficult job. There are some instances in which an evacuation is required to preserve the safety of students and teachers. Knife violence, drug peddling, and attacks on teachers have all grown commonplace in schools. Fires can ignite by accident or on purpose in various instances. Then there's the terrorism threat.
In the case of a withdrawal or lockdown, CCTV systems have several advantages:
If someone enters the school with a knife, CCTV cameras are utilized to keep track of them so that the police can be contacted and routed to the appropriate area.

If the school has an access control system, it can be locked down to safeguard its students and personnel if the CCTV surveillance cameras detect an external threat.

In the event of a fire and the need to evacuate, security cameras can be used to identify anyone still within the building attempting to flee.

In a stressful situation, pupils may also become divided. The security cameras can track where these students travel when they leave school.
Security After Hours (When The School Is Shut)
Criminals frequently target schools during non-school hours, such as weekends, holidays, and nights. Many schools leave valuable equipment like computers, iPads, and sports equipment on site for security reasons. These priceless things must be safeguarded. Vandalism is also a problem, with windows damaged, graffiti scrawled on the walls and broken playground equipment.
Several possibilities exist depending on your school's security setup.
Schools with On-site security officers:
We propose an HD or IP CCTV installation for schools with an on-site security crew monitoring the cameras constantly. A thorough site survey would identify potential break-in spots. The site survey also allows the security systems installation to recommend the right number and type of cameras for 360-degree security coverage. Schools without a security presence on campus
Schools without on-site security
Remote CCTV monitoring for schools without an on-site security officer is the ideal answer. They can include audio in CCTV surveillance systems. If a threat is detected, your dedicated security specialist can interact with the intruder and inform them that the authorities have been informed. A possible crime has been discovered. Potential criminals have been deterred.
You can ask the SP network a question using their contact form if you're considering upgrading your present security cameras or investing for the first time. Alternatively, call them to speak with one of their expert security professionals if you require assistance regarding CCTV installation.
Browse by Category