Commercial Parking Lot Cleaning Tips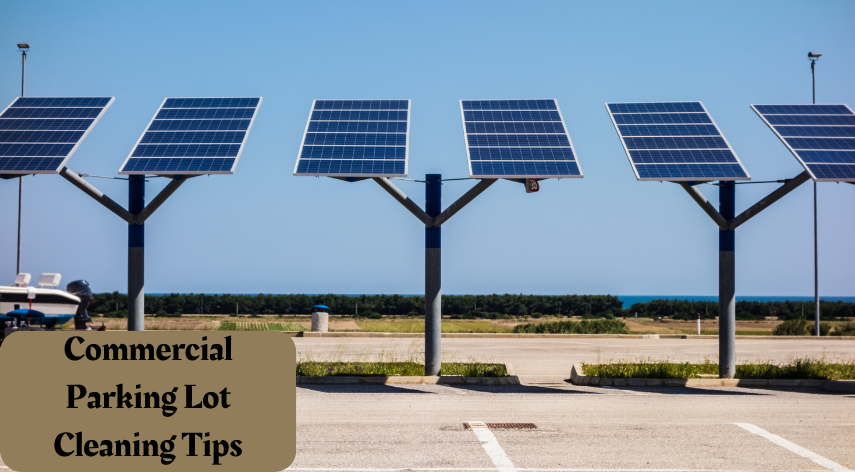 Many people tend to think of cleaning their personal property (cars, homes, etc.) regularly. However, commercial cleaning of these spaces is something we often overlook.
Are you ready to start cleaning up the look of your commercial property? This simple cleaning can have some big payoffs on the caliber of customers you attract to your business.
Here are some commercial parking lot cleaning tips that can help you improve the look of your property. Who knows? It just might increase the number of customers coming to your company.
Regularly Remove Trash, Dirt, and Debris
Regularly removing trash, dirt, and debris should be the priority when it comes to commercial parking lot cleaning. You can do this with a sweet sweeper machine that can quickly pick up unwanted material and dispose of it. You should also keep brooms and shovels on hand in case the need arises.
Try Pressure Washing
Pressure washing is an effective way to clean a commercial parking lot and can help avoid the accumulation of dirt and grime. It's a popular cleaning solution as it can easily reach into nooks and crannies that other methods may not. 
Use the Right Products
Using the right products for commercial parking lot cleaning is essential for achieving great results. If using a power washer, make sure to select a detergent that's designed for use with a power washer.
For general cleaning, you can select foaming or non-foaming concrete cleaning solutions. Strong detergents with a high concentration of surfactants can effectively break up traffic grime, oils, and dirt.
Be sure to select biodegradable products whenever possible to avoid polluting nearby waterways. When possible, use green-friendly products that have earned an EPA registration.
For effective grease removal, choose cleaning solutions with a high phosphoric acid concentration. The right products can make all the difference when it comes to cleaning a commercial parking lot.
Fill and Seal Cracks
When parking lots need maintenance, filling and sealing cracks should be a priority. The process helps to repair the pavement and prevent further deterioration.
To properly fill and seal cracks, you must first clear debris from the cracks. Next, an asphalt emulsion or cold pour crack filler should be applied to seal the cracks. Once the product has dried, silicone or polyurethane caulk may be used to further seal the cracks and improve the durability of the repair. 
Hire Trusted Parking Lot Sweepers
When looking for parking lot sweepers, be sure to check their references and make sure they are aware of the necessary safety precautions. Properly trained staff will also have the right tools and equipment to quickly and efficiently complete the job. Make sure to set clear expectations and a timeframe for the job. 
If you don't know where to start looking, you can go ahead and click for parking lot sweepers. This way, you'll meet trusted and reputable sweepers right away.
Follow Our Guide for Great Parking Lot Cleaning
Clean parking lots are essential for any commercial property. And with the aforementioned commercial parking lot cleaning tips, you can make sure your lot is always spotless and inviting.
As always, make sure to observe all safety regulations when cleaning for the best possible results. If you can, schedule regular cleanings for optimal parking lot maintenance. We promise it'll all be worth the hassle.
Did you find this article helpful? If so, check out the rest of our site for more.
Browse by Category