FROM 1 DECEMBER 2020 – Global Talent Tech Nation Endorsement applications update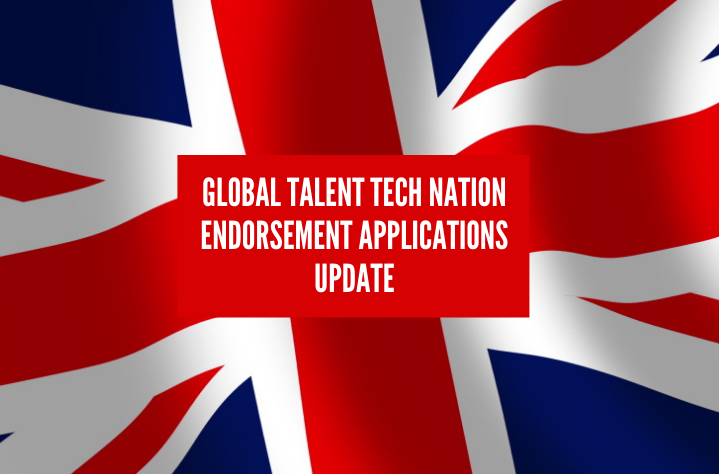 After 31 December 2020, the 'freedom of movement' will come to an end, and the UK Home Office will treat EEA nationals and non-EEA nationals similarly under the new immigration system. The only exception is for those EEA nationals that have secured their rights to reside and work in the UK under the EU Settlement Scheme before the application deadline.
In preparation for post-Brexit new immigration system, Statement of Changes to Immigration Rules was published by the Home Office containing a series of changes to most of the routes. The applications will now be open for EEA Nationals, who wish to move to the UK after 1 January 2021, including an important and highly attractive route of Global Talent visa. Furthermore, the criteria for Tech Nation's endorsement applications will change from 1 December 2020.
What changes?
The main change is concerning the Eligibility Criteria. Tech Nation has restructured the Criteria to reflect the new changes to their assessment procedure and these changes come into force on 1 December 2020. Tech Nation will no longer consider applications under Key criteria and the Qualifying criteria. Instead, applicants will have to meet one single mandatory criterion and two out of four optional criteria.
Exceptional talent applicants must show that they have been recognised as a leading talent in the digital technology sector and provide evidence of at least two of four optional criteria.
Exceptional promise applicants must show that they have been recognised as having potential to be a leading talent in the digital technology field and provide evidence of at least two of four optional criteria.
The criteria for having undergone continuous learning/mastery of new digital skills (commercial or technical) throughout your career is also abolished and new applications will not be able to rely on this criterion after 1 December 2020.
What does this mean for you?
Tech Nation will consider applications submitted on or before 30 November 2020 under the current criteria. They will use the new Immigration Rules and Guidance to assess applications submitted on or after 1 December 2020. Your application date is the date you submit your stage 1 endorsement application to the Home Office. The Home Office will then inform Tech Nation of the date of your application to determine which Rules to apply on your application.
If you are in the process of preparing your Digital Technology endorsement, and have most of the documents ready to submit, we suggest you apply before 1 December 2020, so that your application will be assessed under the current Rules using "Key" and "Qualifying" criteria. Whilst most of the applicants will meet the new rules, all applicants who want to rely on Continuous Learning criterion, please note the New Rules will remove this criterion from the current "Qualifying" four criteria. You would also not be able to avoid meeting a criterion that you are a leading talent in digital technology or have a potential to be such, as it will become the sole mandatory criterion.
How can we help?
Taylor Hampton's immigration solicitors have a specialist knowledge of Global Talent visa applications. We helped many bright individuals to move or stay in the UK and continue doing their brilliant work in digital technology. If you need legal assistance with your application or wish to know more about the visa category, please contact Taylor Hampton's immigration today on 020 7427 5972 or submit an enquiry HERE.
You can also get in touch or follow us for similar content on our social media accounts on Facebook, LinkedIn and Twitter.
Browse by Category