Home Care vs. Assisted Living: Which Is Best for You?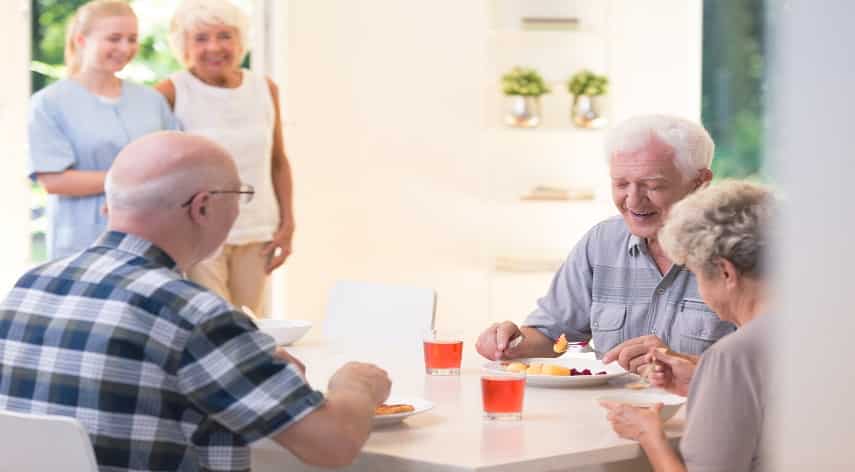 As we age, it's natural to require a little extra help with daily tasks that were once second nature. But when it comes to deciding between home care and assisted living, the choice can often feel overwhelming.
Whether you're looking for yourself or a loved one, weighing the pros and cons of senior living options is essential in making an informed decision.
In this blog post, we'll explore the differences between home care and assisted living so you can determine which route is best suited for your unique needs and preferences.
What is Home Care?
Home care is a service that provides support and assistance to individuals in the comfort of their own homes. This is as opposed to in-medical settings like convalescent hospitals or public health centers. Home care services could include assistance with:
personal care
hygiene
meal preparation
light housekeeping
laundry
medication reminders
errands
companionship
mobility assistance
Home care services can be short-term (just a few hours a week, such as post-surgical care) or they can be long-term, such as in the case of individuals with limited mobility or chronic illness. Home care is often provided by care providers, who are skilled and experienced:
health care professionals
certified nursing assistants
therapists
caregivers
Home senior help efforts also may include support from family, friends, and volunteers.
What is Assisted Living?
Assisted living is a type of senior housing specifically designed to meet the needs of seniors who require assistance with daily activities. It is often referred to as congregate living or residential care. Assisted living is an intermediate level of long-term care.
It bridges the gap between living independently at home and residing in a nursing home. The level of care provided usually involves personal and health care services. These can help seniors with activities of daily living such as:
bathing
cooking
dressing
taking medication
This level of care also provides 24-hour monitoring to ensure the safety and health of residents. Most assisted living facilities also offer social and recreational activities for residents. In addition, some communities also offer memory care services for those suffering from Alzheimer's and dementia.
The Key Differences Between Home Care vs. Assisted Living
There are a few key differences between home care and assisted living that can help you decide which option is best for you. The key difference between home care and assisted living is the care provided. Let's dig deeper into their differences.
Level of Care
Home care typically involves a caregiver providing basic, non-medical services, such as helping with daily living needs. Assisted living, however, provides a much higher level of service and generally consists of access to medical care, nursing care, personal care, and the attention of trained caregivers in a residential environment; meals and laundry services are also often included.
Cost
Home care tends to be more affordable than assisted living since most of the care is provided in the home, and only assistive care is likely needed. This includes medication reminders and help with daily tasks.
Assisted living facilities require residents to pay for care and services. The cost of assisted living varies greatly between states, but on average it is typically much more expensive than home care due to the amenities and services offered, such as those mentioned above.
Social Interaction
Home care typically consists of having a designated caregiver that visits and provides needed services on an as-needed basis. This means there may be fewer opportunities for social activities beyond basic care.
On the other hand, assisted living provides a much higher level of social interaction. Residents have many opportunities to meet with people their age. They can take part in activities and enjoy regularly scheduled outings.
They may also receive help with meals and laundry, both of which can create great social opportunities. Assisted living can therefore provide greater access to meaningful social activities for those in need.
Safety
Home care provides a more familiar atmosphere as aged individuals remain in their own homes. But the safety of this option is dependent on the individual's healthcare professionals and their ability to provide a responsive and safe environment.
On the other hand, assisted living provides a home-like atmosphere. This comes with the presence of skilled personnel in all areas of safety. These facilities have special fire safety systems. All personnel is trained to respond swiftly to handle any situation, medical or otherwise.
Independence
One of the primary differences between home care and assisted living facilities with regards to independence is the level of autonomy given to residents. In a home care situation, elderly individuals maintain a great deal of independence. They are usually left to their own devices in an environment of their choosing.
On the other hand, assisted living facilities to offer elderly adults more structure and supervision. This can be done while still granting significant autonomy in the form of personal choice.
Family Involvement
Home care offers families the opportunity to remain involved in their loved one's care daily. They can be directly in control of their care. This is one of the major benefits of home health care.
On the other hand, assisted living provides families with the assurance that their loved ones are receiving the best quality of care at all times. In assisted living, family members typically visit their family members at the assisted living facility and can observe the services and activities that their loved one is involved in.
Understand the Different Between Senior Living Options
Senior living options provide tailored care that supports seniors' physical, psychological, and sociocultural needs. Home care assists with daily activities and can be less expensive. Assisted living emphasizes socialization and lifestyle services.
When considering senior living options, it is important to understand the difference between home care and assisted living. This helps to determine the best option for a loved one. Consult an expert today to discuss your needs and choose the right fit.
For more helpful resources aside from this discussion on senior care for your aging parents, visit our main blog.
Browse by Category