How to Become A Successful Makeup Artist in Today's Industry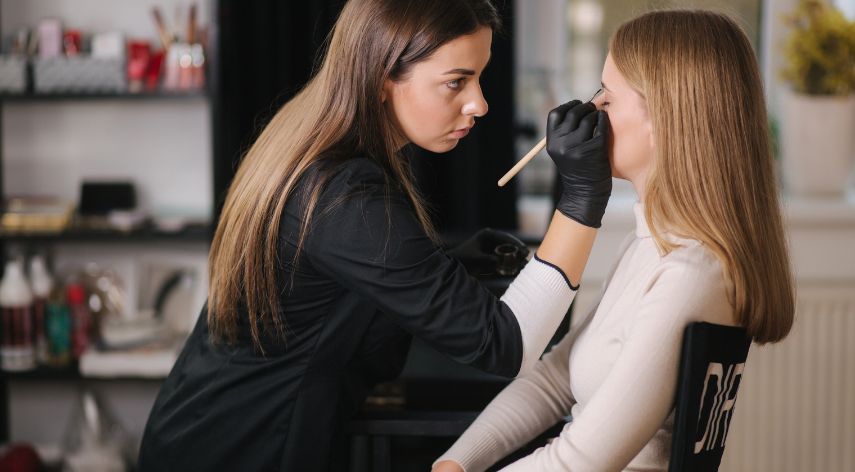 A makeup artist is someone who uses their creative skills and makeup training to transform the way a person looks. They can enhance someone's natural beauty, cover up blemishes, and even create completely new looks for special occasions. Makeup artists often work in the fashion industry, creating runway-ready makeup looks for models. However, they can also be found in film and television, working with actors to create characters that are believable and visually striking. In recent years, there has been a growing demand for makeup artists who specialize in special effects makeup, capable of creating realistic illusions and graphic makeup looks. No matter where they work, makeup artists use their talent and skill to help people look their best.
How to become a makeup artist
As a makeup artist, you would use your creative skills to enhance someone's features, making them look their best for whatever the occasion may be. If you're interested in becoming a makeup artist, there are a few things you'll need to do.
First, you'll need to get some training. You can find makeup courses at many beauty schools or online. Once you have the basics down, it's important to keep up with the latest trends by reading magazines and watching videos. You should also practice on yourself and your friends as much as possible. Once you have some experience, start reaching out to potential clients and make-up businesses in your area. Networking is key in this industry, so the more people you know, the better. With hard work and dedication, you can become a successful makeup artist.
What does a makeup artist do
A makeup artist is a professional who applies makeup to clients to enhance their appearance. They typically have extensive training in the types of products available and how to apply them to achieve the desired effect. They may work in a variety of settings, including salons, department stores, and fashion shows. Some makeup artists are also employed by cosmetic companies to create new looks and test products. In addition to applying makeup, they may also provide skin care advice and teach clients how to properly care for their skin. Makeup artists play an important role in helping people feel confident and look their best.
Skills and qualities of a successful makeup artist
A successful makeup artist must have a wide range of skills and qualities. First and foremost, they must be creative and have a strong sense of artistry. They should be able to look at a face and see the potential for beauty. They should also have excellent technical skills, such as the ability to apply makeup flawlessly and create various looks. In addition, they must be well-versed in the latest trends and techniques. They should also be able to work quickly and efficiently, as many clients will not have a lot of time to spend on their makeup. Finally, they must be personable and professional, as they will be working closely with clients.
Common challenges faced by makeup artists
While being a makeup artist may seem like a glamorous profession, the reality is that it comes with its fair share of challenges. For starters, makeup artists often have to deal with demanding clients who know exactly what they want. In addition, they must be able to work quickly and efficiently to meet tight deadlines. Furthermore, although most makeup artists start out working in salons or studios, many eventually strike out on their own to have more control over their careers. This can be a risky proposition, as it can be difficult to build a loyal clientele. However, for those who are up for the challenge, being a makeup artist can be an immensely rewarding experience.
Salary and career prospects for makeup artists
A career in makeup artistry can be both creative and rewarding. Makeup artists can use their creativity to help others feel confident and beautiful. In addition, makeup artists often enjoy flexible work schedules and competitive salaries. According to the Bureau of Labor Statistics, the median annual salary for makeup artists was $40,280 in 2018. The top 10 percent of earners made more than $82,000, while the bottom 10 percent made less than $19,990. Career prospects for makeup artists are also strong. Employment of makeup artists is projected to grow 9 percent from 2018 to 2028, faster than the average for all occupations. So if you're looking for a creative career with good pay and plenty of job opportunities, becoming a makeup artist may be the perfect choice for you.
Alfred Williams
Hey everyone! My name is Alfred Williams and I am passionate about business and finance. I have been working and managing in these fields for over 10 years. I have expert knowledge of market strategies, financial analysis, and decision-making processes. I also have experience in consulting and budgeting. I'm excited to use my knowledge and expertise to help others achieve their goals. Follow me for the latest insights on business, finance and decision-making. Business, finance - let's get started!
Browse by Category