How to choose the right Mobile App Development Company for your Instacart Clone app?
The problem that a modern entrepreneur faces is not the lack of options but the fact that the competition out there is so enhanced that we are spoilt for choice. For every thing that one needs there are hundreds, if not thousands of options available in the market. Therefore, instead of asking where to find the right Instacart clone, the modern day entrepreneur trying to set up their own on demand grocery delivery service business based on an app, is asking how to find the right company that would build the best Instacart clone.
Well, do not worry. We have been in the industry for far too long and therefore, we've put down a list of things that you must check to find the right company for your business. We understand that you may be wondering why we wouldn't just give you a name and tell you, 'hey, buddy, this is the company that you should go for.' Well, the answer is quite simple, really. Every business has its own unique requirements. Unfortunately, with entrepreneurial success, there is no one size fits all solution.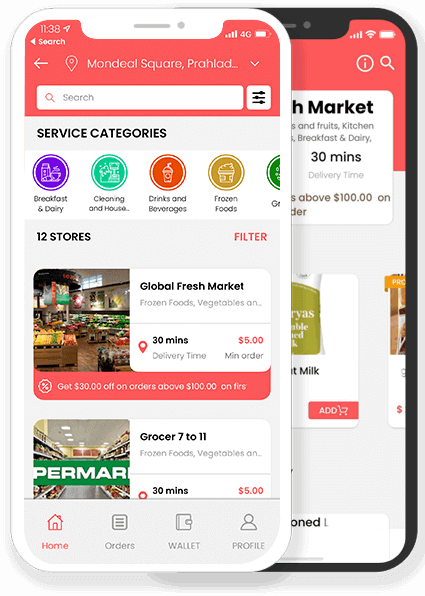 You have to first understand your personal goals, then compare them with your business goals and only then find a company to partner with which can help you achieve just that. What we have done here is put down a list of questions that you must ask before you settle for a company to hire for your Instacart App development. Answer those questions and based on those answers find the right fit for your business.
Question number 1:-
Are you purchasing the app for yourself or planning to further sell it to another customer?
In our experience, at least 50% of companies looking for an app like Instacart aren't really trying to establish their own business but hoping to further sell it to their own clients. That is all great except, in order to make a little profit from that particular sale, you must purchase an app that is priced reasonably.
Just like we would want you to understand your business goals and only then buy an app, we would really recommend that you get on a discovery call with your client and identify everything that they want from their business.
Now discuss it with the app development company that you have shortlisted and if they seem to be able to provide for and justify those requirements at a price that leaves room for you to be profitable, only then go for it.
Please note that in the name of technology, people are often blindsided by the pricing. If you don't want that to happen to you, instead of opting for a company that will custom build the app for you or your customer, it is best to go for an Instacart clone that is already in a ready state.
Question number 2:-
How authentic is the company in question?
So, technology has made this world a really small place. The problem is, technology has also made it possible for people to cheat each other. If you sense that a company is beating about the bush too much or there is a lot of cloak and dagger suspense around it, just move past it.
Nothing is more important than heeding your instincts when it comes to business. It is not going to be practical to expect that a full fledged on demand mobile app development company will be operational in your street itself and chances are that you will have to hire an off shore entity, but, if you really want to, you must set aside a little budget to go visit the development center of the company to ascertain its authenticity.
Question number 3:-
Is there a clear pipeline for delivery?
Instead of wondering how long it will take to get your app rolling in the market with your name and logo, it is perhaps best to be absolutely sure of the process that will be undertaken in order to facilitate delivery.
Speak to the team that is working on your app and before you make a payment or finalize them, ensure that you understand their delivery process. If it is a transparent and clear delivery system with the right nodal checks at every point, then you can move forward without hesitation. If on the other hand, everything seems obscure and there is no professional and formal route to obtaining your app, you might want to steer clear of that company and continue on your search.
Conclusion
There are of course many other things that you must pay attention to while purchasing your on demand grocery delivery app like the Instacart clone, such as non disclosure agreement, client testimonials, pricing of the company, experience with on demand apps and so on and so forth, however, these questions that we have mentioned above are extremely important and yet, overlooked most of the times.
To ensure that you can set up and establish your own on demand grocery delivery business with the help of an Instacart Clone app, just be very mindful of the pointers given here. The rest is largely up to your research and instinct. Since you've taken the right call to start off a business like Instacart, we believe you will be able to make the right decision with respect to hiring the right on demand app development company as well. All the best!
Browse by Category