Nextgen Emr Software: Top Features, Reviews, and Pricing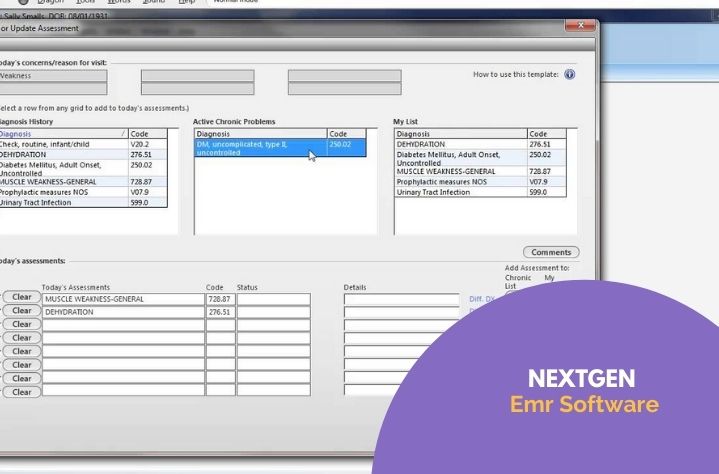 NextGen offers cloud-based EMR software that can help you optimize your medical practice. Having a cloud-based EMR is beneficial as you can access it remotely regardless of your time and location. In addition to this, NextGen's cloud-based deployment prevents you from acquiring any expensive hardware. Additionally, NextGen EMR software includes free training, allowing your practice's staff to learn how to use the system quickly. It also has an award-winning customer service department.
The cloud-based EMR connects with a Practice Management System, a Medical Billing system, and a patient portal to help you enhance your clinical, administrative and financial performance. The NextGen EMR is suitable for all types of ambulatory care practices. 
How NextGen EMR Helps You Simplify Your Medical Practice?
NextGen EMR offers several robust features that help you optimize your healthcare practice and progress further. Here's a review of the top features of NextGen EMR that you can navigate to enhance your practices' performance.
Connect to other EMR Software
One of NextGen EMR's most vital features is interoperability. The EMR software can connect to other EMRs and health information platforms. Because of this interoperability, you can cooperate with hospitals and other healthcare providers who aren't using NextGen. 
You may also securely connect to charts and lab data using NextGen EMR Software. The EMR also connects with various other medical platforms and data management systems, facilitating interoperability and exchanging health data.
Write Prescriptions Electronically
The next feature we'll discuss is the built-in e-prescribing tool in NextGen EMR, which helps you identify drug combinations, dosage issues, and patient allergies. Using this application, you can make digital prescriptions and send them to your patients' preferred pharmacies. Patients can then pick it up at their leisure. 
This tool also sends out alerts about possible drug interactions. Overall, the e-prescription feature is beneficial to both you and your patients.
Virtual Appointments
Another key feature offered by NextGen EMR is Telehealth, through which you can consult and treat your patients virtually. Using YourHealthFile, NextGen EMR, and the patient portal, you can arrange an e-visit, a virtual office visit between you and your patient. You can perform the virtual meeting via video conference, phone, or online chat. Another benefit of Telehealth is that it is inexpensive and straightforward to organize.
During the NextGen EMR demo, you can see if this functionality allows your patients to communicate and make payments through payment processing partners. In addition, this function increases safety and provides access to patients who cannot travel due to a medical emergency, age, or distance.
Streamlined Patient Administration
The time-consuming chore of updating patient information is no longer necessary with NextGen EMR Software. With the help of the software's real-time insurance eligibility check, you can automatically fill in the required details when admitting a new patient.
You may automatically fill in the patient's name, date of birth, insurance number, and other vital information with NextGen EMR software. NextGen can also construct a patient chart using data supplied by the insurance company.
Simplified Billing and Reporting 
With NextGen EMR, you can manage the complete patient visit experience in one place, from scheduling to billing and payment. You may also utilize built-in reporting and analytics capabilities to measure key performance parameters to help your business function more smoothly.
NextGen also aids in the management of outstanding accounts receivables and alerts you to potential code errors, allowing you to run a more efficient practice.
Mobility
You can handle NextGen mobile solutions from any internet-connected device. According to NextGen EMR reviews, this feature contributes to improved clinical documentation and workflows for higher performance. Your sensitive medical information is also kept safe on their systems. In addition, the simple cloud-based interface of these mobile solutions is compatible with your current healthcare workflows.
NextGen EMR Price
Unfortunately, NextGen does not publicly release its price plan; as a result, you must contact the vendor from the company's website to learn about NextGen's EMR cost. We only know that doctors and other employees of the practice have different pricing rates for NextGen EMR. 
Aside from that, NextGen provides pre-and post-implementation assistance. Training is also available within the system's price. A trainer leads virtual pre-implementation training classes. The seminars will provide you with customized training based on your job responsibilities. You'll also get post-launch support to help with any challenges with the software.
NextGen EMR Reviews
According to NextGen EMR users, the EMR software efficiently streamlines your workflows and allows you to conduct all your essential tasks seamlessly. In addition, with the help of NextGen Medical billing software, you can improve the financial performance of your practice as well. Besides that, the only complaint users have regarding the software is that the frequent updates cause the system to lag and thus hinder your progress. 
Overall, the user rating for NextGen EMR is pretty excellent, showing that current users recommend the software.
NextGen EMR Demo
NextGen EMR also offers a free demo that you can avail to get a more thorough analysis of the software. The demo is beneficial as it enables you to navigate through different features of the software in an actual healthcare environment. Moreover, it helps you analyze whether the software fulfils all your practice requirements. 
It would be best if you schedule a NextGen EMR demo before directly purchasing the software. This way, you may make a more educated decision for your medical practice.
Our Thoughts About NextGen EMR Software
Our comprehensive analysis of NextGen EMR Software will assist you in making a successful decision for your practice. Every medical speciality is distinct, and as a result, it has its own set of requirements. Make a list of your needs ahead of time. You may also book a NextGen EMR demo to see if the software is right for you. We also recommend reading several NextGen EMR reviews to better understand the product from existing users' viewpoints.
Browse by Category