How to Choose the Best Commercial Cleaning Service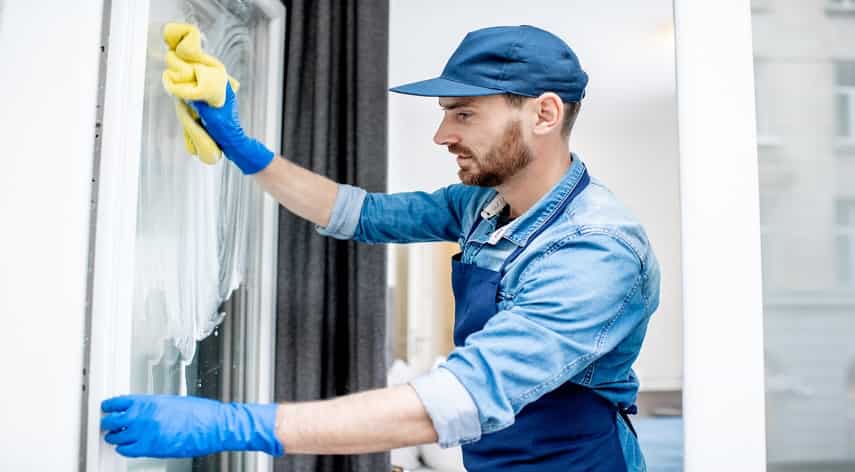 On average, Americans spend just under one full day a month cleaning. If you own or operate a business, that means even more of your free time is wasted on chores!
If you're tired of cleaning, look no further than professional cleaners. Not only does this ensure a deeper clean, but it helps your employees stay healthier! You'll save time and keep your building in great shape.
If you're unsure what to look for when hiring business cleaners, you'll want to continue reading. You'll learn everything you need to know before you hire the best crew for your commercial needs.
Ask Around
One of the best ways to find a reliable commercial cleaning company to hire is to ask for referrals. This allows you to speak with other business owners and commercial managers to find a great cleaning crew.
You can ask fellow business owners you know about their cleaning services. This is a great way to find a reliable and professional company to help keep your offices or warehouses clean.
In some instances, you may even be able to see the quality of work if you're extremely friendly with the business owner. They can also inform you of any services they recommend if the best cleaners are booked.
Plus, some cleaning services will offer a special one-time discount for those with a referral. This means you and the business that informed you about the service can reap the benefits of loyalty!
Look Into Online Reviews
If you're unfamiliar with businesses that rely on commercial crews to keep their company clean, you can do your own research. Looking up "commercial cleaners near me" will likely yield hundreds of results, so it's crucial to narrow your search.
When looking into various cleaning companies, you'll need to ensure that you look into online reviews.
Online reviews are beneficial tools, as they provide unbiased insight into the quality of work completed by the cleaners. Often, real-life customers will comment about their experience and even post photos to help back up their reviews.
While some online reviews may leave negative reviews for no good reason, most of the comments are valid. This means you can find information about how well the space was cleaned, whether or not the crew was professional, and how experienced the customer service is.
Consider Experience
Next, you'll want to consider the company's experience when looking at different businesses. This can help you find the most comprehensive and professional company to work with.
If a company has an established reputation and plenty of customer reviews, testimonials, and ratings, this lets you know that the service is legitimate. Additionally, many older companies have more extensive experience. This is crucial to the business side of running a brand.
When younger cleaners begin their business, they may be spectacular in their trade. However, they may falter in terms of scheduling, customer service, and billing.
However, you don't always need to choose a company that has been around for decades. Often, cleaning crews trying to establish themselves will take on a few clients, meaning you'll have more say when it comes to scheduling as they'll have more availability.
Look Into What Services They Offer
Next, you'll need to consider what services the office cleaners provide and whether or not it falls in line with what you're looking for.
Often, standard services include dusting, vacuuming, sweeping, cleaning bathrooms, and trash services. However, you may also want to inquire about services such as sterilization or floor waxing.
If you work in technology and have a lot of computers and devices, you may want to hire a company that has a background in cleaning electronics. This ensures your gadgets are thoroughly cleaned without the risk of damage.
In most cases, you'll be able to schedule daily cleaning to keep your office in shape. These will include standard cleaning services. However, you can also schedule a deep clean to ensure all the nooks and crannies are clean. Generally, these can occur bi-weekly or monthly.
When considering the services, you'll also need to look into when the company performs its cleanings. Some companies offer 24/7 services, which allows you to choose when the crew will clean your business. Many offices invest in nightly cleaning, as workers won't be in the way of the cleaning professionals.
Ask About Licensing and Insurance
Finally, you'll want to ensure that all companies you're interested in hiring have up-to-date licensing and insurance.
Guaranteeing you hire cleaners with proper licensing and insurance is one of the most crucial factors. Licensing gives businesses the certifications to operate and ensures they'll comply with all state laws and regulations.
Insurance, on the other hand, guarantees that if an accident happens, the cleaning company's insurance provider will handle the claim. This includes damage to your business's property and personal injury to cleaners.
If a company is hesitant to provide information about their license and insurance, this is a red flag and may mean they aren't complying. You should stay away from these businesses.
How Professional Cleaners Can Elevate Your Business
It may seem simple enough to choose the first cleaner that appears on your internet search. However, ensuring you take the time to look into each company can provide you with the best results.
If you're ready to invest in professional cleaners for your company, thanks to the help of this guide, you'll want to check out the rest of our website. There, you'll find more business tips and tricks to help your company find success.
Browse by Category