The Best Age for Your Child's First Dental Visit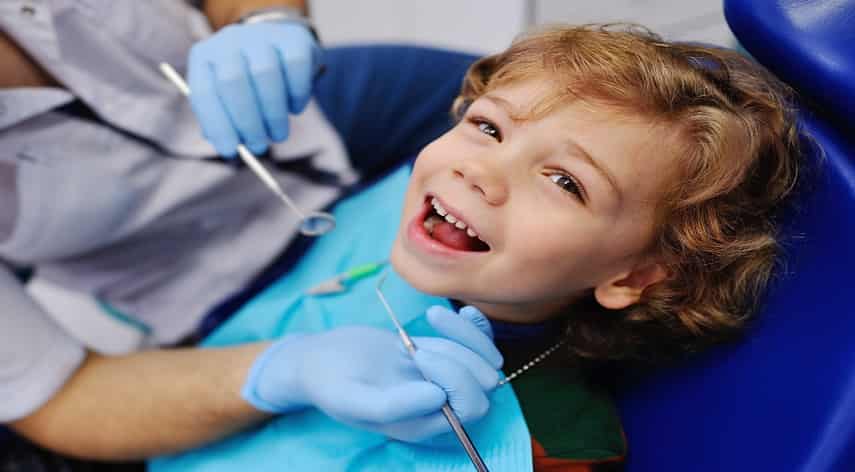 Studies have shown that children who visit the dentist regularly are less prone to many dental ailments.
But considering that trips to the dentist can induce fear and anxiety in children, visits can become stressful events. So it is for this reason that you should introduce dental visits early in your child's life.
The only questions left are: When should you start taking your child to the dentist? How old should he or she be for his or her first dental visit?
Learn about the answers and more below!
Dental Checkups: An Overview
A dental checkup for kids is an important part of keeping kids' teeth and gums healthy. During a dental checkup, the dentist will review your child's dental and medical history. They will also check for any problems, such as cavities and gum disease.
The dentist might also clean your child's teeth and polish them, which helps to remove plaque and bacteria from the teeth. The dentist may also apply fluoride to help strengthen their teeth and protect against decay.
After the cleaning, the dentist will use X-rays to look for any problems that might not be visible to the naked eye. And finally, the dentist will explain good brushing and flossing habits and answer questions that you or your child may have.
The dentist may also suggest regular follow-up visits. This is to track and take preventive action against future dental problems.
What Do You Call a Dentist for Kids?
A child dentist or dental health specialist for children, from infancy up until about age 18, is a pediatric dentist. They are trained and experienced in providing dental care for young children and adolescents.
This often includes providing preventative dental care such as cleaning and filling cavities. They also help young people understand the importance of good oral hygiene. Pediatric dentists also specialize in treating a variety of dental issues, such as cavities and gum disease.
And to ensure that a safe, comfortable environment is provided to young patients, they use special equipment. This equipment includes hand-crafted chairs, smaller-length operating instruments, and mild sedatives. They all help ease a child's anxiety while they are receiving different treatments in the dental chair.
How Old Should a Child Be for Their First Dental Visit?
It is generally recommended that a child should have their first dental visit within six months of their first tooth appearing. Or they should at least have it by their first birthday. At this young age, the focus will be on education and preventing dental problems rather than treatment.
Your child's first dental visit is important to help them form a relationship with their dentist.
Benefits of Having Dental Checkups Early
Regular checkups help to track and maintain your child's oral health. This is because dental visits provide early detection and treatment of any potential issues.
It is also important to get your child used to visit the dentist early as it aids in preventing dental phobias later in life. Regular exams allow the dentist to assess your child's teeth and provide education and advice. It teaches them the importance of proper oral hygiene.
Early dental visits will help your child to have healthy teeth and gums throughout their life.
Risks of Not Having Regular Dental Checkups
Not having regular dental checkups can leave your child at risk of developing cavities and other problems. Poor dental hygiene can lead to tooth decay, gum disease, and even tooth loss. By getting your child used to proper dental hygiene early on, you can help prevent these issues from occurring.
Regular dental checkups can also help detect oral issues that may affect your child's health. So it's important to start dental visits early and make them an ongoing part of your child's healthcare.
How to Find the Right Pediatric Dentist
Finding the right pediatric dentist for your child is essential to ensure they receive the best care. Below are some tips you should consider before making your decision.
Do Your Research
Start by seeking recommendations from friends, family members, and your primary care doctor for a dentist for infant. You can also look into online reviews and ask your child's school or daycare for recommendations.
Once you've gathered a few leads, narrow your search down to the best fit by looking into the dentist's credentials, education, and experience. Make sure the dentist is board-certified and they have the right qualifications.
You can find a pediatric dentist on the link to start your research.
Ask Questions
You should make sure to get a feel for the temperament of the dental office by scheduling an initial appointment. You should ask about the dentist's philosophy on preventive treatments.
During the visit, observe if the dentist and staff treat the child with kindness. See if they make eye contact with the child. And check if they encourage to maintain good oral hygiene.
You should also inquire about the length of typical appointments and emergency procedures.
Evaluate Testimonials
Testimonials that are on the dentist's website provide an accurate account of the kind of care patients experience. They should provide details about their entire visit.
Go through the reviews and pay attention to any major themes discussed. Make note if a particular pediatric dentist stands out.
Compare Costs
Finding a dentist's fee structure upfront can save time and money in the long run. Call the office of dentists in your area and ask for the fee structure and cost of any procedures. If there are any discounts or specials for new patients, grab onto the offer.
And don't forget to consider payment plans and insurance coverage when comparing costs with different dentists.
Take Your Child to the Dentist Now!
Taking your child to their first dental visit is an important milestone in any child's life. You have to make sure you set aside time to introduce your child to the dentist early. Early visits to the dentist can help set them up for a lifetime of healthy smiles!
So encourage your child to brush and floss daily, and book your first appointment as soon as you can. Any dentist will be happy to help!
Are you looking for more tips and tricks? Check out our other articles to learn more.
Browse by Category