Wistia Review: Internet Marketer's Choice of Engagement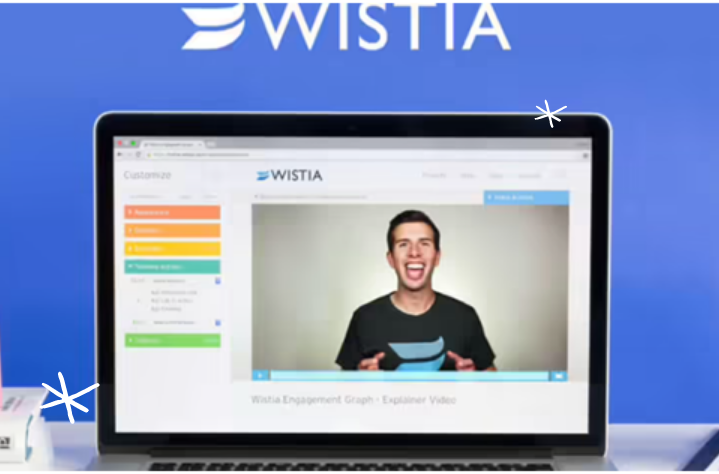 If you're looking for a video hosting site to host your explainer video, Wistia is one of the many answers. Wistia can be regarded as a 'private' channel where you don't just upload clips and hope they will be seen by the world but instead take a more proactive approach in drawing views and building up a target audience.
The Benefits of Using Wistia
Here are the key points that show you the differences between Wistia and the other channels:
#1. Wistia Brings Real Traffic to Your Website
Unlike YouTube or Vimeo, which only bring traffic from search engines to their own website, Wistia brings traffic directly to your website. So, no more traffic losses, and you will get full advantage from video SEO.
#2. Better Analytics
Wistia Analytics provides you with an incredibly thorough insight into how your videos are seen by your audience. Wistia has a feature called "video heatmaps." With this feature, you will be able to see which part of the video the viewer watched, skipped, and rewatched exactly. You'll also see what videos they've watched before, so you can learn about your customers' behavior. And remember, knowledge equals power, so this information could prove vital.
#3. Full control of the look, feel, and function.
With the Wistia custom builder, you can customize the appearance of your video player however you want. No matter large, medium, or small, it will fit your landing page perfectly. You can also customize what buttons will be shown on your video player, giving more control to your audience with this feature.
#4. No Ads
Just like on Vimeo, there are no ads on Wistia. They monetize their service based on subscription. Their premium plan starts at $25, and the unlimited plan starts at $100. It will give your website a more professional look and feel.
#5. Convert Viewers into Lead
On Wistia, you can activate the email collector function that will ask for their email address before they continue the video. This can be a powerful tool to collect emails from your audience.
Wistia also supports an integrated email marketing platform with marketing automation tools to add leads directly to your email lists, set up autoresponders, and trigger drip campaigns. You can also customize clickable calls to action at the end of the video.
So, what's the most important point here? If you have your video seen by 20,000 viewers, rather than sending those viewers to YouTube or Vimeo, you'll have it on your own site and have your site seen an additional 20,000 views by Google.
Are you interested in using the Wistia service? They have a two-week free trial with unlimited video uploads, as well as a "Free" plan.
How To Upload Videos On Wistia
Let's see how you upload your explainer video on Wistia.
#1. Prepare Your Video
Wistia has several video requirements to ensure your video works properly. Export your video in H.264 codec with resolution between 640px and 1280px wide. Your video bitrate must be between 2000 kbps – 5000 kbps. You don't have to worry regarding the aspect ratio. Wistia supports all video aspect ratios. Here are video formats accepted by Wistia: MOV, MPG, AVI, FLV, F4V, MP4, M4V, ASF, WMV, VOB, MOD, 3GP, MKV, DIVX, XVID.
#2. Upload
After your video meets all of the requirements above, you can start uploading your explainer video to Wistia. Uploading a video on Wistia is a little bit different from Vimeo and Youtube. If you are new to Wistia, you might be a little bit confused because you can't find any "Upload" button. But of course, there is always an "Upload" button.
First, you have to create a "New Project." All videos on Wistia must be uploaded inside a "Project." To start, select "New Project" under the "Actions" menu.
After you finish this step, you will start a new project. By default, it will have "Untitled Project" as the title. You can change the title by clicking the "Edit" button right beside the title. If you want to start uploading your video, go to the "Project Actions" menu and start to upload your video.
#3. Publishing
There is no publishing setting on Wistia. Videos that are uploaded on Wistia are meant to be integrated into your landing page. So all publishing settings are set on your website. All you need to do on Wistia is set up your video player and its online marketing tool to make it work well on your landing page.
Takeaway
Of course, Wistia is only one of many video hosting sites. Every hosting site has their own functions and capabilities. One thing for sure is that promoting video is good for your campaign.
Do you have any additional information? Please kindly share with us by leaving a comment on this article. Also, feel free to shoot us any questions on the comments page!
Anyways, get rocking and start promoting your explainer videos!
Author Bio
Andre Oentoro is the founder of Breadnbeyond, an award winning explainer video company. He helps businesses increase conversion rates, close more sales, and get positive ROI from explainer videos (in that order).
Twitter: @breadnbeyond
Email: andre@breadnbeyond.com
LinkedIn: Andre Oentoro
Alfred Williams
Hey everyone! My name is Alfred Williams and I am passionate about business and finance. I have been working and managing in these fields for over 10 years. I have expert knowledge of market strategies, financial analysis, and decision-making processes. I also have experience in consulting and budgeting. I'm excited to use my knowledge and expertise to help others achieve their goals. Follow me for the latest insights on business, finance and decision-making. Business, finance - let's get started!
Browse by Category