10 Product Page Design Tips that Increase Online Sales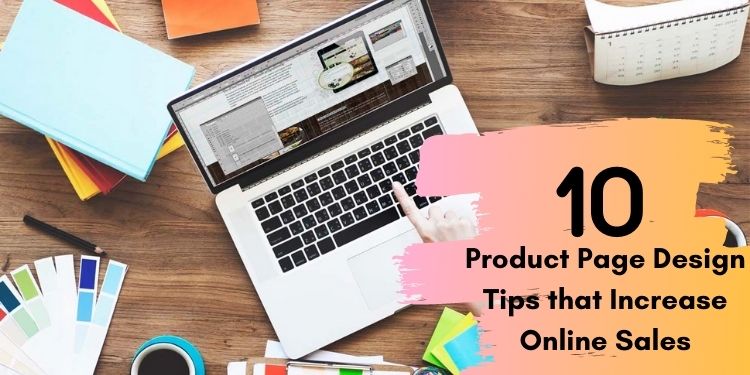 What is a product page design?
Online shopping has become the rising method in which people are shopping in the 21st century. There are numerous products belonging to various categories that provide a wider range of options for the customers. In a time where everyone is mostly associated with corporate jobs, finding time for shopping is hard. 
It is for this very reason that Product Page Design Tips are important for web developers. Making the shopping experience for any customer or viewer is important. It increases the chances of sales for a company and promotes its brand. The first impression that an online store has is through product pages, making them extremely important. 
The online shopping world has expanded a lot. In the last couple of years, there have been a lot of different breakthroughs that have allowed people to believe and trust shopping online. Combined with the services of refund and replace offered by many companies. People have started to create a habit of shopping online. 
Developers have paid a lot of attention to the homepage or the landing page of a website. There are many different designs and templates for homepages. However, the same attention is not given to a product page design. 
With Product Page Design Tips, a web developer will be able to create product pages that provide the best user experience. These tips are widely based on the research and surveys conducted by Website Valley. They based their research on the preference of the average shopper. 
Most people browsing online do so in their waiting time. Traveling on the bus, waiting for your turn in line are some of the few examples. This means that these people are looking for ways in which they can provide themselves many options without having to scroll. 
10 Product Page Design Tips
It is clear that Product Page Design Tips are extremely important for web developers. Whether you are an owner of your website that is looking to improve your website. Or, you are a designer that is looking to improve your methods. 
These Product Page Design Tips will help you create a better version of your platform. However, it is not necessary that you work extremely hard on your brand when it comes to designing. You can avail of these type of services provided by ecommerce web development services. 
A product needs to be perfect because a viewer can spend a lot of time on it. Having a group of experts in the world of ecommerce design just might be the element you are missing. With the additional help, you can create the best version of yourself. You will be able to attract a lot more people and hopefully have a better business result. 
1- Give social media proof
This is one of the very first ways in which you can work with Product Page Design Tips is by providing your presence on social media. A product page is essentially a space that you get to convince the customer that the product is right for them. You can do this by convincing them in different ways. 
Having links on social media platforms showing this product with a lot of likes is one way. A viewer will see the popularity of the product and will be inclined to buy it themselves. This can also be done by posting pictures of a celebrity wearing a particular brand or product.
2- Professional Product Photography
A viewer cannot buy your product if they cannot clearly see what you have for them. It is necessary for an increase in sales that you have your product photographed. Perhaps the most important Product Page Design Tip is that you should have a professional photograph of your products. 
3- Show Inventory
When you are designing your page, one of the ways in which you can show your popularity is by showing your inventory. By seeing the number of pieces left being incredibly low, a viewer might buy the product quicker. 
4- Be Mobile Optimized
Currently, according to statistics, mobile users make up for more than half the clicks on any website. Product Page Design Tips I include you optimizing your website to be mobile-friendly. This will provide you with the necessary changes to provide the same experience to both mobile and web users. It is extremely necessary that you are considering this factor in mind. More than half the people that view your website should get the same experience so that you can increase sales. 
5- Information
A lot of the product pages forget to mention important details on their pages. This includes information related to delivery, refund policies, and warranty. All of these factors are what allow a user to trust a company. They know that if they do not like what they see in public, they can return it in a specific time period.
6- Quality Product Descriptions
The product descriptions of the product you are selling should be easy to read. Not only should they be addressed directly to the target audience, but they should also be easily visible. Product Page Design Tips suggest that you should be using fonts, font sizes, and colors that are easily visible. The easier the text is to read, the greater the chances that a viewer will read them. 
7- Availability
Showing the stock status of a product is necessary as it allows for planning when filling the cart. If you have a sign that says '3 left,' chances are that the item will be instantly bought. This reduces the number of items that are added to the cart but left. 
8- Increase Page ranking and visibility through SEO
Search Engine Optimization is extremely important in the online world. A viewer looking for a specific product should end up on your product page instantly when they search. With the help of your content, you can make sure that this happens. You can use keywords and write grammatically correct and appealing content. 
9- Related products suggestion
It's not necessary that the attention of your visitor stays on the product that they came searching for. As part of Product Page Design Tips, you are advised to shed light on other products of similar category to the visitor. This is the perfect way to increase sales on many different products. 
10- Price and buy button
The price and buy buttons are there to make it easy for a visitor to interact with the website. Product Page Design Tips include the fact that everything should be as clear as possible for the client. This means that your design should include the price and buy button. 
Why are online sales important?
The use of the internet has increased a lot. This means that it is important that a business use a website to increase sales. Online sales are the perfect way to give your business the boost it needs. You can cater to a much larger pool of potential customers and are free from many worldly restrictions. 
As a business, you can have international clients and interact easily with the help of automation, except for the fact that it provides your company with the best reputation. It also gives an online representation which is very important. Along with Product Page Design Tips, you can have the best website and cater to a lot of online sales. 
Browse by Category