6 of The Best Christmas Quotes And Sayings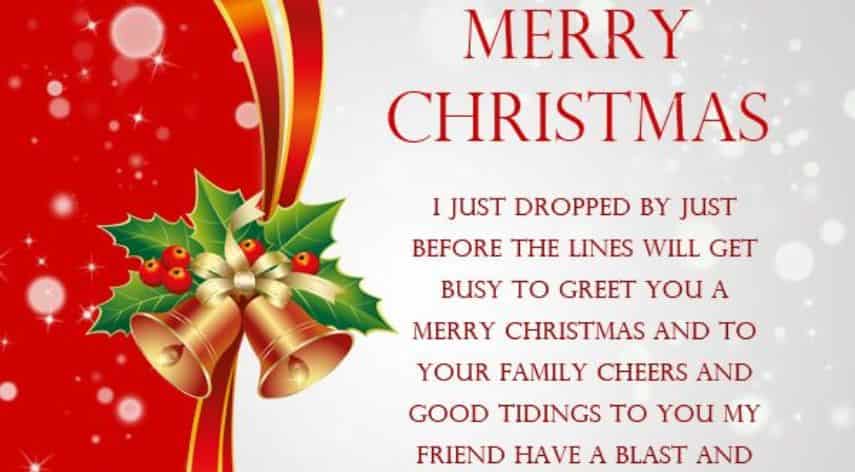 As the spirit of the season gets into full swing, you're likely to get caught up in the whirlwind of festive activities that leaves little time to sit and think about the Christmas card messages that you'd like to write and send to loved ones.
Everyone loves receiving season's greetings that are personalised and meaningful. Customising your festive message, with a classic or traditional Christmas Day prayer or blessing, or a cheery quote from your favourite book, movie or song, will lift the spirit of every person on your Christmas card list this year.
If you're not sure what to write in your beautiful luxury Xmas cards, here are 6 of the best Christmas quotes and sayings types to inspire you to be creative and expressive…
Traditional Sayings
While many shop bought Xmas cards feature a generic festive text that you can simply sign your name to, there's something rather special about personalising your handwritten cards with a message that means something to you and to the recipient.
Traditional sayings are generally evocative, sentimental or thought provoking, and are perfect for sending to relatives and close friends, along with your best wishes.
"Christmas is forever, not for just one day. For loving, sharing, giving, are not to put away." — Norman Wesley Brooks
"The way you spend Christmas is far more important than how much." – Henry David Thoreau
"Peace on earth will come to stay, when we live Christmas every day." – Helen Steiner Rice
"Some Christmas tree ornaments do more than glitter and glow, they represent a gift of love given a long time ago." — Tom Baker
Literary Quotes
If traditional sayings are not your style, perhaps you'll find the ultimate festive quote in the pages on your favourite book. A literary quote can provide an effortless way in which to express your feelings to someone you love.
"Christmas can't be bought from a store. Maybe Christmas means a little bit more." — Dr.Seuss
"Christmas is a together-y sort of holiday." Winnie the Pooh
"I will honor Christmas in my heart, and try to keep it all the year." — Charles Dickens
Christmas Movie Quotes
When you have a large number of Christmas card messages to write, it can be easy to run out of ideas for something original to say in your personalised text. Watching your favourite Christmas movie could provide you with a great source of quote and saying inspiration.
There are tons of holiday classics that appeal to all members of the family. If you don't have a favourite Christmas movie, pick a random festive flick to watch, and see how many sayings could make excellent messages for your Xmas cards.
"The best way to spread Christmas cheer is singing loud for all to hear." — Elf
"Every time a bell rings an angel gets his wings." — It's a Wonderful Life
"Just remember, the true spirit of Christmas lies in your heart." — The Polar Express
"It's Christmas Eve. It's the one night of the year when we all act a little nicer, we smile a little easier, we cheer a little more." – Scrooged
"Christmas isn't just a day, it's a frame of mind." – Miracle on 34th Street
Festive Song Lyric Quotes
Another cool way to express your feelings at yuletide is to pen Christmassy song lyrics in your Xmas cards. You can stick with the classic golden oldies, or check out your favouirte artist's festive hits.
"I'm dreaming of a white Christmas, just like the ones I used to know."— Irving Berlin, 'White Christmas'
"It's the most wonderful time of the year!" — Edward Pola & George Wyle
"Have yourself a merry little Christmas. Let your heart be light. From now on your troubles will be out of sight." – Hugh Martin and Ralph Blaine, 'Have Yourself a Merry Little Christmas'
"I won't ask for much this Christmas. I won't even wish for snow. And I'm just gonna keep on waiting, underneath the mistletoe."  – Mariah Carey and Walter Afanasieff, 'All I Want For Christmas Is You'
Political Xmas Quotes
If you love to surprise your family and friends at Christmas, you could always include a quote or saying that's associated with a historic or political figure. For fun, you can challenge the recipient of the Xmas card to guess the name of the person that your season's greetings quote is credited to.
"Christmas is a season not only of rejoicing, but of reflection." — Winston Churchill
"Christmas is a day of meaning and traditions, a special day spent in the warm circle of family and friends." — Margaret Thatcher
"Christmas gives us the opportunity to pause and reflect on the important things around us." — David Cameron
Quirky Seasonal Quotes
Your happy-go-lucky, fun-loving friends will be delighted to receive a quirky seasonal quote handwritten inside the Xmas card that's sent by you.
"Aren't we forgetting the true meaning of Christmas? You know, the birth of Santa." — Bart Simpson
"Don't get your tinsel in a tangle." — Unknown
"I'm dreaming of a white Christmas. But if the white runs out, I'll drink the red." — Unknown
Christmas quotes and sayings are not just for embellishing your Christmas card messages. While you're looking for festive inspiration for your personalised Xmas cards, you can make a list of your favourite quotes, and some of the most memorable sayings, and keep it for later use. If you're spending Christmas Day with the whole family, you can have fun playing a Guess the Quote game, as you take turns unwrapping your presents.
Browse by Category