8 Advantages That New Or Replaced Windows Bring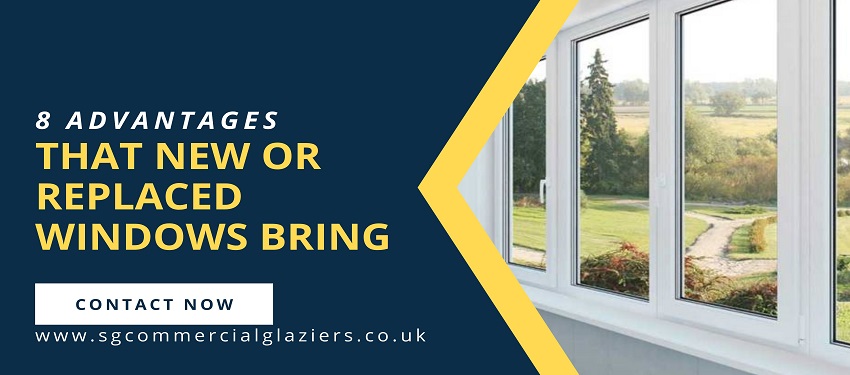 Increased lighting, comfort, energy savings, and improved looks are among the many perks of a new or replaced windows. Keep reading to know more.
As much as window projects set back your pocket by some pounds, they also come with incredible gains only a trial will make you believe.
Building designs have evolved from glass panes hinged on wooden window frames to more minimalist, superb looking, high-end modern windows. There's a lot these windows do that goes beyond lighting and ventilation. Technological advancement in window design has introduced other great perks like energy efficiency and less noise. It has also produced great materials that work perfectly well to build a bespoke window for your domestic or commercial needs.
Let's look at them in more detail.
More value is added to the building – 
Several reno ideas for a home may not have a return on investment value, but not windows. According to studies, modern window replacement can bring back over 70% value of the cost of a project. Right now, windows are one of the yardsticks potential home buyers use to measure the value of a home. Don't know whether to replace your windows? Our answer is to go on and do a replacement. You'll love the changes it'll bring plus the return on investment when you decide to sell.
Stiffer safety and security –
Living in a home with difficult to open windows or those that don't even open is a death trap. Aside from denying you ventilation, these windows won't allow any escape in an emergency. Functional windows of fibreglass, wood or vinyl offer safety and comfort. While this is interesting, what's more intriguing is that modern-day windows can be designed with improved lock systems and motion detection. A window like this makes you sleep without worry.
Lesser contamination –
Windows are openings that can allow dust and allergens into your space, but functional windows have between-the-glass blinds and shades that are shielded from outside dust and contaminants. This feature helps reduce the cleaning time of window coverings. If you are worried that kids and pets may disturb between-the-glass blinds, there's no need for that concern because this component carries no cord, making them safe and out of the reach of little ones and pets.
Home comfort at its best –
New or replacement windows' energy efficiency and solid seals make them resistant to hot spots and cold drafts. Again, they don't allow heat dissemination and so many UV rays to get inside. Even air leaks are not possible when new or replacement windows are professionally installed as they bond tightly with your space. Today's windows are designed to lock in hot or cold air generated inside the house, making your stay indoors very comfy. With this, your energy bills are lower.
Better performance of heating and ventilation system –
Sometimes, due to the inefficiency of windows, the elements causes the breakdown of the HVAC system. Energy-saving windows will make your home comfort better, lower energy bills and keep the environment safe. You can find these windows in vinyl, fibreglass and wood. Our fibreglass windows have five layers that are resistant to the worse changes in temperature. This is why fibreglass windows are a great option for different climatic conditions. As for wood, it comes from nature. This doesn't conduct much energy and will not let in much heat. Wooden windows are natural insulators. The several insulating air chambers of vinyl windows regulate indoor temperature effectively from winter to summer.
Noise is reduced –
Your health and that of your family is in danger from noise pollution. Everyday noise is generated in our environment. While there's little we can do to control the sources, you can rest easy with noise reduction features of new or replacement windows. With triple glazing and insulating frames, traffic and pet and equipment noise are low. So, you can nap comfortably and as many times as you wish in a more serene indoor space.
Greater aesthetics –
You know that feeling a chilled bottle of soda brings to the taste buds; that's exactly what new windows do to a building. This appeal is felt both in and outside the home. You will always find a wooden, vinyl or fibreglass window that matches your internal and external home decor. These windows come in a plethora of beautiful finishes. Whatever colour or shade you need, you will find. Most importantly, let it be known that aside from functionality, window appearance also triggers a sense of satisfaction in potential home buyers. In simple terms, they add to the general value of your building.
Maintenance is on the low –
With a component like between-the-glass blinds, you won't be cleaning your window always. What's more? Inward tilting sashes has made it hard to clean areas easy to reach and wipe down. This means more window enjoyment time and less cleaning.
Deciding what new and replacement windows to get will depend on varying factors; however, bear in mind that you will keep enjoying the perks of your new windows for several years.
Do you have a new or replacement windows project and will love to be assisted in deciding what type of material will be best? Would you be better off with a more professional window installation? If yes, then hire our commercial glazing services, and we will make your window experience much better.
Browse by Category