A Complete Market Research Made Easy With Online Survey Tools
Market Research in the form of online surveys is very important for a business to survive and dominate its area of business. It would help businesses climb a sheer J-Curve and open a whole new dimension of doing business.
Some of the benefits of knowing your market is:
It helps you strengthen your position
Understand market requirements
It will minimize any investment risk
You can easily differentiate between a threat and an opportunity
Strategic Planning Improves after you know what is the market requirement
Early spotting of emerging trends
With these points in place, you can better understand the business requirements and work towards the improvement of your products/services.
Also read, How to create Quizzes with Quiz Builder Plugin in WordPress?
There are many survey tools available online that could help you achieve the target. But not all are feasible for detailed analysis. You need to also keep in mind other factors like learning the collected data by reports and graphs, easy integration with marketing tools for online campaigns, Safe Storage of the collected data, full control over the collected data, etc.
#1 WordPress Survey Plugin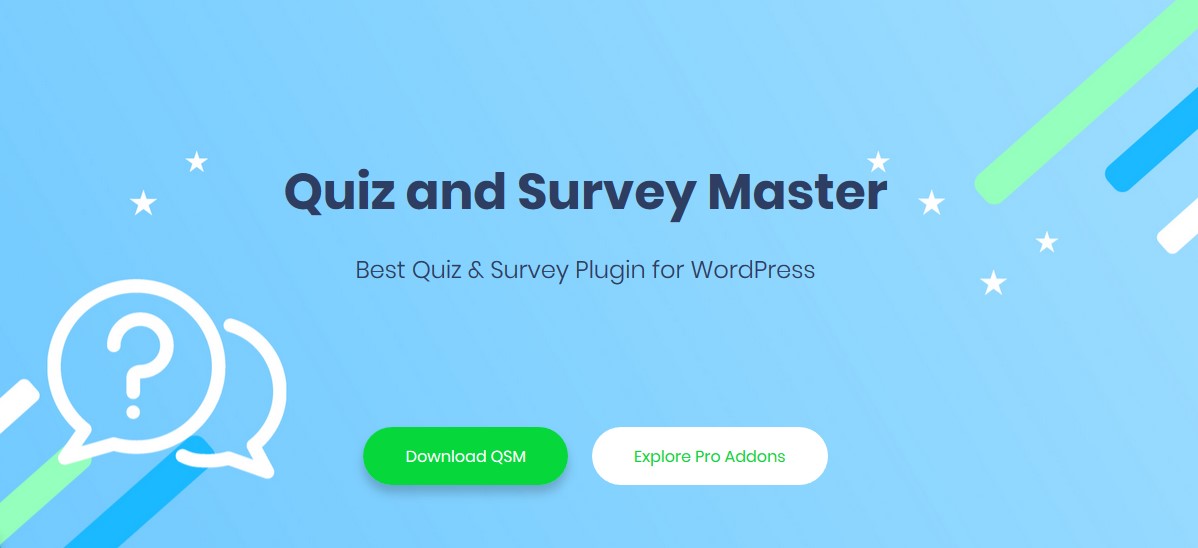 One such way of conducting online surveys is with the help of a Survey Plugin. If your business website runs on WordPress (it probably is) then you can make use of this amazing WordPress plugin called Quiz and Survey Master – #1 WordPress Quiz and Survey Plugin for conducting online surveys.
Also, read How can we Create a Survey in WordPress?
Quiz and Survey Master is a multi-purpose tool specially developed for creating Surveys, Quizzes, Online Exams, Feedback Forms, Questionnaires, and all other special forms to collect responses from the users and make the most use of the collected data. You can create unlimited surveys all for Free.
It has various Question Types [Type of Questions] like:
Multiple Choice[MCQs]
Fill in the Blanks
Number
Drop-Down
Short Answer
Paragraph
Opt-in
Slider
File Upload and more.

Once the survey is completed by the user then you can start studying the collected responses and view a detailed report and analyze the results. Quiz and Survey Master Plugin has various addons(plugins) that can be integrated with the Main Plugin and extend its functionality to get more out of the collected data.
For Example:
With Integrations like Active Campaign – You can directly send the email addresses of the users who take your survey made with QSM to the email marketing lists of ActiveCampaign without much hassle and work on various marketing activities.
Checkout these Demos crafted with the Quiz and Survey Master Plugin.
#2 Google Forms
Google Forms is yet another great way of creating online surveys. With Google Forms, you can start making surveys with just a Google Account.
With Google Forms, you can collect data by making short surveys and the data would be automatically get stored in Google Sheets. Google Forms also has various Question Types for making personalized surveys but it has its limitations.
Also read, How to add a timer on Google Forms?
You have fewer customization options when compared to WordPress Survey Plugins. You cannot integrate various third-party services as of now. Also, you cannot make further custom modifications to Google Forms.
Whereas with Quiz and Survey Master Plugin you can request form customization based on your requirements and site needs. Google Forms is also offering its service for Free.
#3 Survey Monkey
Survey Monkey is a paid alternative to QSM Survey Plugin and Google Forms. In its free plan, you are allowed 10 questions, 100 respondents, 15 question types, and some theme customization templates.
In its Paid version you are billed $26/month. It is quite expensive when compared to other competitors but it's fully worth the service you receive.
When you opt for their paid service, you will be presented with:
Free Integration with Popular collaboration apps
24/7 Email Support
Custom Logo, Colors, and Survey URL
Accept Payments
Advanced Analyze feature and more.
Conclusion
As you saw, Online Survey Tools are a great way of market research and a good way of collecting data. People responses/suggestions will help you guide your way forward. With the collected data you can enhance your products/services and work on the market requirements.
Browse by Category