Drones for Public Safety: 6 Use Cases to Consider
Public Safety agencies implement new ways to reach people with the safety that they deserve. It is really incredible to say that 19.01% of the market share of drone usage is taken by Public Safety.
This can change the way we reach the people with the services that they need the most.
Let's look at six use cases for how Drones for public safety can be utilized for enhancing Safety Measures.
HealthCare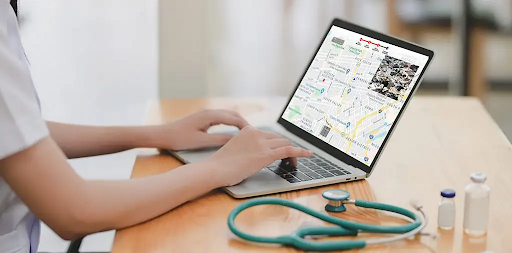 The healthcare and tech industries together combined are creating smart solutions that are centered towards saving lives.
Since COVID19 began,we have seen a huge demand for contactless deliveries, where usage of drones is key.
This is the start of a new era, where we see the use of drones for the delivery of medicines, samples, blood, and provide medical assistance throughout the world.
Going ahead this seems to be the new normal.
Law Enforcement
There are currently 1.1 million drones in the United States, and this number is easily estimated to cross 3.5 million by the end of 2021.
Studies have shown that 910 state and local officers in the USA have used Drones for law enforcement at some point for public safety operations.
Drone solutions are being used in the police departments, they are making response operations safe and effective while making them remotely accessible and manageable.
Let us take a look at a survey result which is based on the feedback of more than 200 officers in the US, about how their respective departments are using Drones:
| | |
| --- | --- |
| Activity | %age usage |
| Monitoring crime and traffic. | 71 |
| Disaster management | 79 |
| SWAT operations | 76 |
The stats never lie, drones are really becoming the next big thing to ensure that the law is being implemented in the true way.
A few reasons Drones are used in the Law Enforcement:
Drones are a powerful public safety tool
Drones can potentially save lives
Drones are a much affordable medium to perform Aerial surveillance.
Drones are ideal first responders
Hence we can say that drones are no longer a piece of equipment but rather an essential tool in the Law Enforcement industry.
Disaster Response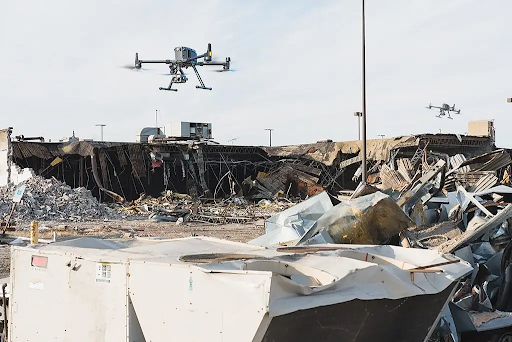 Drone technologies are improving as the days go by, but they are not at a level to replace the human disaster response system completely.
Now they stand at a position to support the existing systems to accomplish tasks faster, more efficiently, at a lower price, and in most cases safer than traditional methods.
Drones can reach the disaster struck areas faster than human approach and while doing that they also can reach the victims with crucial medical assistance.
They can fly over obstacles, reach difficult places and also function in extreme weather conditions.
Normally all of these tasks are dangerous for humans and also they require a lot of resources, but again, here comes drone solutions to the rescue.
Crime Detection
Today Drones are more capable than they were a few years ago, now they come equipped with cool technologies embedded in them. For example, Thermal Sensing, 4K recording, Mapping, Scaling. Different algorithms are used in its software to bring out the full potential of drones to action.
Drones simplify crime scene investigations in many ways, they can be used to collect evidence and information that may be hard to reach from a human standpoint.
Multiple drones can survey a crime scene to provide 3D imagery and generate maps within minutes. They can provide visual information at night or help officers to reach the area in low-light conditions.
And finally, they can record high-resolution videos when needed and transmit the data back to the station.
All this can be done within a fraction of time when compared with the time taken by ground units to conduct the same investigation.
Search and Rescue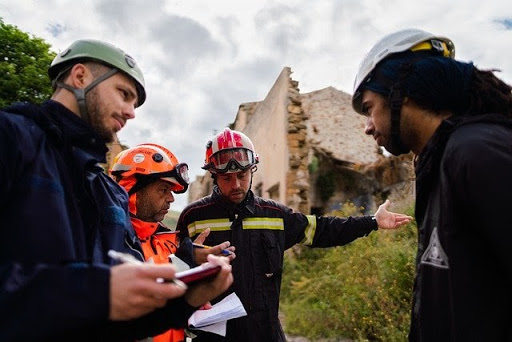 We have just read how drones are feature-packed and are helping in many fields of Public Safety.
One of the most important Public Safety Measures is "Search and Rescue".
Drones can be used for search and rescue missions as they are a valuable asset for locating missing persons and animals.
They are often used
to find lost mountain climbers and elderly people/ children who have lost their way home.
in Beach Rescue Missions where the victim is out of sight and can be located easily via a drone.
in crash sites to find the victims who have been thrown off or drowned.
They are indeed very useful at night when fitted with thermal imaging cameras that pick up heat signatures.
Drone rescue missions are becoming more and more common each year, for instance, this year the search for missing Glee star "Naya Rivera" was conducted via all ways possible, and the medium that located her was ariel footage which was believed to be captured by a drone, that later brought closure to her family and fans.
Hence we see Drones in Search and Rescue missions not only bring successful outstanding results but rather they try to create an emotional connection to the family of the affected.
Isn't this the whole reason why technology was created in the first place, we see it manifesting now in the form of Drones to save lives.
Crowd Management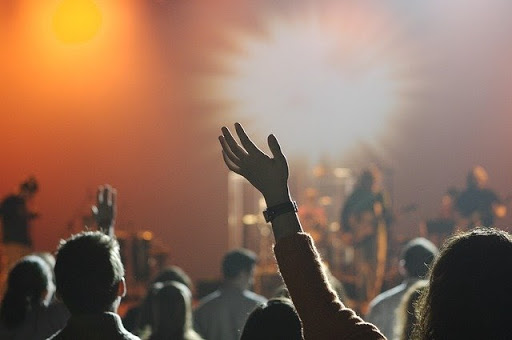 We all love going to huge events like Coachella, Football Matches, Product Launch Events, and many more, but the main concern for many people would be their safety and security.
Yes, there might be guards and security at various locations, but what about when the event is held indoors? Who is there to keep an eye on you?
No worries, Drones are here to make sure that you will enjoy and be safe during the event as they are hovering above you at a distance all the time.
Events like the ones mentioned above draw huge crowds and moving security units through these crowds is slow and hard.
Cities that host large events are finding that having a handful of drones on the sky during such events allows them to see the full picture.
Drones help them to watch people move in real-time and zoom in on singular events that may need a ground unit backup.
These Drone solutions are great for detecting trouble before it gets out of hand and communication between units is way faster.
Hence proving the fact that drones are very useful in Event Management Scenarios.
How Does Software Enhance Drone Capabilities for Public Safety
Drones alone have certain limitations like it's difficult to mobilize a large fleet of drones in a coordinated manner. This and many more limitations can be overcome by using a fleet management system like FlytNow and KittyHawk.
A fleet management system is a software solution that helps in:
Providing scalability: It provides scalability in the sense that an operator can manage and control a fleet of drones from a dashboard. 
Automating drone specific activities: Managing a single drone is different from managing a hundred drones. With the increase in number requires certain kinds of automation that a fleet management system provides. 
Providing AI-advantage: Fleet management systems provide AI-features like object detection, collision avoidance, precision landing that are crucial for public safety operations.
How a fleet management system works
If we take the example of FlytNow, then it is a cloud-based application that provides a unified dashboard. The dashboard provides live telemetry and video from all connected drones and can be used as a command center. Below is an illustration of how a fleet management system might work for public safety operations.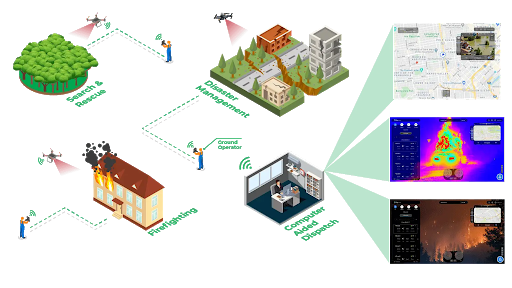 Drones are connected to fleet management systems either through a mobile application or integrating a single board computer into the drone's flight control system, which in turn communicates with the cloud over the internet.
Here are some benefits that drone fleet management systems provide with regards to public safety operations?
Most fleet management systems come with an advanced mission planner that allows operators to dispatch multiple drones from a remote location as an emergency response. Operators can plan the exact route of the drones that they can follow without human intervention using the GUI based features of the planner.
A fleet management system allows for live video streaming from multiple drones onto a single dashboard. This capability is useful in situations like firefighting where video from multiple drones can be stitched together for better situational awareness. 
Another benefit of live streaming is in remote inspection, where a localized-pilot can fly a drone in close proximity to a damaged structure, for the purpose of inspection, and share the live footage with a remote inspector by leveraging the cloud infrastructure.
FlytNow for instance, comes with a robust set of REST APIs that can be used to integrate with emergency response systems like the 911. Such an integration will allow an emergency operator to dispatch drones from his/her dashboard on receiving a distress request.
Powerful AI-features like object detection can be used for search and rescue operations where a drone can cover a large area and alert the authorities when it finds the missing person, all under the watch of people having access to the dashboard.
Summary
In this blog, we have learned 6 wonderful use cases of Drones in Public Safety. We have also covered in brief how, where, and when do these solutions make an impact on the safety and security of people. We also discussed in brief why fleet management is required, especially when using drones on a large scale, and some of the benefits of using such a system.
Browse by Category