Effective Stain Removal Procedures on Clothing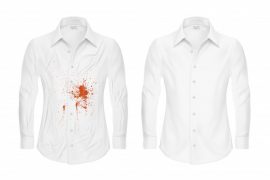 Removal of stains is really tricky especially when you try to remove it at your home with the incorporation of DIY stain removal procedure. But the entire process seems to be very daunting to most of the people.
However, with special technical skills, ability, knowledge and experience the process will get much easier and efficient than ever. Let's know how an experienced commercial dry cleaning and laundry services in London eradicates a tough stain from clothing effectively from this blog.
From where you should start
Considering the stain removal experts' perspectives, it is really essential to figure out the ability of the stain on your clothes. Accordingly, you have to assess it for determining the type of cleaning agents to be used. It is important to use safe cleaning agent otherwise the fabric of the garments will get badly damaged and worn out.
This will ensure you that the stain can be removed completely without causing any jeopardize to your favourite attire and the integrity of its fabric. Now, you should commence the procedure by wetting the fabric well followed by the application of the targeted treatment.
Then let it sit into the fabric well by allowing the material to get dried up. It will keep the stained spot isolated which is why the stain will be removed without any harm to its colour and fabric.
Ways to diminish the stains from clothing
There are varied agents which work effectively on varied stains. For instance, greases and oil stains are treatable by cleaning agents commonly known as 'solvent-soluble'. On the other hand, the stain of beverages including tea, alcohol and juices can be treated with 'water-soluble' cleaning agents.
Any other stain type is dealt with the application of cleaning solution which promotes chemical reaction immediately for the stain. There is another method for removal of the stain from your garments and that is natural digestion. All you have to do is to soak the clothes in a gentle solution.
Progressively it will start working on the stain influencing its breaking down due to the application of targeted agents. Basically, it occurs as the result of responding to stain make-up.
Prior to treat the clothes by commercial dry cleaning and laundry services, the stains are usually treated well by the stain experts. In case the stain is pointed to the specialist directly it becomes much easier to deal with it in much efficient ways. Moreover, it heightens the probability of successful stain removal at the same time.
But the industry of dry cleaning services also deals with another yet special stain type known as invisible stain. Most of the times these stains can't be observed in naked eyes yet it they persist on the fabric for over a long period of time then it will get oxidized making the removal procedure harder than ever.
At that time even pre-spotting can't help the owner and expert to get rid of this annoying stain. As a result the garment gets completely ruined and unfit to use as its sugar already deposited making the fabric caramelised. One common example of such instance is the spilling of liquor and beer on clothing.
At first, it seems that there is no stain. After cleaning the clothes the stain begins to appear slowly in brown-like colour. There is a high sugar content in alcohol which gets caramelised down leaving behind an annoying and dark stubborn stain.
Effective tools to prefer to remove the stains
At first you prefer using spotting board which equips every sort of cleaning agent. It provides a hard surface where you can treat the stubborn stains with varied methods.
Once the stain removal procedure is over, compressed air system, a vacuum system and a steam are offered by the board for drying up the fabric completely. The toolkit also comprises of plastic files, blotters scrapers and stain removal brushes for aiding you in every stain removal procedure.
By this way a cleaning expert deals with the stains on clothing. This is the only reason people prefer professional stain specialist to remove the stains from their favourite outfit. Search using 'dry cleaners near me in London' online, if you need one to deal with some stained clothes and prevent them from getting ruined completely.
Alfred Williams
Hey everyone! My name is Alfred Williams and I am passionate about business and finance. I have been working and managing in these fields for over 10 years. I have expert knowledge of market strategies, financial analysis, and decision-making processes. I also have experience in consulting and budgeting. I'm excited to use my knowledge and expertise to help others achieve their goals. Follow me for the latest insights on business, finance and decision-making. Business, finance - let's get started!
Browse by Category