How to Look Elegant: 10 Fashion Tips for Women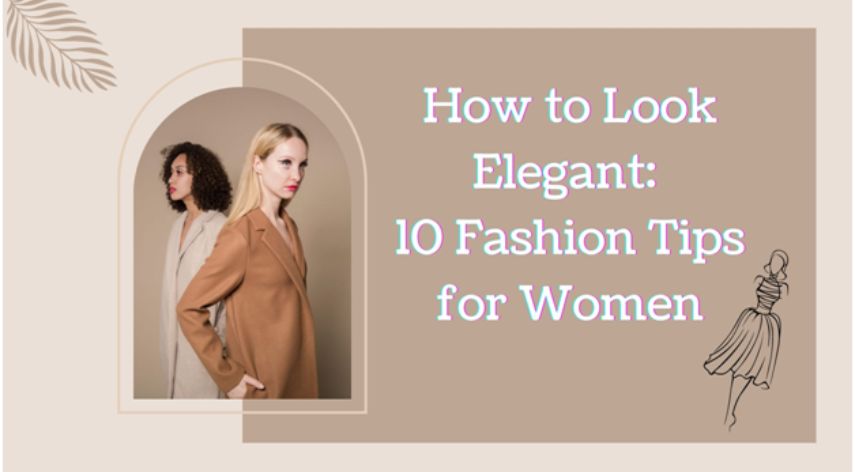 Do you want to take your outfit up a notch but don't understand where to start? Then, we've got your back!
It might seem tricky, but dressing up elegantly while keeping up with the current fashion trends is simpler.
When it comes to dressing up, accessories should be the first thing you want to invest in. If your outfit for the day looks incomplete, jewelry might be the missing element. There's no outfit that small diamond studs and an elegant necklace can't fix.
Top 10 Fashion Tips for Women
These ten amazing tips will not only teach you how to style up any outfit, but they'll also guide you on how to look sophisticated effortlessly.
1. Embrace Your Femininity
There are more than 50 mainstream fashion styles for women to express their personalities. However, opt for something flowy and feminine when you can't select a particular style that represents your personality or mood.
It is the most elegant fashion style for women. Since it has the right balance of curve-defining bodice and loose-flowing skirt, it can instantly give any woman a soft and sophisticated appeal.
2. Opt for Diamonds
They say that diamonds are a girl's best friend, and rightfully so, as they can glam up your entire look without overdoing it. In addition, diamonds are unique and precious, which makes a woman stand out elegantly.
You don't have to don a heavy diamond jewelry set. An elegant pair of diamond earrings is enough to level up your outfit. In addition, you can opt for lab-grown diamonds to look elegant without compromising the planet's safety.
3. When in Doubt, Wear Red
Red is associated with feminine energy, love, passion, and desire. It sends a message of confidence to the public. If you can't find anything else to wear, wear an elegant red dress to uplift your confidence and change your attitude.
Moreover, red also signifies power; there is nothing more attractive than a powerful woman. Therefore, having a red dress in your wardrobe is important. Look for a high-quality dress you can style up and down for different occasions.
4. Invest in Tailored Clothing
Wearing baggy clothes might be trendy, but they rarely look appealing for all occasions. You will never see a boss-lady wearing a baggy t-shirt paired with sweatpants to work. Instead, elegant women invest in tailored clothing that fits their bodies perfectly.
The rise in bespoke clothing shows the importance of an ideal fit. People are straying away from off-the-rack clothing and getting tailor-made clothes for themselves. You can easily customize your clothes with the help of a seamstress without breaking your bank.
5. Learn the Art of Layering
It is important to learn the art of layering your jewelry. It adds more personality to your outfit. For example, you can pair dainty diamond jewelry with a delicate gold chain and bracelet to complete your look.
Elegant women avoid flashy jewelry as they concentrate all their attention in one place. Instead, your outfit should look cohesive and sophisticated as a whole. You can also play with different diamond cuts, precious metals, and jewelry textures to fully customize your look.
6. Start With a Capsule Wardrobe
If you have started your journey towards an elegant fashion style, create a high-quality capsule wardrobe. Invest in key pieces like black, white, and beige tops with neutral dress pants, modern-fit jeans, and a feminine skirt.
For accessories, wear a black belt, neutral shoes, an everyday bag, and a fancy clutch. You can mix and match these pieces with other trendy pieces that you own to create an interesting outfit each time.
7. Go for Natural Fabrics
Synthetic fabrics like nylon, polyester, and jersey give off a cheap look, no matter how expensive your outfit is. Instead, opt for natural fabrics like cashmere, silk, linen, or cotton. These breathable fabrics fall beautifully on your body and do not appear cheap even as they age.
Even though these fabrics come with a higher price tag, they last a long time and have a timeless appearance. Therefore, always invest in quality pieces made of natural material and add allegiance to your overall look.
8. Don't Forget Your Nails
Unmanicured nails show your lack of self-care and a non-serious attitude about your hygiene. Paying attention to your nails is important to look polished and put together. Apply a thin coat of neutral-colored nail polish to make your hands look clean and manicured.
Moisturizing your hands and cuticles is also essential to making your hands look presentable. Remember, an elegant woman will never compromise on self-care. Therefore, go for a professional manicure at least once a month to keep your hands looking soft and polished.
9. Have a Conversation Piece
While emphasizing the importance of neutral clothing and minimalistic accessories, having one statement piece in your closet is also important. In addition, such pieces are great conversation starters.
It adds a wow factor to your look, instantly grabbing a crowd's attention. It could be a vintage bag, a unique diamond wedding band, or trendy heels that make people start a conversation about it.
10. Flaunt Your Confidence
Lastly, make sure to smile and flaunt your confidence. A survey revealed that 47% of participants stick to a self-care routine to maintain their confidence level.
It doesn't matter if you don't have a matching accessory to go with your clothes. Believe in yourself and have confidence in what you're wearing. Confidence makes a woman instantly attractive.
Wear clothes that make you feel good about your body which will naturally bring out your confidence. Remember to please the person you see in the mirror to be 100% confident in yourself.
Conclusion
Accessorizing is the last yet the most crucial step to completing your outfit. If your accessories are elegant and have the strength to convert your outfit from simple to wonderful, you're already winning.
Your clothes express who you are, and your jewelry doesn't have to be any less. So pick the pieces that suit your fashion style to blend in with your outfit.
With these simple styling tricks up your sleeve, you can make any outfit look elegant. Whether a working woman or a housewife, these easy-to-follow tips can transform your fashion game.
Browse by Category