Launching a Healthcare Career – How to Start a Career as a Nurse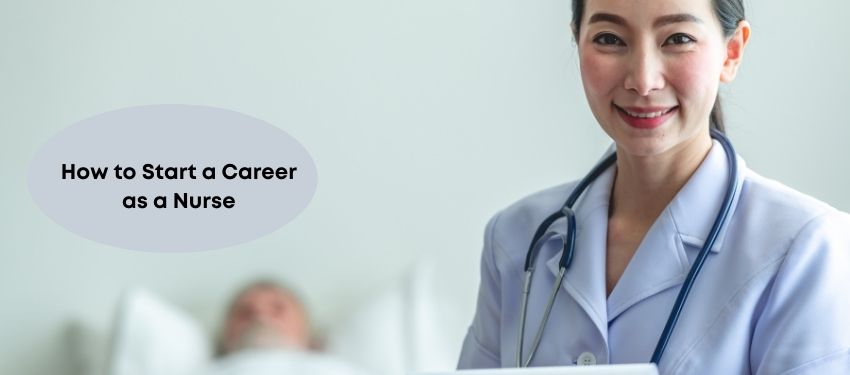 Launching a career in nursing will be an exciting time in your personal and professional life. Working in a role that helps others and having an impact on people receiving treatment and care can be life-changing for you and for your future patients too. You know that you want to start a career in nursing, and you know that you have the motivation. However, what do you need to focus on first to ensure that you get your career off to the best start possible?
Decide Why You Want to Be a Nurse
What do you want to get from the profession? What is guiding you into the world of nursing, and what are you hoping to get from the industry? Do you want to become a nurse to fulfill your ambitions and goals? Or are you entering the industry to make a positive impact on the lives and care of others? When you have your motivation clearly in sight, you can then focus on building a sustainable career.
What Area of Specialism or Expertise Would You Like to Focus On?
After establishing what is driving your career and role as a nurse, you then have to focus on what specialism you want to enter. What area of expertise is attracting you or drawing you in? For example, do you have a desire to help new moms in the maternity wards? Or would you like to be in the thick of it on the accident and emergency ward? What role do you see yourself playing, and what do you want to achieve within nursing? No two days in nursing will ever be the same (no matter what area of specialism you choose), but wouldn't it be nice and more fulfilling to cover an area in which you are truly interested and invested?
Do You Have the Skillset Needed to Be a Nurse?
Wanting to be a nurse and having the dedication and direction is good, but do you have the required skillset? A nurse's skillset will be developing and growing over time, but it is crucial that some essential skills are in place. For example, a nurse has to be compassionate and empathetic towards others, including patients and other team members. Being able to communicate at all levels is also important. If you cannot communicate with others, then this is something you will need to focus on improving. The skillset that you have (and develop) throughout your nursing career will change, and it will develop, especially as you advance your career.
Focusing on Improving Your Education
To become a nurse, you have to have a relevant degree. Without a relevant degree, you will not be able to practice. Once you have your degree in nursing, you are on your way to a long and fulfilling career in nursing. However, getting a relevant degree is just the beginning of your journey. Focusing on improving and advancing your career at all times is something that you have to prioritize. Seeing your education and training as lifelong and a requirement throughout your career will ensure that you get much value out of everything that you do. At Wilkes University, they understand what nurses need and want both now and moving forwards, and they have a variety of programs in place which you can look at undertaking. Finding an educational establishment that can grow with you is crucial, especially if you want to build a career that lasts many years.
Getting Licensed
After you have achieved your degree and you have thought about your education moving forwards, you then have to focus on getting licensed. States can vary in terms of requirements, and it is always worth checking out what the state you wish to work in requires. If you are struggling, you can reach out to the educational establishment where you gained your degree. Or you could reach out to a nursing group or licensing body that may be able to steer you in the right direction and help guide you with regards to what you need to do, when, and why.
Self-development and Self-growth
When you start out as a nurse, you have to commit to self-growth and self-development. Working towards being the best version of yourself is important and essential, especially when building a long-lasting career. When you are looking at self-development and growth, you need to think of the process as continuous and not something that you simply do on an ad-hoc basis. Regularly looking at what you are good at and also seeing just where you can make improvements is essential. Being critical of yourself is not going to be positive, but seeing where you can grow and develop is going to be positive for the duration of your new nursing career.
Start Gaining Relevant Experience
In those first few months as a nurse, you can find each day challenging and possibly even overwhelming. Taking on board lots of new information and learning what is required and expected of you can be draining and exhausting. Gaining relevant experience in the nursing industry (in any healthcare setting) will be tiring, and there will be times when you feel that you have simply had enough. However, getting through these first few months and strengthening your work experience and knowledge will be beneficial to your future career.
Setting Career Targets and Goals
To excel in nursing and to achieve your full potential, you have to set career targets and goals. If you do not set both short-term and long-term goals, you will find that you never reach the level you thought you would (or hoped you would). Achieving targets and goals will boost your confidence, and this is what you need to achieve a successful career. When you are laying out plans for your future, it is important that you are not putting yourself under too much pressure. Ensuring that targets and goals have to be achievable and realistic is essential.
Browse by Category