Top 5 Commercial Paint Colors For Your Business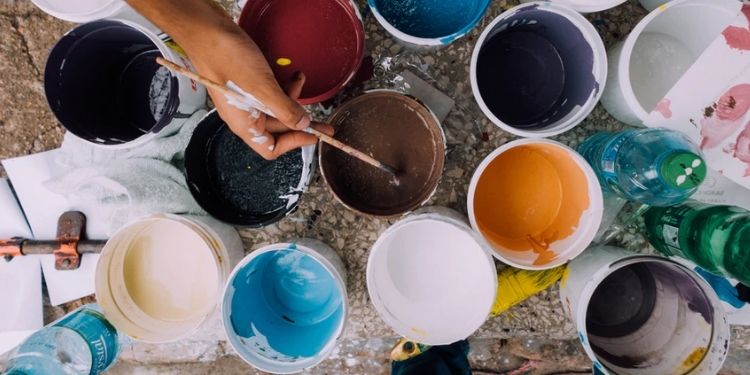 Choose Commercial Paint Color sensibly as it leaves an everlasting impact on employees, customers and their experience in the building.
What is the colour of the walls inside your commercial building? Have you chosen the wall colour purposely? Usually, companies prefer neutral paint colours to keep everything simple and elegant. Sometimes, they go for the thematic colours for the better recognition and reputation of their brand.
According to the professional Commercial Painters Toronto, choosing the ideal paint colour enhances the overall productivity of employees at the workplace. Nevertheless, you might be missing out on something if you haven't chosen your building paint colour specifically.
Most of the research studies have also confirmed that hues can significantly impact an individual's personality. That's why; it is somewhat necessary to choose your office's paint colour wisely as it affects employees' efficiency at the workplace.
Want to know how commercial paint colour affects the work performance of the workers? Keep reading the entire discussion as we are explaining every single detail for you.
No denial; red is the colour of love, affection and warmth. But, researchers also confirmed that the red colour stirs up strong emotions and improves heart rate. If you want your employees to work with more enthusiasm and energy, then painting your building's walls with red colour is always a fantastic idea to go for.
Indeed, painting your entire office with red colour isn't a good idea as it can make your office space look weird and odd. That's why; we strongly recommend you paint the specific areas of the office mainly where you want to grab the attention of potential customers.
Do you know why most of the restaurants paint their walls red colour? The red colour makes you energetic, and you feel hungrier. That's why; they paint walls with red colour to make this customer in and out real quick.
The green colour is the mood booster. It's an astonishing choice for an organization where employees work for quite a long. Also, if you are a fast-paced company, then choosing Green paint can surely reap positive outcomes for everyone who works in the office. Generally, it is considered a good idea to paint lunch break rooms with green colour. People feel relaxed and contended by sitting in those areas.
Looking for paint colours that give a great impression with Green? Here's what we have found for you;
Green and Blue (Improve calmness and tranquillity in the office).
Green and Yellow (Give energy and motivation).
Grass Green and Dusty Coral
Green and Crisp White
Undoubtedly, the colour mentioned above combination can give a completely different look to your office. No surprise, such colours improve employees' productivity too.
If you want to improve your decision making power at the workplace, then go for the orange paint colour. The colour makes you feel enthusiastic and boost-up your energy incredibly.
However, keep one thing in mind that orange is a louder hue. That's why; prefer it for accent, not for the entire walls. You can paint the selective areas of your office's building with the orange room but make sure everything looks great.
Here is the list of some shades that go great with orange.
Orange and Grey
Orange and Blue
Beige and Burnt Orange
Orange and Pink
Orange and Purple
As mentioned earlier, the certified commercial paint company chooses the ideal colour combination for you. You don't need to waste your time selecting the apt paint colour because they can decide it after determining the nature of your work.
Yellow is everyone's favourite colour for all good reasons. One of the best things about choosing yellow paint colour for your commercial building is that it advances inventiveness, sanguinity, responsiveness, and a sense of worth. So, if your business is all about sharing ideas with clients and showing creativity, then the yellow colour better defines your brand.
Yellow is the perfect choice for your wall paint if you work on the different areas;
Art
Ad Agency
Fashion Designing
Writing
No denial; every room shouldn't be painted with yellow colour. The pleasing contrast or combination of yellow with other colours can surely give some remarkable effects.
One of the fantastic benefits of hiring professional commercial painters is that they can assist you in this matter. They examine your commercial building and opt for outstanding paint combinations for you.
For example; yellow colour always gives a magical look with the following shades;
Yellow and light purple
Yellow and green (always in trend)
Yellow and black (gives aesthetic vibes)
Yellow and royal blue
Yellow and brown
Have you heard about 'Civic Center Parking' before? Interestingly, its colourful parking garage is considered one of the finest, enticing and vibrant buildings around the globe. The colourful building glass and an impressive combo of vivid colours make Santa Monica Civic Center Parking Structure talk of the town.
That's why; it's way too important to choose a theme that better defines your brand, organization or corporate business. Also, ensure that the desired colours make everyone feel good about them.
"Think outside the box" is always an appreciable idea. But, always prefer modish and trendy stuff.
Surprisingly, the majority of colour psychology experts consider blue as the ideal colour to enhance workplace productivity. It's an excellent preference for corporate sectors because blue also represents elegance and sophistication.
This colour gives a natural calming effect, mainly when a hectic work schedule bothers you. Certified painters can paint your office walls with a blue hue to make you feel energetic, vigorous and lively.
Are You Ready to Paint Your Commercial Wall Professionally?
Not everyone can paint commercial buildings professionally.
That's why; you don't need to take this matter into your hand as professional commercial painters in Toronto are available for this purpose. Choose a reliable company and let them give a new look to your workplace.
Browse by Category