Top Five Best WordPress eCommerce Plugins in 2021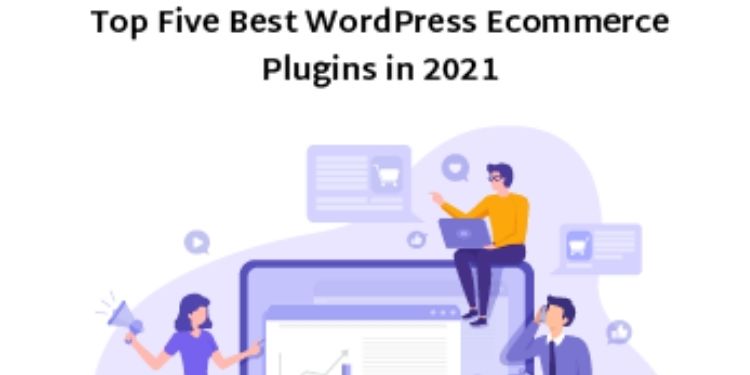 By looking at the WordPress eCommerce plugin, we comprehend the most important features; after that, you need to find out what makes these plugins stand out from the others. You will find that some eCommerce plugins generally have more features, while others are better suited for simple and uncluttered stores. On the other hand, you will see that some niche-specific eCommerce plugins can perform specific tasks such as selling digital downloads online, cart management system, payment solution, and much more.
After conducting a separate analysis of each WordPress eCommerce plugin, we will provide you comprehensive recommendations on different plugins that you must consider to run your eCommerce store in a specific situation smoothly.
1: WooCommerce
WordPress eCommerce is the king of plugins. The name WooCommerce means immediately transforming your WordPress blog into a fully efficient eCommerce store, and it is absolutely the most popular platform in this industry. The history of WooCommerce is fascinating because of its rapid growth and hundreds of extensions and themes.
Another purpose for WooCommerce is the relentless growth and reputation of online stores, and you proudly epitomize that your organization runs on WordPress WooCommerce. It is one of the best solutions when you try to build and expand an online store quickly. You can use five products to create a store for your blog and add up to thousands of products simultaneously. The amount of the plugin is always the same. As long as your hosting and infrastructure can handle it, you can support an unlimited number of products and visitors.
Perks & Benefits of using WooCommerce:
Reliable WordPress Support: Starting your business with the most basic features, and then scale up over time by purchasing advanced features and addons. If your business is on a larger scale or retail store with a vast inventory, then you need additional support to improve website performance and optimization; WooCommerce will provide the proven WooExperts service for their customers.
Larger Community: As it is the most popular WordPress eCommerce plugin, you can find a large and active global community and easily find blog posts and articles that can help you solve problems. Also, check their official WooCommerce documentation for standard solutions.
Robust extensions and plugins range: Extensions and plugins are other features that can be added to the WooCommerce store for improvement. For example, WooCommerce pre-orders allow customers to order products before they are available, while WooCommerce Multilingual will enable you to run a multilingual website.
Multiple types of products: It allows you to retail any product, such as physical items, digital downloads, and subscriptions. Avail of the best payment methods for the major payment gateways. These include multiple payment systems like PayPal, bank-to-bank payment, and cash on delivery.
Impressive theme options. Most of the eCommerce themes available in the WordPress theme catalog are WooCommerce compatible and give you multiple options to design your store as per your defined layout and design.
2: Square Easy Digital Downloads
Square is getting ever more popular as a payment gateway in the countries that support it. Square Easy Digital Download Payment Plugin is a WordPress plugin that allows your customers to pay for and download digital products on your website and provides you an opportunity to receive payments from the world's leading credit cards. The plugin has a built-in Square payment gateway to handle safe and secure transactions with fully PCI compliance.
Perks & Benefits of using Square Easy Digital Downloads: 
It is believed to be one of the convenient solutions for various payment options on WordPress. Here is the list of top-rated features.
Offers a fully functional cart system.
Download unlimited Files.
Download File Access Control.
Access to complete payment history.
Download Activity Tracking.
Safe and Reliable payment gateway.
Complete data Reporting management.
3: Bulk Order Form For WooCommerce
Bulk Order Form for WooCommerce is another convenient WooCommerce extension, and it provides you with an easy way to list products while allowing you to customize the product table. You can build a simple, flexible, and responsive product table and improve the following options (search field tabs, sorting, tables, filters, etc.). WooCommerce Bulk Order Form can help you increase sales and get better and more detailed user engagement.
Perks & Benefits of using Bulk Order Form For WooCommerce:
All in One Products Table – Easily display all products in the WooCommerce store with required fields in a single table layout.
Drag and drop product builder: drag and drop the column into the dotted box. Only those column labels are editable and are located in the dotted area.
Fully Responsive Layout: WooCommerce Bulk Order Form is fully responsive and automatically adapts to different screen sizes.
Sorting and filtering options: Advanced search options, including dropdown lists for adding filters (clarifying product category, label, color, or size).
Multiple pagination options: If there are numerous pages, you can choose how to display the pagination options in the product table.
Complete Data Control – List specific products based on category, tag, status, date (based on day, week, and/or month), custom ranking terms, or custom field values.
Column customization: This feature allows you to display more columns, such as SKU, weight, size, inventory, labels, etc.
Add Multiple or Bulk Quantities to Shopping Cart:  Display or hide the quantity picker option so that customers can directly select the quantity in the product table.
4: BigCommerce
BigCommerce has its particular hosting and content management system, and it now serves the huge WordPress community with its initial release. Currently, you must request to use BigCommerce; since the system development is in progress, this may be updated with some delicate features.
BigCommerce is one of the best WordPress eCommerce plugins for bulky businesses. It delivers the function of handling multichannel sales from one dashboard and can accommodate a wider variety of catalogs, traffic, and order volume.
Perks & Benefits of using BigCommerce:
Best credit card processing charges: Compared to many WordPress eCommerce plugins, BigCommerce cooperates with many processing companies to get compatible charges for their valued clients.
Faster performance can lead to more effective prices: BigCommerce runs the e-commerce section of the WordPress website on the backend and maintains the content on the frontend, thus achieving optimized speed and save hosting plan charges.
Integrated PCI compliance processing:  BigCommerce manages to standardize "Payment Card Industry Data Security Standard (PCI DSS)" necessities. On other e-commerce platforms, you must discuss such security options with the host.
Management and multichannel sales: Sell ​​through multiple channels and marketplaces (like WordPress, Amazon, and Google Shopping sites) and control them through one dashboard. Your inventory will be automatically synced and completely error free.
5: WPeCommerce
WP eCommerce is the old-style WordPress eCommerce plugin, but indeed not as good as WooCommerce. WP eCommerce comes with many optional fields that allow you to create sophisticated online retailers from the bottom up. WPeCommerce easily integrates with all major payment gateways for a better customer experience.
Its main downside is that it is generally testified as buggy, causing people to switch their platform for WooCommerce or other convenient eCommerce options. Another downside is that you won't find plenty of extensions compared to other famous plugins like WooCommerce or Shopify.
Perks & Benefits of using WPeCommerce:
Quickly add products to your catalog.
Personalized CSS and HTML plugin customizations.
Monitor sales and reporting.
Configure taxes and shipping rates.
Secure payment gateways with SSL.
Wrapping Up!
If you want the greatest control, functionality, and flexibility, WooCommerce is the ideal solution. Not everyone is technical in all domains then BigCommerce is your best choice. It enables you to use a SaaS-based e-commerce platform, which is highly effective for WordPress as your content management system. If you only sell products in bulk, Bulk Order Form For WooCommerce may be your best choice. We hope this blog helped you find your preferred plugin.
Browse by Category