Why Mobile Applications are Important in 2021?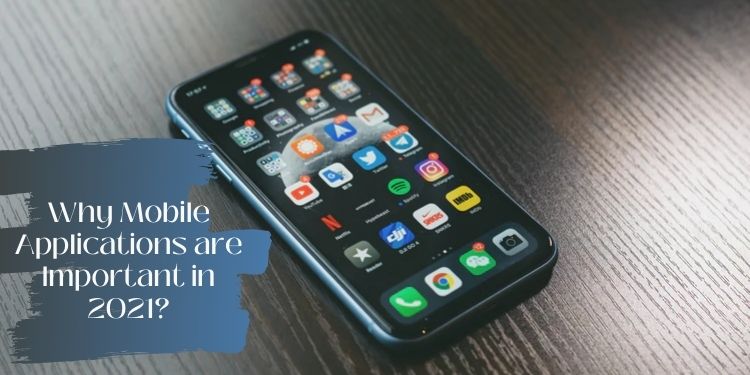 In marketing strategies, companies use every available means of staying ahead of the competition. A mobile application is an effective brand promotion tool that will help retain existing customers and acquire new ones.
The development of a mobile application is a standard requirement for modern business, which is important for success and development. The application allows solving the needs of both the client and the owner of the company. In this article, we will talk about the benefits of a mobile product for each side of the business.
ADVANTAGES OF CUSTOM MOBILE APPLICATION DEVELOPMENT
Increased Customer Loyalty
A mobile application designed specifically for a specific business allows you to establish direct and instant communication with customers. Business owners can enter online coupons, organize promotions, provide discounts, and create customized offers that will be displayed in the app. This will help increase sales as well as develop a sense of brand loyalty.
Strengthening Brand Value
The success of any marketing campaign is about getting the customer's attention. Developing a mobile app can help you gain attention and maintain your brand image over time. Periodic brand reminders via push notifications are beneficial for retaining customers and encouraging them to make unplanned purchases.
Increasing Brand Awareness
Mobile phones and related devices are most commonly used in everyday life. This gives marketers a great opportunity to use these devices to work on their brand image. By properly leveraging the benefits of frequent mobile use, you can use the app to keep your company image fresh in the consumer's mind.
The Expansion of the Customer Base
Mobile apps can help you grow your customer base. Since most applications are available for almost all mobile platforms, a business gets a huge resource for its promotion.
As the number of users of mobile devices grows daily, as well as the popularity of applications that cover the needs for various goods and services online, the number of potential customers will also grow.
Timely Informing Customers
The mobile application allows you to send notifications to users in accordance with their shopping preferences, location, the appearance of a delayed product in the warehouse, weather forecast, day of the week. Push notifications aimed at solving customer problems work for your business. The consumer knows about great deals, manages to buy the desired item, tells his friends about the brand, and the business makes profit and new loyal customers effortlessly.
THE IMPORTANCE OF MOBILE APPLICATION DEVELOPMENT FOR USERS
With the pros for business sorted out, now let's see what benefits a mobile application can bring to customers.
Between a website and a mobile application, customers often choose an application: it is more accessible, simpler, intuitive and there is nothing superfluous in it. By installing the application, the client gets access to the entire catalogue of goods or services. The necessary information is displayed clearly and within the boundaries of the screen (not all sites can boast of web versions and ease of viewing on mobile devices). The order payment process is also optimized and integrated into the application.
Mobile apps allow you to send notifications to clients. Information about various events, for example, promotions, discounts, new product launches, can be sent to customers in the form of push notifications. It's good if customers can choose for themselves which notifications will be sent to them. This is how you remind of yourself and provide relevant and useful information that encourages customers to make a purchase.
Mobile apps make life much easier for consumers by making the purchase process simple, straightforward and fast. The application transmits all the necessary information, makes it easy to follow the news, receive messages about new products, discounts, special offers, repeat previously made orders and much more. The client will definitely not miss information that is important to him and this makes interaction with consumers effective and profitable.
In the service sector, organizing requests and scheduling employee schedules is very important. Previously, additional personnel were required to process records, but now a mobile application is enough for this, with which customers can see the dates available for recording and make an appointment at the most convenient time. The application instantly notifies the service provider about this and makes the selected time unavailable for recording. Since everything is handled automatically, the likelihood of human error is reduced.
A mobile application today is not a luxury, but an important business tool that helps to build trusting and reliable relationships with customers. If you want to keep your business competitive, you definitely need a mobile app. For this purpose you can hire mobile app development company that can build professional and user friendly app for your business.
Browse by Category