3 Fun River Sports Activities to Try on Your Next Holiday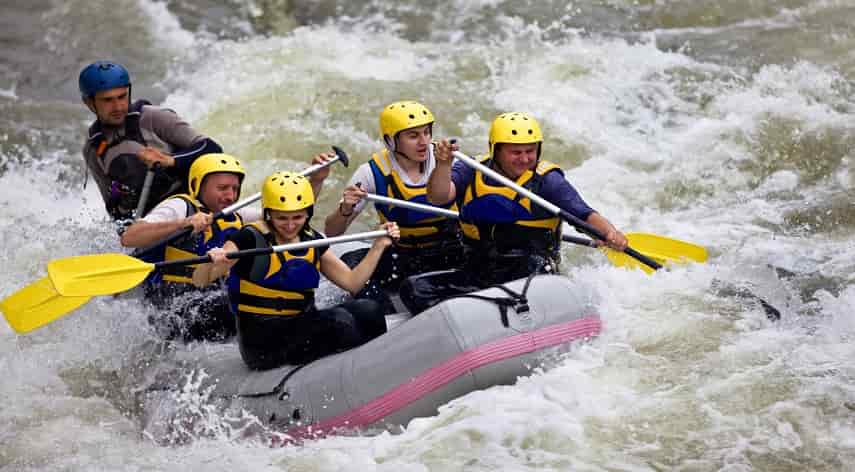 There is nothing more relaxing and therapeutic than a beach holiday. Well, unless you bring a bunch of fun, active things to do with you.
If you have had a stressful year or have some adventurous children in tow, then you might want to try something new. All you need is a little information on how to make the most of your beach holiday.
If you want to get the most out of your next trip to the beach, read on. Here are some fun river sports to try out.
What are River Sports?
River sports can be an exhilarating and exciting way to spend time on a holiday. There are many different activities available to suit all levels of ability and budget. Kayaking, paddle boarding and rafting are popular river sports. They provide a thrilling experience while also offering opportunities to exercise.
Boating and fishing are also great ways to explore and take in the sights of a river. Additionally, "tubing" – floating down a river on an inner tube – is a leisurely, fun activity that promises to be a memorable experience.
No matter what type of river sport you choose, it will be sure to be a great adventure. Bringing a life jacket and sun protection are a must when taking part in any of these adventure sports. So, let's take a look at three of the popular river sports;
1. Whitewater Rafting
Whitewater rafting is a thrilling activity that involves navigating rapids and waves in a raft with a team of other adventurers. This sport is perfect for those who love a good adrenaline rush and are not afraid of getting wet. It's also a great way to see stunning natural landscapes from a new perspective.
It is also a versatile activity that can be done in many different settings, from calm rivers to raging rapids. Beginners may prefer to start with a gentle river and work their way up to more challenging courses as their skills improve. Most rafting companies offer trips for all levels of experience, so don't be afraid to give it a try!
When planning a whitewater rafting trip, be sure to research the company you choose to go with. Look for a reputable company with experienced guides who prioritize water safety. Make sure you have the proper gear, including a life jacket and a helmet, and be prepared to get wet!
2. Stand-Up Paddleboarding
Stand-up paddleboarding, also known as SUP, is a fun and relaxing way to explore calm rivers and lakes. It involves standing on a large board and using a paddle to propel yourself forward. SUP is a great activity for all skill levels, from beginners to advanced paddlers, and is an excellent way to improve your balance and core strength.
To get started with SUP, you'll need to rent or buy a paddleboard and paddle. It's important to choose the right board for your skill level and the conditions you'll be paddling in. For calm rivers and lakes, a wider board with more stability is ideal, while narrower boards are better for faster-moving waters.
Once you have your equipment, find a calm stretch of river or lake to practice on. Start by kneeling on the board and paddling with your hands, then work up to standing on the board and using the paddle. Remember to keep your knees slightly bent and your core engaged to maintain your balance.
Salt River Tubing is a great destination for stand-up paddleboarding. It comes with calm waters and stunning desert scenery. You can rent paddleboards from several companies along the river and explore at your own pace.
3. Kayaking
Kayaking is a versatile river sport that can be enjoyed in both calm and fast-moving waters. It involves paddling a small boat, called a kayak, using a double-bladed paddle. Kayaking is a great way to explore rivers and lakes, and can be done solo or with a partner.
Like SUP, choosing the right kayak is important for a successful kayaking experience. There are several different types of kayaks, including sit-on-top and sit-inside models, each with its own pros and cons.
Sit-on-top kayaks are more stable and easier to get in and out of, making them ideal for beginners. Meanwhile, sit-inside kayaks provide better protection from the elements. They are better suited for rougher waters.
Before embarking on a kayaking trip, it's important to familiarize yourself with basic paddling techniques and safety procedures. Make sure you wear a life jacket and bring plenty of water and sunscreen. It's also a good idea to let someone know where you're going and when you plan to return.
Planning Your River Sports Adventure
When planning your water sports adventure, there are a few things to consider. First, consider your experience level and choose an activity that is suitable for your skill level. For example, if you're new to whitewater rafting, choose a river with beginner-level rapids.
Second, research the location and weather conditions to ensure that the river is suitable for your chosen activity. Rivers with high water levels can be dangerous for inexperienced rafters or kayakers. Meanwhile, low water levels can make SUPs more difficult.
Third, make sure to pack the right equipment and clothing for your chosen activity. For whitewater rafting, a wetsuit, helmet, and life jacket are essential. Meanwhile, in kayaking and SUP, a waterproof bag and sunscreen are necessary.
Stay Cooler in Hotter Holiday Spots With These River Sports
If you're looking for some fun-filled river sports activities to try on your next holiday, these suggestions will surely be a hit.
Whether you're an adrenaline junkie, or just looking to have some fun in the sun, give them a shot and experience some unique fun in the sun! Book your holiday now and get ready to get wet and wild!
Would you like to learn more? Go ahead and visit our page today for more tips and tricks!
Browse by Category