5 (Free+Paid) Popular App Development Software For Your Business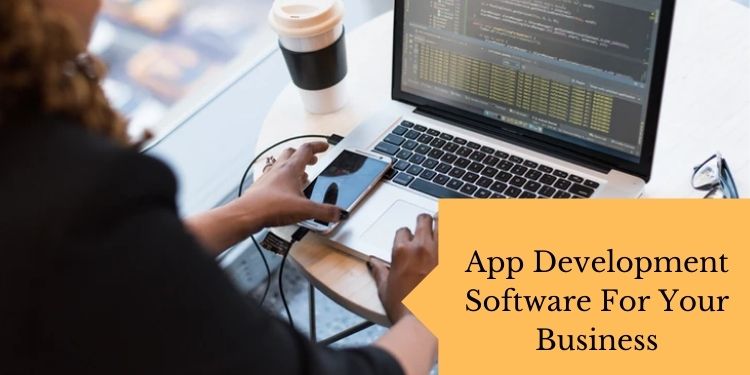 There is always an "app development software" behind successful applications that are an integral part of your daily life. An app development software will let you use low code development programs to create user-friendly and hassle-free solutions. A reliable mobile application development company will focus on software that allows you to restrict access to app data, addressing the user's privacy. Further, these software will help your business to create content, communicate and collaborate with the help of social media integration. 
Therefore, if your business desires an application that hooks traffic and earns high revenues, ensure that you are using top-notch app development software. To make this process easier for you, we have enlisted the five most advanced and preferable app development software for your business app. But before we hop on to the list, let's throw a quick glance at some basics. 
What is App development software?
App development software is basically an application that offers you ready-made templates, Analytics, APIs, code-free functionalities, data synchronization, IDE, etc. In simple words, it fastens your application development process. With APIs, you can streamline the integration tasks with the backend. Along with that, you also get hardware compatibility in the workflow architecture. 
App development software are generic and can make applications for desktop, web browsers, and mobile devices. 
Here are the top 5 mobile app development software you can consider for your business app: 
Zoho Creator can create applications on iOS, Android, and the web in the minimum duration. 
It is a low code platform that provides you the timely delivery of mobile and web applications. You do not need endless code lines to come up with a scalable application. 
Some key features of Zoho include-
Integration of Javascript, Artificial Intelligence, and cloud functions

Multilingual support

Instant accessibility to mobile applications

Connects business data for effective team collaboration

Third-party compatibility

Payment gateways and offline access

Uncompromised security
Customer support- email, chat
Platform- iOS and Android
One benefit of choosing AppyPie is that it provides you a 14 day free trial on all its plans, so you always have the option to go back. The software is ideal for multipurpose applications. AppyPie also comes with a wide range of app makers, for instance, payment app builder, food delivery app, or even worship app. Moreover, you save yourself from resubmission once you make any changes in the application. 
Some key features of AppyPie include-
It consists of prototyping tools for Android and iOS. 

Features like app analytics and ledgers are included.

It has a radio app maker. 

The platinum plan lets you exclude the AppyPie branding. 

You also get features like- push messages, IAP, GPS, etc. 

No programming skills are required to work on this. 
Customer support- mail, chat, and audio
Platform- Windows, Mac, and Linux. 
The best part about Appsheet is that it is absolutely free of cost for a single user that means any application built for personal use will not cost you anything. However, the development software has three pricing plans, a business plan (get a quote), a premium plan ($5 user/month), and a Pro ($10 user/month). 
The business plan is entirely dedicated to mission-critical enterprise applications. In addition to this, the applications are also feature-rich with clean interfaces. Since Appsheet is a no code platform, you can quickly deploy multi-platform support applications here. 
Some Key features of Appsheet are-
Offline mode and background data syncing.

It's a centralized management platform that helps you maintain productivity. 

You get options for format rules and custom branding with every given plan. 

Control over the software development life cycle. 

Optimizes the application's performance. 
Customer Support- mail and voice
Platform- Mac, Windows, and Linux 
Bizness Apps is the perfect fit for freelancers and small-medium scale enterprises. You can opt for an individual plan for a small business at $99/month. Apart from this, the software offers Gold ($360/month), Platinum ($400/month), and Standard plans ($300/month). 
The platform provides alternatives for developing iOS and Android native applications. Due to the platform's drag and drop app builder interface, one does not require any prior knowledge of programming. Along with a straightforward design engine, you get premium add ons like Signature, Group management, Personal App store, Multiple language support, etc. 
Some key features of Bizness apps are- 
Readymade templates for various domains and industries with a wide range of icons. 

Elements for design, marketing, and technology. 

The software allows unlimited PWAs, 20 app credits, and app integrations. 

You also get features like info-3 tier, info-1 tire, mailing list, messages menu, etc. 

Over 800 fonts are available from the Google font library. 
Customer support- email (24*7) and voice
Platform- Windows, Linux, and Mac

Appery.io gives you cost-effective plans like Team Plan ($200/month), Pro Plan ($99/month), and Enterprise Plan (Get Quotation). For the Pro plan, the platform gives you a 14-day free trial. You can develop and deploy web apps, PWAs, hybrid apps, and platform-specific mobile apps since it's a low code development station. 
One unique feature is that Appery.io will allow you to integrate your existing backend into your application. 
Some Key features of Appery.io are
It allows 50k-200k platform API calls every month. 

You always have an app back up with all the paid plans. 

Best software development platform for team collaboration. 

With the Enterprise plan, you get private deployment, account management, Enterprise-grade SLAs, etc. 

It entirely supports modern development and customization via CSS and JS. 
Customer support- Email and voice
Platform- Cross-platform development. 
Conclusion
All the Application development platforms mentioned above offer you reliable solutions for building apps. With an affordable pricing range, you can instantly start the development process with the software. If you are a complete beginner, we would suggest you seek a mobile apps development company to provide you with essential technical insights and help you in a smoother development run. 
Browse by Category