5 Quick and easy exercises for busy mom's
No wonder! Moms are always busy. Yes! Moms may find it hard to develop a daily routine plan as you might have a tight schedule with your clingy toddlers. Though it is quite common to have sleep deprivation or busy with the regular laundering works, cleaning, and preparing food, it is necessary to take your own space to get a fit and healthy body.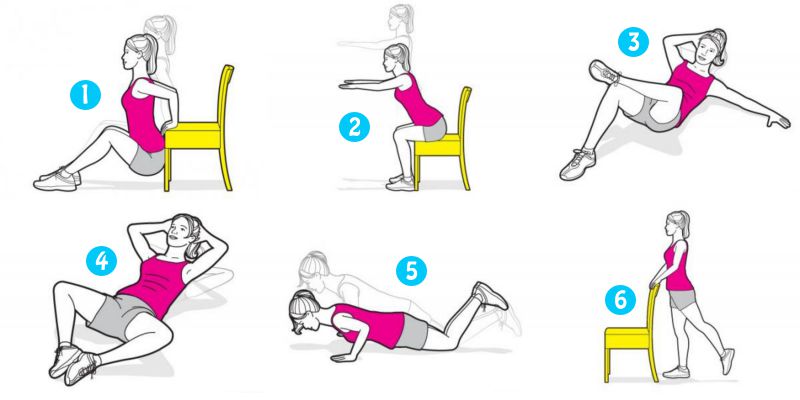 It is hard to balance both the professional and personal lives, but taking a short burst is vital during the busy calendar days to protect and prevent yourself from diseases. So, now how to get it all done? Don't worry, catch-up your days with these simple exercises, and keep your fitness dreams alive!
Here, we have compiled a list of 5 easy and quick exercises that you can try at home without any equipment! Let's check out what those are now!
Easy to do at home exercises for busy moms:
Side leg raises: Side leg raise can be done both in the standing or lying down position. This exercise can shape up and strengthen your thighs, backside, and hips. Lay down the right side on a mat, place your left arm under your head and right arm on your hip. Now, raise your right leg and hold on the position for 3 seconds and bring it back down. Repeat this exercise of 10 lifts on each side. You can do this exercise without losing focus on your kids. So, hit this exercise without any regret and fortify your body right now!
Squats: Squats help to build and strengthen your leg muscles, pull down your extra calories, decrease the risk of injury, and boost your core muscles. Squats are one of the best exercises you can do every day. Stand on the straight position with the legs wide apart. Push your weight to your heels and bend downwards as much as you can with the back keeping in the straight position. But make sure you feel the pressure on the thighs and glutes area. Do 25 to 50 counts every day both in the morning and evening hours. If you feel pain in your thighs, then stop immediately and consult your healthcare provider. If topical creams are prescribed, order them from a reliable online drugstore and avail discounts on every product you pick.
Lunges: To strengthen the lower part of the body, better balance, improving hip flexibility, boosting spinal health, and to increase your core strength, then start doing lunges. All you need to do is relax your body in a standing position and keep your one leg forward and lower your hips till both the legs are bent at 90 degrees. Repeat this for the other leg in the same way as well.
Push-ups: Place your hands firmly rooted on the ground or the mat directly and lower your body to the ground while keeping the body in a straight position. Push-ups help to strengthen your lower back and abdominal muscles. It is one of the best exercises to build strength. Repeat the move as much time as you can but if you are new to this exercise, start doing 10 counts a day and slowly increase the numbers based on your body strength.
Planks: Planks are a good workout for strengthening the whole body. It helps to brace your abdominal muscles, thighs, spine, reduces back pain, improves metabolism, boosts flexibility, and helps to eliminate anxiety and worries. Lie down in the push-up position and keep your body in a straight line from ears to toes without bending. Hold on this position for at least one minute or till as much as you can and remember to inhale and exhale while you do.
Practice doing planking 3 to 4 times every day. Avoid doing planking if you are suffering from pelvic prolapse or if you have weak pelvic floor muscles. In such situations, speak to your doctor before you start a new exercise. If you develop pain, stop doing it immediately. Also, keep a few pain reliever spray always handy. Order your medical essentials from a trusted online Medicine store in India and get them delivered directly at your doorstep.
Above are a few exercises that you can do daily. So devote at least 20 to 30 minutes each day to keep your body fit and healthy. Along with this healthy lifestyle, practices can add strength to your body! So reap exercise benefits by pushing your multitasking abilities to the core thus, keeping yourself energized every time!
Browse by Category