6 Reasons to Fall in Love With Healthland Ehr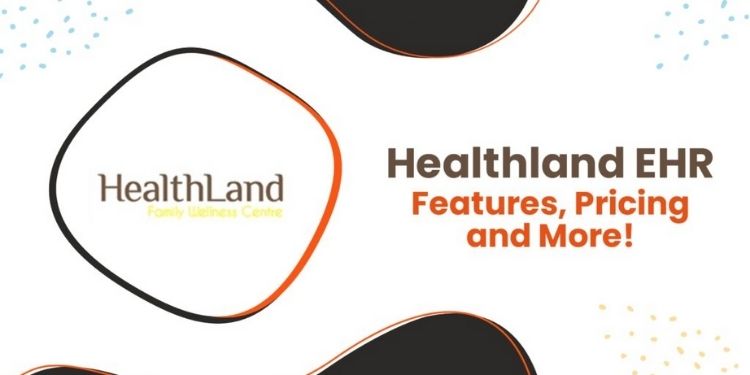 As someone running a healthcare facility, you have to deal with a number of challenges on a daily basis. There's a lot more than just the clinical side of things for you to manage. A lot of hidden aspects of managing a practice will also come your way and you might not be fully prepared for it. However, being able to choose the right EMR solution can take most of your practice woes away. So, how do you know which EMR product can meet the unique requirements of your medical practice? A great option for you to consider is Healthland EHR. This software solution is designed to manage your daily tasks in an efficient manner. In this article, we have listed the top 6 features that will make you fall in love with this Health IT solution. 
Healthland EHR – An Overview
Healthland Centriq offers a cloud-based health recording solution that is customized to the needs of rural and community health setups. This platform comes with tools designed to expedite communication between providers, nurses, and support staff, ensuring a seamless treatment process. Laboratories, clinics, pharmacies, radiology, emergency medicine are among the disciplines that will benefit from it. Although it is a web-based system, you can install it on-premise as well. It offers a lot of useful features and is a smart way to apply technology to the healthcare business. 
This is a piece of the system that facilitates the administrative staff of practice while also ensuring the security of patient information. It was designed specifically to cater to the needs of smaller practices particularly ones located in rural locations and serving smaller populations. Healthland Centriq EHR is an ONC-ATCB certified platform that also adheres to HIPAA requirements. You can request help via email, remote assistance, and online case submission options. 
If you are thinking about what benefits this software solution can offer for your practice, then look no further. We have put together this article to tell you everything you need to know about Healthland. It is a popular EHR choice for smaller facilities located in rural areas and we will let you know why. 
6 Healthland EHR features you will love
One of the most highly acclaimed features of this EHR medical software is its customizable dashboard. It helps you in making your medical facility more efficient in general. This software lets you customize the dashboard according to your unique requirements. You can arrange features whichever way you like, as long as they are easy to reach. All in all, it helps you in making things easier for yourself and your practice staff. Moreover, this dashboard is easy to use and allows you to quickly go from one tool to another, making things simpler and saving you a lot of resources. 
Healthland Centriq EHR makes managing labs easier for you and your employees. The software lets you send orders to labs and simplifies the process of receiving the results. You can also tag the test results with the information of your patients. This helps in keeping their patient files updated and offers a comprehensive overview of all of their tests. 
Patient charting is another crucial component of a successful healthcare facility. Healthland makes this process much easier for you. The charting procedure is made easier with this software solution as you can see a list of your priority tasks. Because of the detailed charting, you can have everything in front of your eyes in a matter of seconds, from the clinical summary to a patient's vitals, and more. In addition to this, you can request a Healthland Centriq EMR demo to test-drive this product. 
Billing and Insurance Processing
Billing and insurance claims processing are important for every healthcare practice. These are necessary to ensure the long-term success of a practice. Many healthcare providers report inappropriate billing during human errors, but with Healthland, you can reduce the chances of human errors while also improving the accuracy of your invoices. 
Seamless Internal Communication
This software solution allows you to enhance communication operations at your clinical facility. It has a robust networking function that enables your staff members to connect with each other within. This feature also allows providers, support staff, and nurses to stay in touch with one another at all times. You can have simplified forms of interaction to keep track of everything at your organization to also improving the efficiency and accuracy of your procedures. 
Healthland comes with a set of automated features that help you in improving operational efficiency. This means you can save a lot of time and energy by cutting down the time it takes you to complete documentation tasks. Moreover, you won't have to redo or re-read paperwork, saving you even more effort. 
Healthland Centriq EMR Reviews and Pricing
Based on top reviews for the product, Healthland Centriq pricing is very average. The product has also received some negative remarks but, overall, it is a good option for smaller practices based in rural areas. You might want to book its demo version first. We could not find its exact pricing details on the website, but you can request the vendor to get a quote. 
How to request a Healthland EMR demo?
The process to get the demo mentioned above is pretty simple. All you need to do is get in touch with the vendor. They can show you the software's demo version so you can explore the features and understand how to operate them to get the best results. 
Conclusion
Healthland EHR offers a comprehensive range of features to help practices improve efficiency and deliver the best patient care possible. But before investing in this software solution we recommend you read as many EHR reviews for the software as possible to understand whether or not the system would be a good choice for your facility and we also suggest requesting the vendor for further clarifications and booking a demo or trial of the solution before making an actual purchase.
Browse by Category