Acumen EHR: 7 Best Features in Healthcare IT [May 2022]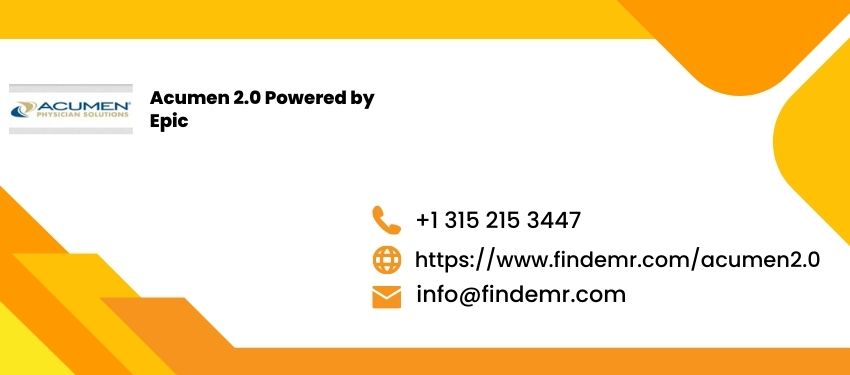 Acumen EHR Software is a cloud-based medical software solution designed to serve nephrology practices of all sizes. This ONC 2015 certified electronic health record has been around for quite a while. It supports the real-time sharing of HIPAA-compliant charts, clinical reports, and patient information across the care team. The patient portal feature makes it easier for users to manage appointments and clinical data, such as allergies, lab results, medications, vital signs, and more.  
This platform aims at simplifying the daily tasks of a healthcare practice. It efficiently facilitates the sharing of secure messages between patients and nephrologists. Not only this, but nephrology specialists can also integrate with hospitals, dialysis units, labs, and practice management systems to leverage additional functionalities. In this article, we will be discussing various Acumen EHR Software features that help make things easier for you.
If you want to know how the Acumen EMR features can help your healthcare facility, keep reading!
7 Acumen EHR features you should consider
One of the highly raved-about Acumen EMR features is the appointment scheduling feature. Managing appointments is a big concern for most healthcare practices. This feature allows its users to as many appointments in a day as possible, which means maximizing efficiency and revenue for a facility. With this EHR solution, you can quickly maximize your efficiency in scheduling appointments during a work day.
The appointment management feature also works to reduce the number of no-shows at a practice. It achieves this benefit by sending reminders to patients regarding their appointments, and if someone happens to cancel last minute, this intelligent system replaces their slot with a new one immediately.
The next Acumen EHR feature that we want to talk about is the patient portal feature. Users who test Acumen EHR Demo find this feature incredibly helpful as it enables their patients to go online and actively participate in their care process. This allows them to log on to a portal and use it to schedule their own appointments, request prescription refills, access lab results, keep track of upcoming visits, communicate with their providers through a safe portal, and much more. Medical experts can also relax since they no longer have to take care of these administrative tasks and instead let patients do it themselves.
Also, visit here RXNT medical billing
This feature enables nephrologists to increase their reimbursement rate while also maintaining the highest level of compliance. It efficiently identifies areas of risk in your facility and recommends corrective solutions with provided training and support. You and your staff can also receive thorough feedback on your billing, coding, and reimbursements processes by the vendor's certified coding staff. In addition to this, you can spot legal hazards that your clinic might be facing and get comprehensive training for documentation techniques.
Another major issue a lot of businesses, including healthcare offices, experience is with communication. With this EHR solution, you can equip yourself and all your staff with accounts on the system, which facilitates seamless communication across your organization. This feature helps you ensure seamless communication so that you and your practice staff can be on the same page. It also allows you to implement changes and coordinate things better across the board.
The robust billing feature in Acumen EHR works to reduce your denial rate significantly. It makes managing your billing RCM tasks easier than ever. This feature cuts down the number of billing errors, making the process pain-free for both you and your patients. On top of this, it lets you send reminders to patients who have outstanding bills and can also notify you about unpaid bills. This ensures quicker reimbursements by helping you remember what bills are pending for you to collect.
Having access to a patient's medical history is imperative when it comes to treating a patient since, without their history, you would not be able to make the correct diagnosis. According to Acumen EHR Reviews, the solution comes with amazing patient charts, which update you about the patient's history as needed. This helps you deliver better quality of care because you have the required information about their health and can make an informed decision about their diagnosis as well as come up with a suitable treatment plan.
The main highlight of Acumen EMR is certainly the dashboard feature. It is designed to provide an easy user interface and find out what appeals to users. This intuitive feature makes it easy for users to switch between different features. You can maximize practice efficiency by spending little time navigating through the software. The dashboard feature makes this platform so easy to use that the learning curve for this is almost non-existent, which is something highly appreciated by its users.
Why should you invest in Acumen EHR?
The decision of whether to invest in this software or not is yours to make. We would advise you to put in the right amount of research and leg-work to determine if the system caters to your practice's requirements. The first thing you should do is compare Acumen EHR against your organization's requirements. After that, you should contact the vendor for any clarifications and request them for an Acumen EHR demo to test-drive how the software will work in your particular healthcare setting.
Browse by Category