Advancedmd Vs. Athena: Which Is the Best for Your Medical Practice?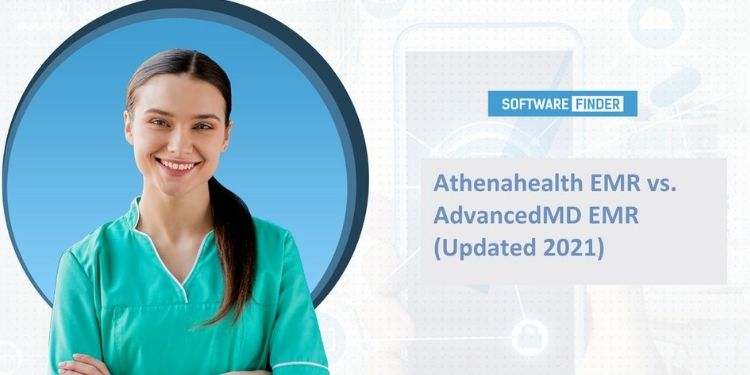 Which one is better for your healthcare practice: Athena EHR or AdvancedMD? Choosing the best option requires careful evaluation and comparison of critical factors. We've written this article to guide you in selecting the best software by allowing you to compare and contrast these two EMR solutions. In addition, we are providing you with a detailed breakdown of their key features, advantages and disadvantages, pricing information, and more, so you can choose the best system for your healthcare needs.
Even though most health IT companies provide comparable services, there are some significant differences. Let's compare the two most popular EHR solutions on the market right now: athenahealth and AdvancedMD.
AdvancedMD EMR
AdvancedMD is part of a worldwide health IT solution provider with a network of over 50,000 physicians in the United States. It assists physicians in streamlining their everyday practice activities to offer high-quality care with little to no data input. This cloud-based platform provides a comprehensive healthcare solution for businesses of all sizes. It also offers tight integration of its EHR software with the medical billing system to guarantee that clinical and business operations go smoothly. The software is fast and provides information security without the need for installation. It is mobile-friendly, but it may also be installed as a desktop-only application. The following are some of the best-reviewed features of this solution:
Clinical workflow
Scheduling
Billing management
Voice Recognition
Appointment management
Reporting and Analytics
Patient portal
Add-ons and features like e-faxing, iOS mobile applications, and telemedicine take the burden out of work even further, allowing facilities to focus on their primary responsibilities rather than worrying about day-to-day administrative activities. A tiered subscription access scheme allows users to use the software's revenue cycle management system. Furthermore, the complex workflow is intended to increase efficiency and clinical quality while also assisting practitioners in cost-cutting. Through a consolidated platform, this provides increased patient satisfaction and comprehensive treatment.
AdvancedMD Reviews
Here's what AdvancedMD Reviews have to say about this EHR:
AdvancedMD is a user-friendly system that offers a variety of functions and electronic features, such as enhanced workflows and e-prescribing, to help a practice run more efficiently.
It ensures MACRA, MIPS, and HIPAA compliance, as well as monitoring prescriptions for restricted substances.
The software is based on a simple yet flexible point-and-click interface that can transport large amounts of medical and patient data throughout the system.
Some users complained that the vendor did not provide adequate implementation assistance.
It provides "add-on goods" that may be mistaken for part of the base bundle.
AdvancedMD Pricing
The fully integrated EMR and Practice Management system from AdvancedMD costs $729 per month per provider. This demonstrates that both software solutions are around the same price. You can request an AdvancedMD demo to get a comprehensive look at the software features.
Target Customer size
Small and midsize medical facilities are among AdvancedMD's typical clients.
Prominent Client
AdvancedMD: Pro-Health, Jayhawk Foot & Ankle Clinic Florida, and Dermatology Associates of Eastern CT
Athenahealth EMR
Athenahealth has years of expertise and unparalleled success in the EMR market, having been recognized for its performance by more than 85,000 healthcare providers. The vendor provides hospitals, physicians, and medical communities with sophisticated EHR solutions. It assists healthcare institutions in reducing the burden of time-consuming administrative duties and improving patient care quality. A consolidated database makes it simple for users to simplify documents. Depending on their interests, users can pick from a variety of deployment models. Athenahealth is made up of five solutions: AthenaClarity, AthenaCommunicator, Athenaclinicals, AthenaCoordinator, and AthenaCollector. Key features include:
Patient portal
Appointment scheduling
Reporting
Patient engagement
Medical billing
Charting
E-prescribing
This platform allows clinicians and healthcare professionals to focus on patient care and treatment without sacrificing clinical productivity or efficiency. Users may refresh daily schedules and patient information, manage orders, and monitor incoming test results using the homepage function. According to Athena EHR reviews, patients may interact with their doctors and participate actively throughout their care process.
Athenahealth Reviews
Here's what people had to say about this health-tracking app:
It is simple to use, and patients may use their mobile devices to view lab results, contact their doctors, and seek medication refills. It competes with features that boost everyday visitors and decrease no-shows. It is also simple to use, according to users.
Users who signed up for an Athena EHR Demo testify to the fact that it has features that allow patients to organize their appointments and check-in online before their visit. The product's evaluations indicate that it does not contain handwriting recognition. It does not provide a comprehensive telehealth solution.
Athenahealth Pricing
Athena EHR pricing starts at $140 per provider per month + 4% to 7%, implying that a five-provider practice would cost about $700 per month.
Target Customer size
Athenahealth is a software platform for small, medium, and big healthcare organizations. It improves medical practices' clinical control while also boosting their overall operational efficiency.
Prominent Clients
Athenahealth: Mount Auburn Hospital, Cook Children's Health Care, and Ridge Family Physicians.
Which is better?
Choosing between two EHR software systems, both of which are praised for their ability to increase practice efficiency and patient care quality, is no easy task. This decision is totally dependent on the size, scope, and complexity of your practice. To make an informed decision, you should understand their differences and book their demo versions to test-drive Athena EHR and AdvancedMD. If you're still undecided about which option is ideal for you, reading some customer reviews could be a smart idea.
It's critical to evaluate the features and functionality of any company software system. Your team's procedures, workflows, reports, and needs should all be supported by the tool. We've compared AdvancedMD vs. Athenahealth based on some of the most essential Medical Billing features to help you decide. Now, based on your practice needs, you can easily understand which is the ideal choice for your practice.
Browse by Category