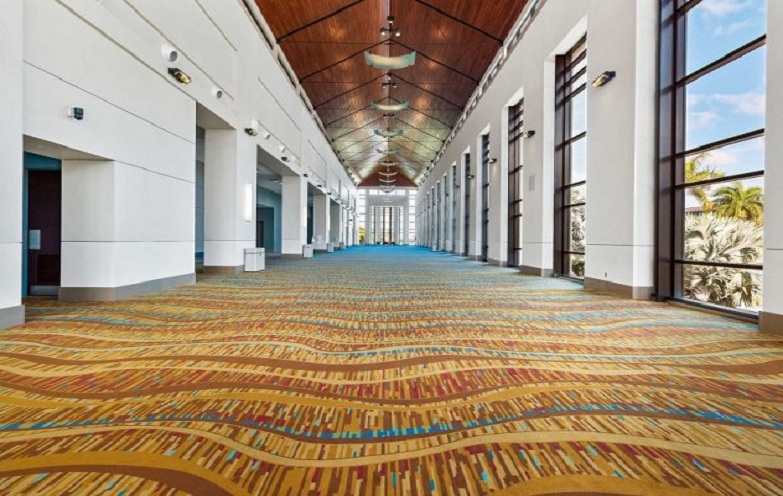 Carpets have remained one of the most popular choices for home and commercial flooring. Even with the introduction and upgrade of several other flooring trends and options like hard surface flooring, lots of individuals and families have stuck with carpets as their solid choice for flooring. Carpet manufacturers and luxury carpet companies have introduced technologyinto producing new, beautiful and versatile carpets with amazing features and designs. Gone are the days when carpets were boring and monotonous. These days, you have the option of choosing any carpet you want, whether it is a tile carpet or a wool carpet, with colours to match your personality and style.
With 2021 around the corner, it will be fun to explore the upcoming carpet trends in the following areas
Features
Textures
Types
Colour trends
Trends by home location
Themes
Layout and Pattern
Features
With the introduction of technology, carpet manufacturers have provided us with carpets that have amazing features. Take a look at some of the new carpet features of 2021.
One of the major problems that people face with their carpets is the fact that they get easily stained. Not to worry anymore, in 2021, stain-resistant carpets will be made available. They are made with fibres that have been coated to repel any form of stain. So when you spill something on the carpet, all you have to do is blot or wipe it off.
Will this trend last in 2021 and beyond?
Definitely, it will be most appreciated by families who have children and pet animals. It is expected that more stain-resistant carpets will be produced in the year 2021.
With the increased awareness of the ecosystem and the effects, our actions contribute to its decline,people have become more cautious and interested in preserving the environment. For this reason, manufacturers have produced carpets that are not just durable, but also environmentally friendly. There are options available for carpets with this feature, and all are made with recycled products. A few of these options include the following
Jute rugs: these are rugs or carpets that are made from plant fibres. These are the same fibres that make burlap. Although they are made from plant fibres, they are not built for heavy traffic areas and much activity. Due to their thick and tightly wound nature, they will last well with normal vacuuming and less moisture or stain.
Recycled carpets: this is perhaps the most popular environmental friendly carpet because of its raw material which happened to be recycled products. The fact that they are recycled does not reduce its stain resistant quality. This makes owning this carpet a double bonus.
Sisal carpets:this is an environmentally friendly carpet whose raw material is the plant fibreof the agave Sisal. Its rope-like texture gives a certain feeling of home in any space. It is highly durable when it is made with either the natural Sisal or the Sisal blend. Plus, it is stain resistant.
Will this trend last in 2021 and beyond?
A couple of decades from now, eco-friendly carpets will be in higher demand than it will be in about two to three years.
Waterproof carpets have either been extremely rare or unheard of. At least until now. The use of technology has seen the production of completely Waterproof carpets. This means you can have your carpets places in any area or corner of your room and not worry about it getting wet or mouldy. You can mop up a spill without worrying about it sinking into the carpet.
Will this trend last in 2021 and beyond?
Waterproof carpet is something that has definitely not been seen; however, it can prove very useful. With time, there will be a massive demand for those in various homes.
The texture of a carpet is what makes it different from other carpets. The uniqueness of each carpet makes it stand out. Take a look at some exceptional carpet textures of 2021.
Cut and loop carpet
As the name implies, this carpet combines cut fibres and looped fibres together. When you run your hands through this work of art, it gives a unique but contrasting feel. The combination of the loop and cut not only give it a different texture, but it also influences its appearance. It will interest you to know that this textured carpet has been popular for quite some time now.
Will this trend last in 2021 and beyond?
In the next decade or so, it will be seen as one of the sought after carpet styles due to its unique texture and look.
This carpet is mostly used in business places and offices because it looks more professional than homely. Like its title, the carpet has a ribbed texture when you run your hands over it. Although it is mostly recommended for offices, you can also use it in your homes for a professional feel.
Will this trend last in 2021 and beyond?
Although it is already being incorporated into homes, it is estimated that in a couple of years, it will be seen as a purely professional carpet for offices and commercial area.
Plush carpets are probably the reason why people loved carpets so much. The soft, feathery feel could not be compared with other floor covering in homes. Sadly, its potential for trapping dirt and being difficult to clean made them disappear for a while. Fortunately, soft, plush carpets are back with features such as waterproof and stain resistance.
Will this trend last in 2021 and beyond?
This trend is not going anywhere anytime soon. It is likely to remain trendy for as long as possible. The soft fibres cannot be easily replaced with anything for years to come.
The frieze carpet is also known as the twist carpet, and its texture is as a result of the fibres being twisted so many times, it almost looks like its curly. It is a trendy feel that has become quite popular and hopes to remain so for long.
Will this trend last in 2021 and beyond?
Frieze carpets are likely to remain trendy for the next decade or so. For its relaxed and curly feel, it is going to be a household name for quite some time.
There are several types of carpets to choose from. If you are undecided on which one to choose, you can make your pick from the trendy types below.
Area rugs
Carpets have been known to run from wall to wall, and that has been one of the reasons why they end up getting tacky so quickly. With the new trend now, you don't have to worry about your carpets getting tacky anytime soon. These pieces can be placed strategically in one spot or one area instead of the entire room or house. There are different options you can choose from as well, depending on your taste and style.
Handmade area rugs: these feel almost customised, and that's the best part. They are handmade, and specially crafted, giving that one spot in your house an edge and personalised look.
Vintage area rugs: this type of area rugs have that vintage look that says it has been around for a long time. They have been made to look exactly like that with a special dyeing and lack of boldcoloursand patterns.
Carpet tile /plank rugs: the major challenge with area rugs is the right size and design. Carpet tiles and plank rugs present the perfect solution,DIY and customisation.
Will this trend last in 2021 and beyond?
Area rugs add a touch of style and cosiness, although they tend to be expensive as seen with handmade rugs. However, they have the potential to bereplicated by manufacturers meaning they are likely to remain for a while.
Carpet planks
Carpet planks are the newest invention by manufacturers. They are stain and water-resistant and can be installed through a DIY process. This gives you the chance to create your unique style and pattern.
Will this trend last in 2021 and beyond?
This carpet type is definitely staying for a long time. The most appealing quality is its DIY feature. You have the convenience of style and creation of pattern at your disposal.
Carpet tiles
Gone are the days when you have to replace your entire carpet because of a stain in one area that wouldn't come off. With carpet tiles, you simply have to take out that one tile that is stained and replace it with a new one. Even better, you can install your carpets yourself and enjoy the waterproof benefits.
Will this trend last in 2021 and beyond?
In a couple of years, we will see this carpet become one of the most searched for carpet type all over the world due to its unique quality. It will save you the cost of replacing an entire carpet, so yes, it will definitely last for years.
Colour carpets used to be limited earlier on. These days, you have the option of choosing vibrant colours of carpets depending on your style and preferences.
Grey carpet
Grey colour is gradually emerging as a contemporary and sophisticated colour for carpet in homes and offices. The incredible thing is that you get to choose any colour to compliment your grey carpet, and it goes perfectly. The colour sets up perfectly as a neutral colour and allows you to decorate in any colour of your choice.
Will this trend last in 2021 and beyond?
In decades or more, Grey carpets are likely to remain the top choice for several individuals.
Multi-colour carpets
Who says you have to stick with just one colour for your carpets? These days, you can pick as many as five or more colours and combine them to create a multi-colour carpet. They are so trendy and can be used in any area of the room or house, be it the living room or the children's room.
Will this trend last in 2021 and beyond?
This works better with statement pieces and area rugs, but no so well with wall to wall carpets. For as long as decades, multi-colour carpets will remain trendy and stylish.
Blue carpets
If you are looking for a colour that is serene and peaceful, then blue should be your best choice. It can serve as a stand-alone colour tone, or as an excellentcolour base that can complement other colours without being too overwhelming.
Will this trend last in 2021 and beyond?
When paired with grey, especially, blue carpets are lovely and give a sophisticated look. They are a trend that is definitely going to last.
Bold carpet colours
The upcoming trend is the incorporation of vibrant, bold coloursin their homes and carpets. With the use of bold colours like purple, orange and even yellow, you can make a statement with your carpet. These days, carpets are no longer designed with colours that disappear into the background.
Will this trend last in 2021 and beyond?
It depends on how you chose to go with it. Bold colours are better with area rugs or carpets and are not such a good option with wall to wall design.
You can integrate your taste and style of carpet into different areas of your house based on its functions and level of activity. Here are some carpet trends for different areas in the house
Bedroom carpets
The carpets in your bedroom should be a reflection of your personality. You get to design it your way. Bedroom carpets are mostly wall to wall and are meant to be soft and cosy. You can choose to go with a nice, plush carpet with cool or grey tones.
Will this trend last in 2021 and beyond?
Being a room that is not meant for guests, bedroom carpets will definitely last for a while.
Living room carpets
This is the area of your house where people see, so you can either chose to go with bold, statement looks and colours, or the simple, cool and serene colour tones. Know that a lot of activity goes on here, so be sure to get waterproof and stain-resistant carpets for this area.
Will this trend last in 2021 and beyond?
Carpets with statementcolours and patterns in the living room is a trend that will not be going away anytime soon. A touch or area rug in one spot will be something we will see more often.
Basement carpets
The basement is one area of the house that is prone to water damage, mould and flooding, and for a long time, carpets were not a good thing to be placed in basements. With new technology, water-resistant carpets are a great choice for the basement, especially if they are in the form of carpet tiles. Just remove that one tile piece that has been affected and replace with a new one.
Will this trend last in 2021 and beyond?
Carpets have previously been seen as an off-limits area. With this innovation where the basement can be converted to a cosy space, we see it lasting for a while.
Staircase carpets
People used to think hard surfaces were the best option for staircases; however, carpets on the stairs are making a huge comeback. You can add soft, plush carpet runner to keep your feet warm while you pound up and down the stairs.
Will this trend last in 2021 and beyond?
Being easy to replace and highly functional, yes staircase carpets are definitely here to stay.
This is the point where the whole thing comes together. Are you looking for a way to express yourself? Do it with a particular carpet theme. You can take a few pointers from the choices below.
Modern carpet
Going for something that says cool, classy and sophisticated, try cool earthly colours and tones like grey, white or black. You can either go with eco-friendly carpets to give your home the natural vibes or go with plush carpets for a relaxed and clean atmosphere.
Will this trend last in 2021 and beyond?
Classic wins every time. This trend is more than ready to last for decades.
Maximalistic carpet
Maximalist is the direct opposite or minimalist, where things are toned down to the bare minimum. With maximalistic however, you don't hold back in any way either by patterns, colours or designs. This is the type of carpet that lets you express yourself fully without limits. Show how confident you are with your colour choices, combinations and patterns.
Will this trend last in 2021 and beyond?
You are prone to making changes even from the most daring and bold moves and choices. This trend will last for a couple of years before it will fade.
Eye-catching and contemporary patterns are gradually taking over, especially in the homes of young people. Take a look at some fun and widespread patterns of carpets.
Carpet tile layout
Although this is more popular in business areas than homes, they are gradually being introduced to the home as a trendy carpet style. Here, the layout of carpet tiles forms a shape or design when put together.
Will this trend last in 2021 and beyond?
For the convenience it creates and the beauty it shows, this carpet trend is definitely staying for long, especially in business areas.
Animal print layout
Whether you choose to go with a full wall to wall carpet or an area rug, an animal print layout gives a daring and edgy look to your home. Besides being spicy, they can distract guests from stains on the carpet. Convenient.
Will this trend last in 2021 and beyond?
People love a good animal print; however, this won't last forever. It will probably linger for a couple of years before disappearing.
Carpet plank layout
Add that extra pop of elegance to your home with carpet planks. You can create a delicate picture or a daring, bold one. Be sure to go with colours that stand out for more significant effect.
Will this trend last in 2021 and beyond?
This trend is more likely to last in commercial areas than in private homes. For at least a decade, they can be a highly trendy choice.
Geometric pattern
Modern carpet designs have us seeing carpets with hexagonal designs and angled patterns. Whether you want to have them in area rugs or wall to wall carpets, with either bold designs or small ones, this creates a fun and enlightening patterns that bring life to your home.
Will this trend last in 2021 and beyond?
This trend will likely last for5 to 10 years, after which they would be dormant to be reawakened in another couple of years.
Floral print designs
Floral patterns are groundbreaking and classic. The best part is that they allow you to mix and match coloursin unique combinations. You can choose a bright floral design for a trendy,colourful theme, or a cool, summery pattern with grey undertones for a neutral look.
Will this trend last in 2021 and beyond?
While floral carpets are classic, they tend to move up and down on the trend lists without disappearing completely. However, they would always remain a top choice for several individuals for years to come. With all these explained, it is easy to see that a lot is going on in the carpet manufacturing industry as it is. Soon, a lot more would probably be seen as well. Getting a luxury carpet in the UK should not be such a big problem. Contact us at Element London for help. From intricate patterns to sophisticated ones, or cool classic designs and colours, we are here to help. Get in touch with us today.
Browse by Category