DIY Tips to Paint the Exterior of Your House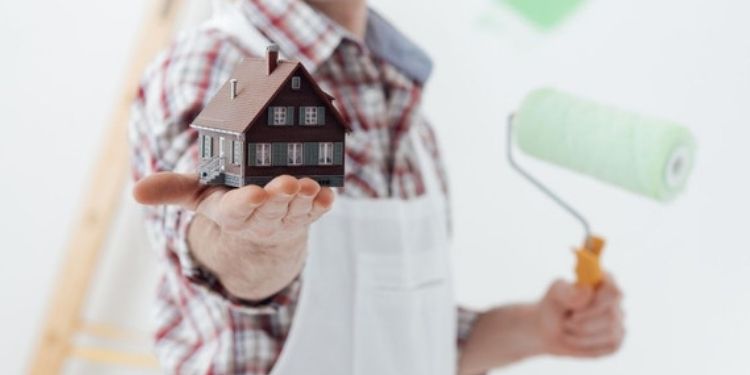 You all put your back into making your house appealing even though you do not have sufficient money. If you do not hire a designer, you use do-it-yourself (DIY) techniques.
When it comes to home improvement, you often think about kitchen remodeling, bathroom renovation, and creating more room to make your house bigger and comfier.
However, it is not just limited to all this. To make your house look resplendent, you need to take care of the exterior of your home as well.
Weather conditions cause wear and tear. The shine of the paint is gradually washed out the outer walls of the house become drab.
You cannot overlook the exterior when it comes to remodeling your home. There are exterior leaves an impression on others. It creates an immediate visual impact on everyone.
If you are investing money to make the interior splendid, you should not leave out the exterior. It needs equal attention.
You don't need to hire a painter to add brightness to the outer walls of your house. You can do it yourself. Here are the DIY techniques that you can follow to paint the exterior of your home.
Smooth the surface before painting the walls
Since you will be doing it yourself, you can immediately start rolling the paint roller on your walls, but this will not give a professional look. Even though you are using DIY techniques, you need to do all steps that a professional painter does.
First off, you need to prepare walls for the paint. You need to smooth them with sandpaper. Put on stucco to fill holes and crevices. If you put a layer of the paint directly without smoothening it, it will start peeling off and appear chalky.
To make it last in the long run, you should make all your walls smooth before painting them. Do not forget to check your walls for other imperfections like peeling, mildew, and the like. Here is what you need to do to prepare your walls for a professional stroke of paint.
Use a hosepipe to remove all dirt and grimed dust built up on your walls. This will make the rough and uneven surface smooth.
Take notice of even minor damage. If you find an aperture, you should fill it up. Make sure that no spot is left unattended.
Use caulk to fill cracks and crevices around doors and windows.
Choose quality paint
There are various types of exterior paint flooding on the shelves. You can choose any one of them thinking that they all are the same, but that is not so. Not all types of paint are absolutely the same. You should be careful while choosing the type of paint for your walls.
A good exterior paint must-have acrylic latex, which includes three components – pigments, binders, solvents. Solvents evaporate after the paint dries. The more the acrylic latex is, the more binders will be, and hence the paint will last longer.
The shine will last in the long run. High-quality paint improves durability. To know the amount of these solids, you need to visit the site of the manufacturer. You should check for paints labeled with premium and super-premium.
These paints are likely to have more volume of solids. Nevertheless, they are reasonable to be more precious than other estimated paints. If you do not have enough money to buy premium paint, you can take out provident loans apply online and get funds instantly after the processing of the loan application is completed.
You may avoid buying premium paint because of a tight budget, but it can last long run. If expensive paint can provide you with durability, you should not mind funding it with loans.
Choose colors wisely
Choosing the right color is again a tricky thing. Do not be reckless while choosing a color. If you choose very vivid colors, they will fade away soon, and eventually, your house will look dull.
It is suggested that you choose a color that aligns with other houses as well. Your home does not look like a standalone.
Make sure that it contrasts against the roofing color as well. If you cannot choose a color that fits your walls, you should paint on a swath as a sample and see which looks better.
Roll the paint
Now you have done all preparations to make your walls ready for the paint. Now you can paint your exterior walls. You may think you need to dip the paintbrush and start sliding it across all walls.
It is not similar to that. You will have to sprinkle and then roll the varnish. You need one more person as a helper. One of them will spread the paint across the surface, and the other will roll over it. Make convinced that you have reached your windowpanes to restrict them from paint spills.
Try to do a second coat. This will bring better finishing, and the shine will last longer. Experts recommend two coats because they get better results.
Final finishing touch
Once you have painted all of your walls, you will have to give a final finishing touch. You may believe that you do not necessitate it because you have been delivered two coats.
I suppose you might be wrong if you think so. You will have to dedicate enough time to final finishing. Of course, you do not have to paint the whole of the walls, but you need to give a stroke where you find some scope.
The bottom line
Painting the exterior of your house can be a daunting task, but it does not need to be. Follow the tips specified above, so you can execute it as pleasing as potential.
Browse by Category