Garage Door Opener Repair Service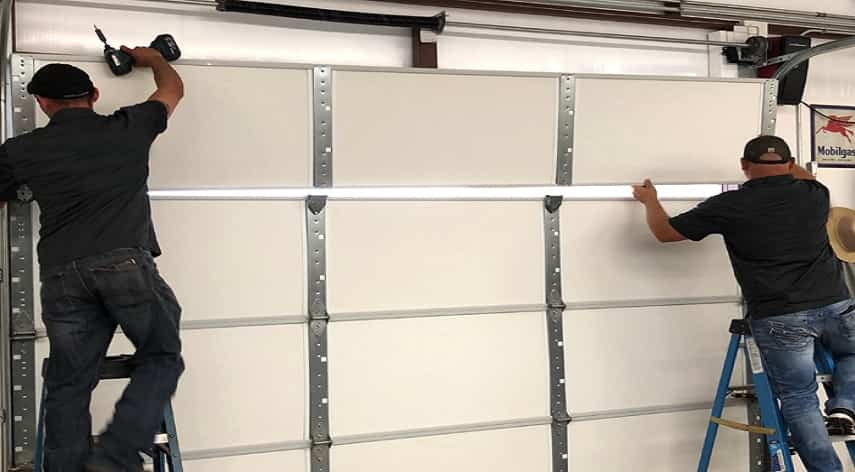 Choosing an automatic garage door system is a tricky business. There are many things to consider: the type of doors, the climate, the location of the box, the method of opening that best suits your understanding of convenience. To maintain constant comfort after installation of the selected system, it's necessary to monitor its condition and take care of performance. Understanding the essence of the work and knowledge of the constituent elements helps to navigate the choice of a garage door opener repair service.
Why automatic doors are better than mechanical ones
The idea of protecting property from bad weather and criminal attacks is not new. In this sense, any gates and doors will do, but why give up the benefits of civilization if it has already grown up to them. It's like using pigeon mail while everyone else sends email. Automatic garage doors bring a number of obvious benefits to the owner.
1. Remote control
After installing automation, you will not need to leave the car in order to open or close the gate. This is especially nice when it's raining, blizzard or frosty outside.
2. Careful operation of the gate
Automation ensures the smooth running of the leaves and correctly distributes the load on the gate. Thus, the resource of structures is saved.
3. Auto close feature
Thanks to this function, the gate is guaranteed to close automatically if you forget to do it yourself.
4. Lighting control
The automation functionality of some manufacturers allows you to control doors and yard lighting from one remote control.
5. Additional accessories
Accessories (photocells, signal lamp, external antenna, etc.), which can be purchased separately, will help make gate control even easier and safer.
When choosing an automatic garage or home door system, prior to purchase, you can "look two moves ahead" and consult with specialists who service such equipment, such as STI Garage Door.
Sectional door automation
Sectional doors consist of separate sections, making them flexible enough to go under the ceiling of the room when opened. Sectional doors are the most convenient, modern and popular option for a garage or other premises.
When choosing automation for sectional doors, they are guided by such factors:
intensity of use
terms of use
dimensions and weight
availability of space for installation.
There are two main types of automatic sectional doors.
1. Ceiling drive
This type of drive is mounted in the center of the gate. The canvas is raised and lowered with a chain or belt.
The advantage of the ceiling drive is its versatility. It can be used to control not only sectional, but also up-and-over doors.
The disadvantage is the noise that occurs when pulling the chain. It will affect the comfort when using.
2. Axial drive
This type of drive is installed on the shaft of the torsion mechanism on the right or left side of the opening.
The main advantage of the axial drive is that it can withstand very intense loads. It should be chosen for use in auto repair shops, parking lots, and industrial areas.
Other types of gates and their automation
Swing gate
Usually they consist of two sections, which open like door leaves. As for the types of automation, there are four of them.
● Linear drive
It is a worm gear and a gearbox, which are hidden in an oblong body. The drive is mounted to the gate leaf and the vertical surface of a strong post.
● Lever drive
This type of automation uses a lever that is driven by a motor and thereby allows you to open the gate leaf or gate.
● Hydraulic drive
Outwardly, such a drive resembles a linear one, although the automation body is usually more massive. Inside the body there is hydraulics, with the help of which the doors open and close. For this, the energy of the flow of the working fluid is used, which is converted into mechanical energy.
● Underground drive
The main advantage of this type of automation is aesthetics. The drive is almost invisible, as it is mostly hidden underground. Automation does not spoil the appearance of swing gates, which is very important for those who care about every architectural detail.
Sliding gates
They open according to the principle of a compartment — as a rule, they consist of one sash that moves along the fence. Their advantage over swing gates is space saving: no additional space is needed to open them. Sliding gates are easy to operate in the winter season — the entrance does not need to be cleared for the gate to open.
●  Electromechanical retractable drive
Such drives work on the principle of converting electrical energy into mechanical energy. This allows you to open or close even the heaviest sliding gates.
● Hydraulic recoil drive
The opening and closing of the gate with the help of a hydraulic retractable drive occurs due to the work of a special fluid. The energy of the fluid flow is converted into mechanical work, after which the fluid returns to the pump and is ready to work again.
As with sliding gates, hydraulic drives are more suitable for installation on doors that will be opened very often. For use in a private house, the advantages of an electromechanical drive are quite enough.
Additional features
Whatever type of automatic gate you plan to buy, the possibilities for controlling any automation can be expanded. So, for example, you can immediately abandon remotes and key fobs in favor of control using a smartphone.
For this, special devices are designed that are controlled using an Internet connection via Wi-Fi or GSM. In addition to control from a mobile app, other modern methods are also supported: opening the gate with a phone call, voice commands, from a Telegram bot, by geolocation.
For the correct choice of additional equipment, you can also consult with STI Garage Door employees.
Almost no flaws
It would seem that automatic garage doors have no drawbacks, given their variety. But for objectivity, there are several disadvantages.
Not every automation can boast of excellent workmanship. If cheap elements were used in its production, it is unlikely that it will be able to work for at least a few years. And yet — compared to conventional swing gates, automation costs many times more.
Previously, only wealthy people could afford automatic sectional doors. However, today even a middle-income family can buy and install automatic gates.
Browse by Category