Take Your Healthcare Service Online With The Practo Clone App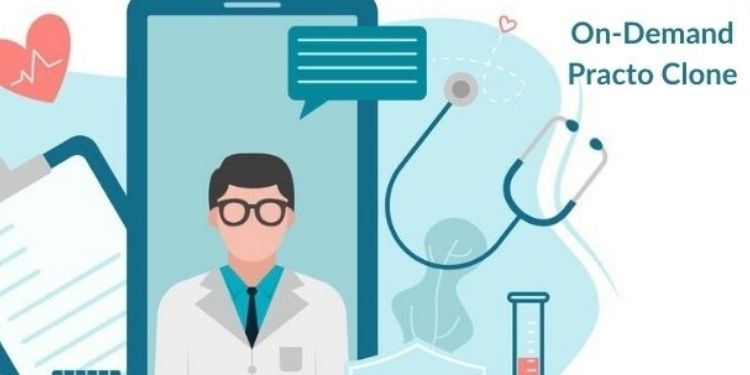 For any individual, their health is essential for their wellness and those under their care. Nowadays, with the improvements in technology in medicine, there are many advancements taking place, which has now led to the development of an online consultation application that brings in patients and doctors together online without physical presence. App like Practo are found to be very convenient and easy to use. 
Practo was initially designed and launched into scheduling doctor appointments for online consultations. It also has a sound cloud interface to upload medical certificates, records including X-rays, scan reports, etc. And doctors provide prescriptions online that the family members can buy as per convenience. 
Need for Practo Clone
The Practo application has a simple interface to connect with doctors, get advice and online prescriptions. Still, when it comes to health care as a whole, there are several other services expected to be performed by a healthcare application. And the increasing user traffic in similar healthcare applications and dissatisfaction led to the development of a new Practo clone app. The healthcare-related entrepreneurs worldwide wanted to carry out their business service globally and emerged the need to develop Practo clones. 
Add ons in Practo clones
The newly developed Practo clones can have multiple features to segregate their services.
Includes more fields of doctors. 

Facilities to contact doctors during emergency needs.

Multiple payment options to pay a consultation fee.

Bring in general health care advice

In app chat facility with field experts

Diet plan suggestion.

Report analysis

Location access during emergency needs
Amidst the pandemic situation, instead of reaching out to hospitals, online consultations are very much preferred by most individuals. These features can be added to your Practo clone application to enhance its service, improve credibility, and traffic more users. 
Benefits provided by Practo Clone
The benefits list is vast for both patient and doctor while using an application like Practo. In that case, the most common benefit that both doctors and patients receive is, saving their ample time.
To consider the patient benefits, 
The patient can reach the doctor from any place instead of visiting a hospital

Easy appointment scheduling options. 

Lower consulting fee

Multiple payment options.

Easy track on the health improvements.

Convenient for elderly citizens to quickly contact doctors, choose their contact mode by calling, video chat or text
And on the other hand, when we look upon the benefits yield by doctors and professionals through Practo clones, it would be
easy time management

work-life balance

practice experience

extend their service anytime at any place

track the performance of the app 

instant payment 

provide service at a minimal expense
Working of Practo Clone
Application credibility is judged by its presence on the App Store and Play store. 
The first step is to get logged in using login credentials.

Choose for the expert's field. 

fix an appointment with the doctor

chose the mode of contact

meet your doctor online and ask for advice

upload your medical report

get analyzed by an expert in the field

the prescription is uploaded online

pay consultation fees

download prescription and get your medication from the nearby medical shops or pharmacies. 

Finally, the review on consultation and doctor is done. 
And the process ends smoothly. In times of emergency, the unique emergency call button can be added. By notifying them , to seek timely help. Through Practo clones, we can bring in patients and doctors from every end of the globe. It facilitates serving the patient with international experts. 
Prerequisites for developing Practo Clone
As a developer of Practo Clone, there must be a clear idea about the service offered through your health care application. Either bring in field experts from your health care institute or contact doctors around the community randomly. 
And following are a few listed attributes to be looked at to develop an efficient health care application like Practo clone. The app developer must 
ensure to provide white label application

user-friendly interface

easy login options

in-app call features

post-launch service

round a clock service

easy onboarding

customizable features
Many app developers offer their efficient service in developing an application similar to Practo to carry out health care services with more credibility and ease. Instead of creating an application, many use clone scripts of the app. The clone script of Practo is used to incorporate its essential features and improve performance. And with that as a base, the developers make required changes and varying customizations from the service they offer. 
Gain Revenue through Practo clones
There are many facilities to gain revenue in the Practo app. The user gets additional and exclusive benefits by providing a subscription fee while the developer earns an income. By multiple payment facilities, it brings in different banking options and direct contact with financial institutions. With the increasing visibility, it pulls in traffic and revenue into the app.
Final verdict
Health care is a vast field that needs an efficient platform to carry out its business effectively. If you are looking to take your health care business online and gain more visibility, launching your exclusive application like Practo will make it easy. And when that is going to be your final decision, reach an app developer who understands the need, provides customization facilities, delivers on time application, and ensures to develop an application with a white label that is easy to onboard. With its advancement and improvements Practo clones are going to be next generation doctors. 
Browse by Category