7 Fun Things to Do During a Trip to Utah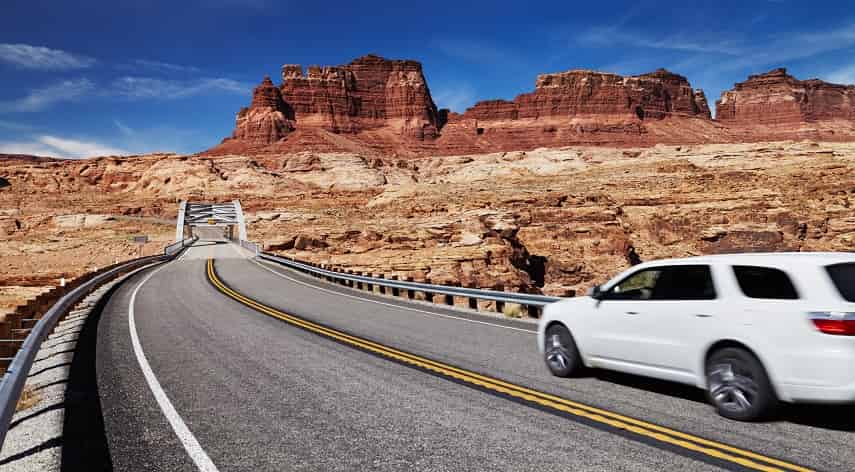 Are you looking for fun things to do in Utah? In 2021, Utah's five national parks had at least 11 million visitors.
Utah is one of the most beautiful states and offers historical landmarks, sandy beaches, national parks, shopping, and much more. It's no wonder that it's one of the go-to destinations for anyone needing to get away or wanting to plan a family vacation.
You could install yourself on a beach, read a book, or go hiking through incredible landscapes.
That said, here's our list of fun things to do during a trip to Utah.
1. Skiing, Snowshoeing, and Snowmobiling
Utah offers some of the best skiing, snowshoeing, and snowmobiling worldwide. Skiing in Utah is known for its world-class resorts, breathtaking views, and deep powder. From Deer Valley to Park City, there is something for every level of skier.
For those looking for a more personal approach to exploring the mountains, snowshoeing and snowmobiling are great ways to experience Utah's snow-covered peaks. Snowshoeing is a low-impact activity that is great for families and beginners, and destinations like the Uinta Mountains offer plenty of trails and terrain to explore.
Whether skiing, snowshoeing, or snowmobiling, Utah offers an unforgettable winter vacation for everyone. For the more adventurous, exploring Utah's snow-covered peaks by snowmobile is a thrilling experience that can't be matched. From scenic trails high in the mountains to exciting backcountry runs, snowmobiling in Utah is an adventure that's not to be missed.
2. Exploring Unique Red Rocks
Exploring the unique red rocks of Utah is a fun and exciting way to experience the beauty of the great outdoors. The red sandstone formations throughout Utah are breathtaking and will provide great adventure while sightseeing. Visitors of all ages can explore the area's unusual shapes by hiking along Bryce Canyon, Arches, and Zion National Park or taking a jeep tour to experience Moab's famous red rock mountains in style.
Few places offer more magnificent scenic beauty for those looking for a relaxing experience for star gazing, bird-watching, and fantastic photo opportunities. Guests can also go horseback riding, mountain biking, and take on rapids on a river rafting tour.
Regardless of what type of experience one is looking for, exploring the unique red rocks of Utah will make it an unforgettable trip. When planning to have a Utah vacation, it is essential to look for glamping zion.
3. Discovering Utah's Abundant Waterfalls
With over 200 waterfalls throughout the state, Utah is ideal for a trip abounding the stunning scenery and majestic waterfalls. Begin your journey by exploring the three tiers of Bridal Veil Falls at Provo Canyon, which cascades 365 feet and is easily accessible by car.
Drive to the Uinta Mountains and hike to the Hidden Falls, which will take your breath away with its 60-foot cascade. The breathtaking Red Butte Garden Waterfall is located in Salt Lake City and is perfect for a picnic.
Finally, enjoy the beautiful double cascades of Right Hand Fork in Logan Canyon, giving you the feeling of standing at the edge of a fairy tale. Whether a nature lover or photography enthusiast, discovering Utah's abundant waterfalls will provide you with a unique and unforgettable experience.
4. Touring Art Galleries
A trip to Utah provides a variety of activities and attractions to partake in, and visiting art galleries is one of the most enjoyable things to do. There are several impressive art galleries in Utah to explore, ranging from those that feature contemporary art to those focusing on traditional paintings, sculptures, and photographs.
Taking guided tours of the Utah art galleries is a great way to learn more about the art, its origins, and its historical context. Visiting each gallery is an enriching experience and allows one to appreciate some of the best artworks. It also allows interaction with local artists, as some may be showcasing their paintings or sculptures.
5. Camping and Hiking
Camping and hiking are two of the most enjoyable activities for outdoorsy types during a trip to Utah. With abundant open space, breathtaking views, and countless hiking trails, Utah has something for every level of explorer.
Camping is especially popular in this beautiful state thanks to its mild climate. When camping in Utah, visitors can expect to find gorgeous mountain vistas, stunning waterfalls, and an array of recreational activities like fishing, rafting, and bird-watching.
As for the adventurous hiker, Utah offers trails ranging from easy to moderate to hard. Whether it's trekking down Slickrock in Moab, mountain biking on the Bonneville Shoreline Trail, or summiting the Grand View Point, Utah has no shortage of trails to explore. In short, any camper or hiker visiting Utah is sure to have a great time!
6. Exploring the National Parks & Monuments
Exploring Utah's national parks and monuments can be an unforgettable experience for any vacationer. From Bryce Canyon National Park with its beautiful and unique hoodoos to Zion National Park with its incredible red rock formations.
Tourists can take a hiking trip along the canyon floors and explore deep into the canyons or take a more strenuous hike to reach the summit of Angels Landing. There are also plenty of camping options if visitors want to extend their stay.
7. Savoring the Local Cuisine & Drinks
Savoring Utah's local cuisine and drinks is a must-do during your trip. There are several restaurants in Salt Lake City featuring classic American fare as well as more eclectic dishes. If you're feeling adventurous, try one of the many Indian restaurants in the city.
Numerous breweries are popping up, too, offering local ales and lagers crafted from nearby farms and orchards. Local wineries and distilleries also provide unique flavors. For the more energetic traveler, take advantage of Utah's abundance of recreational activities.
Regardless of whether you want to get your heart pumping. With so much to offer, there's something for everyone; relax with a cold beer as you take in the beautiful scenery.
Plan Ahead for a Trip to Utah
Utah is a fantastic place to visit! Whether you're looking for adventure or want to relax, there is an endless supply of fun things to do during a trip to Utah. From incredible scenery to exciting outdoor activities, there is something for everyone.
For more helpful tips, check out the rest of our site!
Browse by Category