What the best place to work is: design agency vs. product company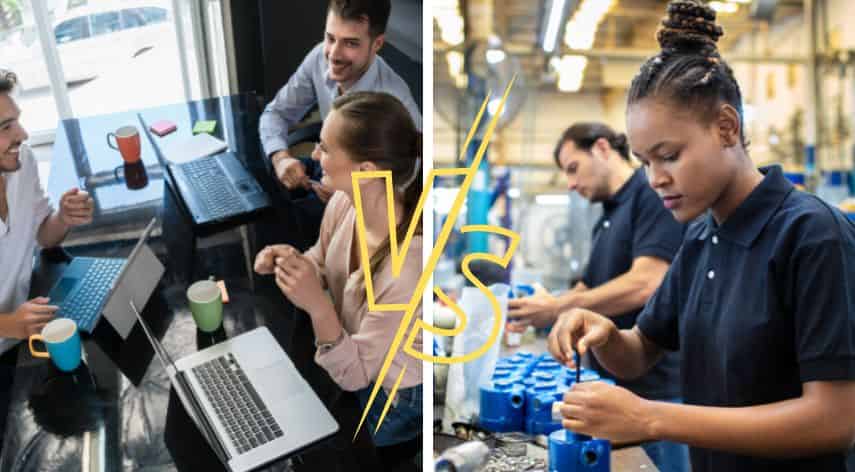 For an experienced product designer who has tried both workspaces, the differences between a design agency and a product company are obvious. However, for a junior designer who is just starting their career, the differences may not be so obvious.
Therefore, it is more difficult for them to understand which option suits them best. In this article, we will point out the main differences between working as a full-time designer in a UX design agency San Francisco and working in a product company.
So, here are to your attention 5 differences between the work of designers in agencies and product companies:
Job prospects
The general processes
Team dynamics
Deadlines
Priorities
Job prospects
In an agency, like Dworkz, the type of work you will do often depends on the project and may vary depending on the client. One week you can work on the interface for a mobile application, and the next week you can work on user migration. Projects, teams, and clients are constantly changing.
At the same time, a designer can gain experience very quickly due to the huge number of projects in which he is involved. Often knowledge of a real product or industry is only superficial, because next week you may be working on a new project in a completely different industry or sector. Things are moving fast at the agency, so your portfolio will expand.
Unlike an agency, in a company's design team, things go a little slower. An in-house product designer usually only works on one or two products. So you have time to explore and understand the product or solution from a more holistic perspective.
Usually, within a company, product designers work with the same team of product managers, business analysts, developers, etc. The whole team works towards the same goal and gains in-depth knowledge of the product, as well as the industry in which you all work.
There is a deeper level of understanding of the market and the solution your product offers, so the emphasis is on depth.
Product vs. process
The second key difference that I highlighted between working in an agency and working on a full-time design team is the actual style of work. Having a product, you are constantly working on improving and refining it, compared to an agency where you can work on improving or creating multiple products through an iterative process.
If you work on a design team, you are most likely working on a specific product or service offered by the company. You have the opportunity to become the owner of this product and become its supporter. This can be extremely beneficial as you have a direct impact on the success of your product.
To some extent, you are responsible for the potential growth that your product can achieve. You establish a long-term relationship with a product or service that lasts throughout your stay with that particular company. This can lead you to become an expert in your industry.
When you work for an agency, your job is more focused on helping your client and their product. Your role is less about the long-term success of the product and more about how you can help improve or complete what you've been assigned to do for your client.
Those who work in agencies are passionate about the process of their work and are less connected to the real product.
Team dynamics
The people and teams you work with have a huge impact on both the quality and success of your work. As with any other aspect we consider, there is a difference between design teams in a product company and a design agency.
While the core team you work with at the agency will remain the same, your clients and everyone you interact with outside of the agency are constantly changing. You can work with a client for two weeks to several years.
In a contract role like this, most of the time you will be working directly with people from your client's internal teams. Examples include working with product owners laying out product requirements, developers coding your designs, or, in some cases, collaborating with other designers.
In other cases, you can simply analyze or offer the client options created with your internal team. Whatever the scenario, the teams and people you work with in an agency are constantly changing.
This type of team dynamic has its advantages and disadvantages. One of the benefits is that you have the opportunity to constantly work closely with new people, which is a great way to learn and grow your network. Yet, the downside is that you are always forming new relationships, and this can be problematic for less social or introverted designers.
As we mentioned earlier, the core group of products that you typically work on within a manufacturing company or on your team will be the same people you work with daily.
These teams included cross-functional roles such as product owners, product managers, business analysts, engineers, and even copywriters. Depending on the project, you sometimes work with sales or marketing, but the core team remains the same.
Team meetings
For in-house designers, meetings consist of:
quarterly planning meetings;
The types of meetings in a manufacturing company are very different from meetings in an agency. Sometimes it feels like you spend more time in meetings talking about work than actually doing it. Product companies are called product companies because they know their product inside and out.
Schedules, deadlines, and priorities
As we said earlier, clients in agencies are always changing, and in product companies deadlines are always changing. In a product company, many factors lead to a change in priorities, but almost all of them affect what kind of task a product designer is given.
There may be changes in the market that your company needs to adjust to. Or just a ton of accumulated technical debt that needs to be consolidated. This can lead to an uneven workload for the product designer.
Wrapping it up
Work in a design agency or a product company? The two styles of work have their differences, but neither is better than the other, as Dworkz experts note. It's all about preferences and how you see your career.
These thoughts and observations are based solely on my own experience, so I encourage you to explore both environments on your own to form your own opinion. More experience never hurts in the design world.
Browse by Category