10 eyeglasses trends to follow in 2022 – Queknow
Many people around the globe follow the latest fashion trends. They have an eye out for what models and celebrities are wearing and buy the latest trends. It's their way of fitting in the society and making themselves look modern. 
If you're also one of those fashion-savvy people, you might follow every latest fashion trend to look your best. And if you wear glasses, then you have one more accessory to style. But, whether you like to follow trends or not, eyeglasses for 2022 include both fresh designs and timeless classics. And even those with normal eyesight can try out these styles to make a strong fashion statement in 2022. 
If you're in the market looking for a fresh pair of glasses, we recommend you go for the following styles.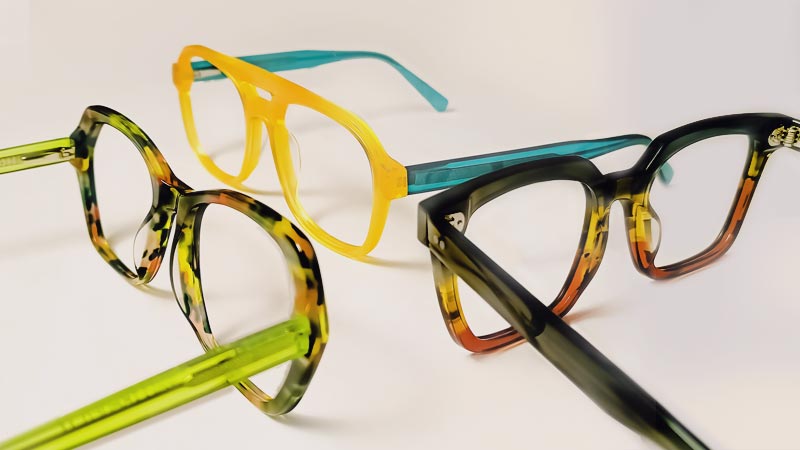 Eyeglasses for 2022
Oversized glasses 
Oversized glasses have been popular in 2021 more than any other frame style. And going by the demand for these glasses, it's safe to conclude that oversized silhouettes will receive the same welcome in 2022 as well. 
So, if you're looking for an eyeglasses trend 2022 that speaks of your bold personality, don't forget to get yourself a pair of oversized glasses. 
Dating back to the 60s and 70s, these glasses take a fresh spin on vintage fashion. Get them in a round silhouette to pack a punch of nostalgia in your frame. 
Clear / transparent glasses
Transparent frames have a way of making you look trendy with their refreshing appeal. Though these glasses are not out and loud, they don't disappoint to impress you with their minimalist charm. 
If you like accessories that are easy to style, then you'll definitely find these glasses in good taste. Anyone can pull off the subtle softness of transparent glasses as they go with anything and everything you wear. 
To help your transparent frames stand out, pair them up with light coloured outfits and minimum makeup. They will brighten up your face and make your beautiful eyes pop. 
Bold & Thick glasses
Bold colours are always the classy and the first choice of people looking to make a strong fashion statement with eyeglasses. For 2022, you can expect to see a lot of bold and solid colours making their way into people's wardrobes. 
From classic black to intense brown, when these colours are coupled with chunky frames, you will get a geek-chic look that's so on-trend. 
If you happen to have an old eyeglass frame belonging to your grandparent, you can wear it to look unique. However, make sure you reglaze glasses first and have your prescription lenses fit into them. 
Marble frames 
Glasses with marble frames have been spotted at different fashion shows this year. So we guess it's safe to say that the trend will follow in the coming year as well. From dark marble frames to light tones, there are so many options out there that you'll be spoiled for choice. 
Choose the frame design that suits your personality and face shape. From bug eyes to butterfly frames, the catchy silhouettes will make you look more attractive where the marble design will add a punch of boldness to your look. 
One more plus point of marble frames is that they give out a tortoiseshell glasses vibe and thus are highly versatile. If you're buying from an online glasses store, you'll get to choose from a wide range of marble frames so you can make a wise decision. 
Double wire-rim glasses
Double wire-rim glasses are going to be the most popular next year. Glasses with double rims look so cool and trendy. They have an oversized silhouette that works best to catch attention. 
People with a broad forehead will benefit from this style as it will make their forehead look small. If the rims are made of thin metal, they'll give you an elegant and unique look. Moreover, the double rims will provide extra support to your glasses and thus are more durable. Double rim glasses are available in a variety of colours and styles. From cool cat-eye to classic aviator, this style will make your features more noticeable especially your eyes. 
Aviator glasses
Aviator is a classic eyewear shape that always gives you the most stylish results. For this reason, the timeless shape is updated and upgraded every year to make them wearable for both men and women. 
In the next year, you'll find aviator glasses with thin metal rims and coloured lenses. You might also get them in a marble frame or ombre shades to keep up with the eyewear trends.  
Aviator glasses are bold but the look is balanced by the curved lens bottoms. Those with a square face shape look the best in aviator glasses. The perfect mix of angles and curves look great against your angular and sharp features. 
Glasses with coloured lenses 
Glasses with coloured lenses are everywhere this season and people are crazy about them. Whatever glasses you prefer, as soon as you fit a pair of coloured lenses in them, they become 10 times cooler. 
Tinted glasses have dual benefits – they correct your vision and protect your eyes from the sun as well. Plus, they look insanely stylish, so we guess they have everything you could ask for in a pair of glasses. 
It's cool to wear tinted glasses indoors. However, you have to make sure that the tint is not dark enough as it will diminish visibility and compromise your vision. If you go for a yellow tint, it will help block blue light when you're working on your laptop, computer or smartphone.  
Wooden glasses 
Wooden frame glasses are new, exotic and they look natural. They don't make a loud fashion statement but they do get all eyes on you. Since these glasses are not that common yet, they give you a unique look that becomes a part of your personality. 
The texture and design of each frame are different. Also, the material is skin-friendly so you can wear these glasses on your face for long hours without any skin irritation or allergy. They give a soft appeal to your appearance and make you look more approachable. 
Multicoloured glasses frames
If you've always worn those boring neutral glasses frames, it's your time to shine bright with multicoloured eyeglass frames. With a mix of different colours, they give an interesting touch to your personality. The different scheme of colours allows you to wear anything colour from your wardrobe. 
Colourful frames have a fan base of their own. These glasses do well on different occasions and look cool. You can match these glasses with your hair colour or eye colour to accentuate your natural features. You can also go for tones that bring out your natural skin tone and help you look your best. 
Slim cat-eye glasses
It's time to take it back to the 60s and embrace vintage fashion. Cat-eye glasses are always in trend but in 2022, you'll find them in narrow silhouettes and vibrant colours. These glasses are perfect to give you a bold and classy look that you can just rock anywhere. 
So, it's your time to look confident and insanely gorgeous in this iconic eyewear shape. Pair them up with your vintage-inspired outfits to bring back nostalgia. Cat-eye glasses with curved edges and modest designs will also make for the perfect accessory to wear to the office. From floral prints to classic tones, these glasses are available in different colour schemes so you always choose the best. 
These are the trends that people will embrace next year. While some of them are more popular than ever this year, others will set the eyewear trends for 2022. If you want to look trendy and fashion-forward, you now know which styles to go for. 
Read More Articles – www.queknow.com
Browse by Category