10 Tips That Will Help You Buy A Bespoke Suit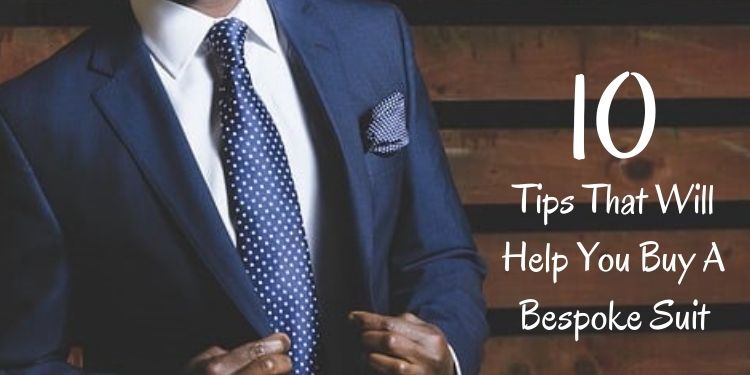 Shopping for groceries is easy as you already know the goods you buy time and over again. Besides, you have your grocery list with you, and most of the items are in your head. So, when you get into the store, navigating the shelves is simple. When you decide to get special products like bespoke suits, you may spend more, but you will get value for what you're buying at the end of the day.
As for shopping for suits, the off-the-peg options are easy buys than the bespoke alternatives. Think of it, you just get into the local suit shop, pick a suit that seems okay, try it on, pay, and you're off with the piece. The bespoke option is not an everyday practice; however, it has more value in the long term. That said, you can purchase a tailored suit with these useful tips;
1. What is your budget?
Bespoke suits will come in a range of prices. And coming by a cheap bespoke suit may not be possible. So, you need to know your budget as it will guide your steps to where you'll get it. Think of how much you are willing to invest into a tailored suit, and find out brands offering suits that fit your budget. Avoid the confusion of brand names; keep your mind on the type of suit you need and make necessary adjustments. One good suit brand is Bespoke Suit London. You can check out our stores.
2. Keep it simple where you're not sure
Are you buying a bespoke suit for the first time? Go for classic suit colours such as grey or navy blue. They are good attires for many events, and because they are versatile suitings, they can be worn as separates if necessary.
3. Keep it trim
Your suit should not restrict movement in any way – maintain a slim, elegant fit where you can. Clean lines, ease of motion, and a snug fit should be top of mind when getting that suit. Your comfort while wearing your suit is what will boost your self-confidence. This is the selling point of most attires.
4. Choose fabrics wisely
If you need a very versatile suit, you should go for lightweight worsted wool fabrics. This can be worn throughout the year. For the cold months, your suit fabric choice should be very thick, insulating flannels, wool or tweed. When it's summer, choose fabrics that are breathable and fascinating like linen, cotton or silk-blends; these maintain a cool body temperature even when it's hot.
5. Button up
It makes perfect sense to buy a suit with a two-button on the jacket. As for three-button jackets, they are not considered trendy. If the occasion is highly formal, then a one-button suit jacket should be your go-to.
6. Lapels
The way your jacket looks is affected by its lapel design. The notch lapels don't disappoint, and peak lapels look extravagant. Keep your lapel slim in width if you desire a contemporary appearance. Where you want to look bold, go for lapels with wider widths.
7. Trouser break
Here, your personal choice matters. The full break is mostly preferred by the traditional suit wearers, where the rear hem of the trouser is in contact with the beginning of the shoe sole. But it causes bunching of the material. If you love to look fashionable, choose minimal or zero breaks. A cleaner outline is achieved with this type of break.
8. Shoulders
Embedded pads at the suit's shoulders will give a feeling of power – this works for boardroom meetings. During summer, you should pick suits having minimal to zero paddings. You will be more comfortable and able to move with this option.
9. Understand your body type
Your physique influences the kind of suit you should buy. For a tall and slim body type, don't buy an overly fitting suit. Throw in a little flow in the material – this would make you look more prominent. For short men, slim trousers with a little break will make sense as it gives the illusion of tallness. If you have a muscular body, a suit with a padded shoulder or cropped cuts is not ideal for you.
10.The details have everything
A wide range of details are available from which you can choose if you opt to get a tailored suit. This can refine your suit. You can choose vent, stitching, the colour of buttons, linings and more. Where you are not sure, feel free to ask your tailor.
With these tips, you're on your way to grabbing the best tailored made suit you can imagine. We offer fine quality men's suits. For more information on Bespoke Suits London, click here.
Browse by Category