Benefits of Tractors In India – Make Your Farm More Fertile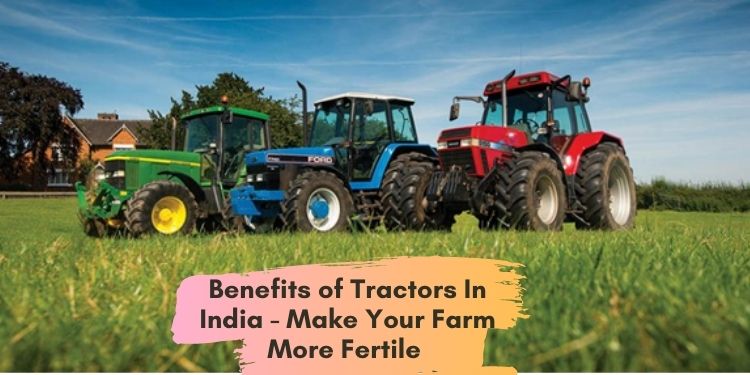 Tractors are widely used agricultural machines, which gives the agriculture sector a new dimension. Nowadays, we can't imagine agriculture without tractors. We know that most of the work of agriculture done with manual labour in ancient times, or we can say hand. Whether it's a big farm or a small farm, every farming operation is performed with the help of human labour, resulting in low production, farm low fertile and extra effort. After seeing this helplessness of farmers, technical and automobile experts invent tractors. The first tractor was invented in 1892 by John Froelich in Clayton County, Iowa, US, as the first gasoline/petrol-powered tractor.
Since its establishment, it has taken the agriculture sector to heights. It provides work efficiency, smoothness and, most importantly, saves a lot of time and makes farms more fertile. Where earlier the work which used to take a whole day to do, the same work is now completed in some hours with the help of a tractor. Similarly, many farming works have been completed because of tractors, that too without any extra effort and time. Along with this, tractors also save a lot of money, firstly they are available at a lower price range, and secondly, they save a lot of money and third good earning. Similarly, many benefits are hidden in this remarkable invention.
In the tractor market, various tractor brand manufacturers are available, making tractors with advanced technology such as Vst Shakti tractor, Belarus tractor and many more. With time the technology is developing more, and all the tractor manufacturers understand this. That's why they make tractors with highly developed technology so that the highly developed tractors can work well and become more productive and make the land more fertile.
Top 6 Advantages of Tractors For Farming
Do you want to know about the advantages of tractors?
If you have answered this question, yes, you are at the right place. As here in this blog, we are shown the top 6 benefits of tractors. By knowing about these benefits, you will encourage yourself to buy them. So, let's start the blog!
Budget-Friendly For Farmers
The first advantage on the list is its price range. We all know that affordable prices are typical and a major demand of farmers. So, to complete this demand of farmers, tractor companies offer tractors intending to empower farmers. All the tractor companies have one aim to provide satisfactory work excellence and affordability to the farmers. That's why all the highly advanced tractors are available at a budget-friendly price range. So all farmers, even small and medium farmers, can easily buy them. With the help of tractors, you can readily achieve fertility on the land.
Improve Productivity
The next advantage on the list is to improve productivity. It is the most significant advantage of tractors. High production and output is the main aim of farmers. They do hard work for only high production, and with a tractor, it becomes simple for them. Therefore, the tractor is a guarantee of high productivity. All the tractors are highly advanced to provide work excellence and ten times better productivity.
Durability
The next advantage of the tractor on the list is durability. Tractors are made with highly advanced technology and loaded with innovative features which make them durable. Farmers have to buy tractors only once, and then they work for longer. They are robust and efficient, providing durability in work. All the tractors can easily handle all adverse and unfavourable farming land and conditions due to their durable quality.
Smooth Operating System
The list continues with a smooth operating system. Tractors are highly developed machines that have many operating systems which are smooth and easy to handle. These smooth and effortless operating systems reduce fatigue and extra effort of tractor drivers and provide a relaxed ride. Along with this, tractors come with a proper user manual in which you get detailed information about each system of tractors that help you to understand the tractor's system. So, if you are a new tractor operator, you must follow this user manual to control and drive tractors.
Loaded With Safety Features
The next one on the list is safety features. Safety is an essential factor for farmers. That's why, before launching the tractor, the company tested the tractor in all safety standards. All the systems and brakes of the tractor are properly tested then the tractor will launch in the market. And all the tractor brands follow this process for farmers and driver's safety.
Versatility
The next benefit on the list is versatility. All tractors are versatile in nature. They can efficiently perform all the farming options and also handle all the rough and rugged fields. These are multi talented machines as they perform all farming applications, whether planting, land preparation or harvesting. And also do loading and unloading. Along with this, they can easily attach all the farming equipment to perform different tasks.
These are special qualities and benefits of the tractors, proving they are perfect machines to handle farming applications and a good investment for farmers. To read more like this blog, stay tuned with us.
Browse by Category