How to Choose the Best Website Builder to Create A Perfect Website?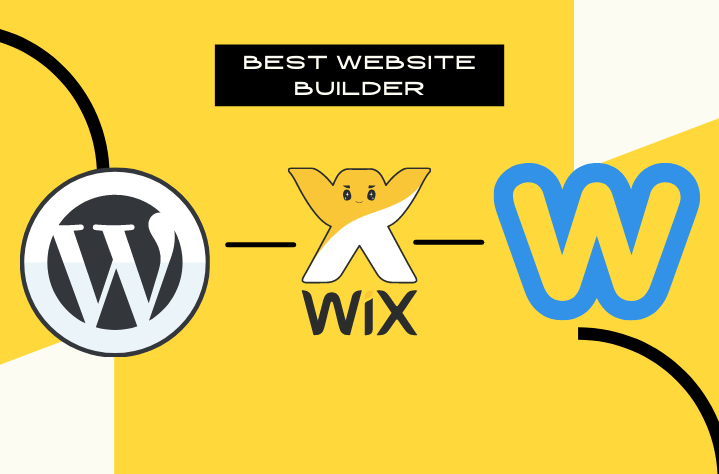 The modern world is evolving rapidly and credit can be given to the internet. From our everyday lives to professional environments, everything is getting digitized at the moment. Therefore, the number of websites used in almost every sector including entertainment, defense, gaming, news, etc is increasing.
Now, with the overwhelming growth in the number of websites that we are witnessing today, service providers known as website builders are increasing as well. So, picking one perfect website builder that suits your needs might get quite difficult as everyone claims to be the best. Well, to help with the same, we have framed this blog. Keep reading until the end of this is the answer you are looking for!
Elements to consider while shortlisting the best website builder
Your choice of the website builder can vary depending on your needs such as free or paid, SEO or non SEO, type of hosting, etc. Furthermore, we are discussing these elements in detail.
Budget- Before you plan a website, you need to figure out your budget that you can invest into the website building project. For instance, WordPress offers free plans as well but these plans are suitable for beginners who want to have experience in website handling. To target a group of audience and to attract the traffic on the website, free plans are not the ideal choice as they come with limitations such as no- SEO access, capped number of visitors, etc.
Experience- Your experience with website handling also matters. If you have had some experience in coding and website development, you can choose options that provide 100% website designing freedom with the integration of coding elements. However, if you have no coding experience, website builders with options such as drag and drop layout designing are the best as well.
Purpose- The ultimate goal of building a website matters a lot. In other words, if you are building a website to promote your photography business, you need a magazine-style of design. Now, that can be found on website builders such as WordPress, but Weebly will not be useful to you as it is mainly for the e-commerce platforms.
Type of domain- Your preference of domains also decides which website builder is the best for you. For example, Godaddy allows you to buy domain names and hosting both from a single platform. Moreover, you can pick your customized domain name with varying costs. The cost depends on the domain choice itself. Also, you can choose if you want to pick top-level domains such as .com that can function globally, or you want to target region-specific audiences with domains such as .in.
Customer Support- Handling a website can require assistance. Especially in incidents such as hacking. Website builders such as Godaddy and WordPress offer customer support 24×7 for users to assist them with the website management if needed.
Top website builders existing in the market
For a few years, the market has witnessed website builders such as WordPress, Godaddy, and Hostgator among others leading it. Let's have a look at these top website builders and their in-short descriptions to know why they are special.
WordPress- The website builder comes with a huge range of layouts categorized according to the type of content you want to post. For instance, if you want to talk about trends in mobile banking along with a few statistics, WordPress has layouts supporting the drag and drop feature so you can design these statistics and integrate them easily into your website. Moreover, WordPress comes with various plans as per your requirements. You can either sign up for the free hosting or choose the one designed for professionals and individuals with a passion for publishing the content. WordPress also offers plans for e-commerce websites if that suits your requirements.
Hostgator- Hostgator is a website builder where you get multiple types of hostings including WordPress. The platform can provide you shared hosting, dedicated web server, virtual private server, and WordPress hosting among others. Moreover, you can also purchase a customized domain name on the same.Other perks of Hostgator include 24×7 customer support, website security, fast assistance, cheaper packages, multiple plugins, and more. If you are looking for a seamless website building experience, Hostgator can help you with the same. To build the website, you can choose your preferred design layout and add elements with the help of the drag and drop option. Moreover, the website builder provides you the freedom of customizing icons, texts, graphics, and more website elements super easily.
Weebly- If you plan to build an eCommerce website, then Weebly is the perfect choice for you. The website includes designs as per the current and future technology trends that can help you in building a stunning website within minutes. If your goals are clear and you want to target a good number of customers to sell your products, Weebly has a variety of plans that you can pick from. These plans vary according to requirements such as storage size, SEO, number of visitors, etc. The website builder also comes with an option of a customized domain.
Godaddy- Godaddy is one of the leading website builders existing in the market at the moment. The reason behind its great popularity is the features it offers. You can get all your website development needs from a customized domain name to hosting services from Godaddy easily. The entire website building process hardly takes 10 minutes if you have the plan ready. Godaddy's premium plans begin with a cost of $9.99/ month. Moreover, the costliest plan costs $24.99 / month. As per the plan, features such as storage space, numbers of visitors, etc will vary.
In the end, these website builders that we discussed earlier are leading the market at the moment. Therefore, they are reliable and also, worth spending the money on. If you are new in the field and just starting, these website builders can also assist you in every step of the process.
Author Bio:
Jason Camaya loves carrying his camera wherever he goes. When he doesn't click pictures, Jason loves to write, play video games, and procrastinate. He has been writing for the technology vertical for quite sometime now, and as talented as he gets, he is giving tough competition to his fellow writers. He has been featured in many websites and blogs.
Browse by Category