How to Create an Audio Streaming App in 2021?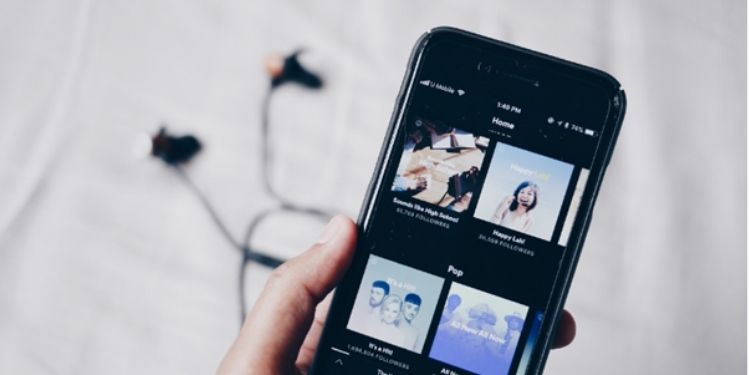 Introduction
The recent pandemic saw growth in the number of audio streaming platform. People are preferring to listen to on-demand music rather than manually downloading each song. The demand for podcasts has also fuelled the growth of audio streaming platforms. Some of the key stats that highlight the growth of audio-on-demand platforms are as follows:
In 2020, the number of discord users increased by 70 million worldwide.
Approximately 100 million people prefer streaming a podcast every month.
In the USA, the number of audio books listened to by people reached 8.1 in 2020.
Are you looking to create an audio streaming app? Read on to know about how to launch your audio streaming platform.
Things to Consider While Developing an Audio Streaming Platform
If you are to build an audio streaming app, there are the key points to consider:
Storage and Streaming Protocol
Before launching an audio streaming platform, you need to think about storing audio tracks. You can use a physical server or a cloud-based server for storing and distributing audio tracks.
You also have to choose a reliable audio streaming platform for your app. A streaming platform will define how audio is transmitted to various devices with the aid of the internet. The most commonly used audio streaming protocols are TCP, UDP, and WebRTC.
Live Audio Streaming or On-demand Streaming
Do you want to stream live podcasts for your audience? You can live stream radio channels or podcasts to engage audiences. You can also use audio streaming software to provide on-demand content to the customers. Via on-demand streaming, listeners can choose from many audio tracks that are already uploaded to the platform.
Streaming App License
You need to obtain the required licenses for streaming audio tracks. You require legal permissions and licenses for both live and on-demand music streaming. Some of the top organizations that provide licenses and permission for live audio streaming are:
Some of the top aggregators/organizations for on-demand music streaming licenses:
Sony Music
Universal Music Group
Distrokid
LANDR
What Are the Types of Audio Streaming Platforms?
Are you looking to build an audio streaming website/app? Well, you should be familiar with types of audio streaming platforms that are as follows:
Podcasts
 A podcast is a series of spoken audio files that are released in the form of episodes. Podcast streaming apps provide offline support that is helpful in cases of countries with poor internet connectivity. You can add a social media sharing feature to your podcast app for increasing customer engagement.
Audiobooks App
Audiobooks app will help users in listening to a pre-recorded version of popular books. Users can start from where they left in an audiobooks app. If you are looking to create an audio streaming website, you can add some audiobooks to attract bookworms. Users can search audiobooks by author name and genre in a reliable app.
Besides audiobooks apps and podcasts, there are various ways an audio streaming platform can be helpful. For example, travel agencies use audio streaming platforms in place of travel guides. One can also find audio streaming apps that stream meditation music.
Must-have Features for an Audio Streaming App
If you are looking to develop an audio streaming app, these are some of the essential features you need to consider:
Personalized User Profile: With a user profile, listeners can save their favourite music tracks. It will also help publishers in providing better recommendations to listeners. With user profiles, you can allow listeners to view their history. You can provide a social media login option to users for connecting their social media account to the streaming platform.
Search Bar: You would want to make an audio streaming website that allows users to search for a music track from the vast music library. Integrate an effective backend database that provides search results based on various keywords. Ideally, users should be able to search by genre, artist, mood, song name, and album.
Content Library: The top audio streaming platforms offer an effective content library that stores songs by genre, album, and artist. You can even offer premade playlists to users based on different moods.
Music Recommendations: You need to track the user behaviour and provide recommendations based on that. The best audio streaming software(s) in the market are using AI algorithms to study the music taste of customers and make recommendations.
Push Notifications: Push notifications help publishers inform their listeners about a new release. You can increase user retention significantly via push notifications for your audio streaming app.
Customizability: You should create music streaming app that offers a personalized experience to users. You can allow users to customize their playlists, recommendations, and music player.
How to Create a Music Streaming Platform Quickly in a Cost-effective Way?
You can contact a white-label music platform provider to launch your music streaming business. A reliable platform provider will let you choose the tech stacks and specifications. It will help you in creating a music streaming platform quickly and economically.
Revenue Models for Audio Streaming Platforms
Before planning for audio streaming server hosting, you should know about the following revenue models:
Advertisement: You can use the freemium model where listeners can access music content for free as long as they are comfortable with advertisements. You can set the frequency and timing of advertisements for your audio on-demand platform.
Subscription: You can charge users for monthly, yearly, or quarterly access to the audio streaming platform. A subscription-based platform will help you in maximizing the profit by broadcasting audio tracks.
Pay-per-use: You can allow users to buy separate audio tracks. It will help you in earning from each track streamed via your platform.
Conclusion
You can leverage the benefits of an audio streaming solution for your organization/business. Make sure you choose a white-label platform provider that lets you build your audio streaming brand from scratch. You can build your audio streaming platform quickly via a platform provider as compared to in-house development. Launch your audio streaming platform now!
Browse by Category