11 Ways to Utilize an Interactive Whiteboard For Effective Classroom Teaching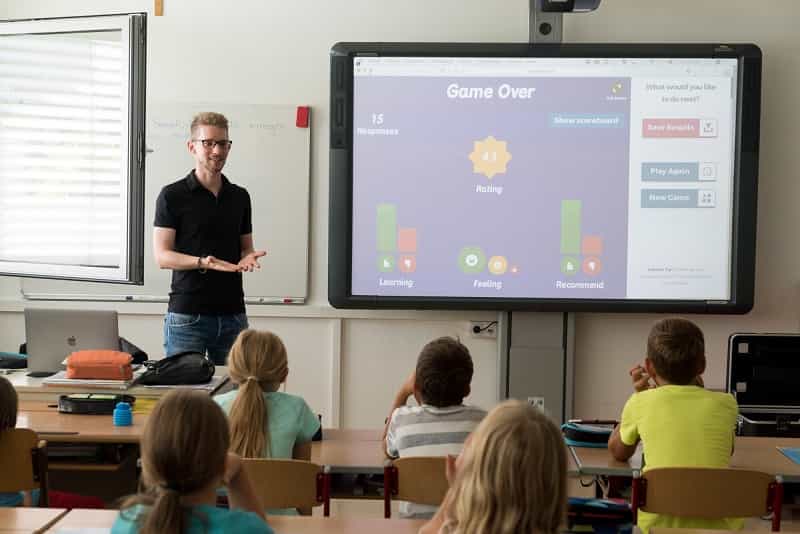 Did you know that the interactive whiteboard has been installed in more than 250,000 classrooms across the United States of America as of 2019? The introduction of the smart classroom interactive whiteboard has changed the way that teachers educate their students due to the versatility and unique learning experiences that they provide.
Making the whiteboard interactive allows students to take learning into their own hands like never before while eliminating the need for projectors and other expensive learning equipment. The options for educating students with a smart board interactive whiteboard are quite literally limitless.
The good news is that you've come to the perfect place to learn about 11 amazing ways in which you can use your interactive whiteboard to teach your students this upcoming school year. Keep reading to learn everything you need to know about getting the most from your wireless interactive whiteboard for the classroom today!
1. Lesson Introductions
One of the best ways to use your interactive whiteboard in your classroom is as a way to introduce lessons at the start of each class session. You can get your students fired up to learn about any subject by playing a video related to the subject on your smartboard. Your students will not only be more engaged with the lesson but they'll have a much better understanding of what to expect.
It allows your students to mentally prepare for the challenge of learning that day. It is up to you to decide if you want to use the technology at your disposal to create your own intro by recording yourself. You can also play a video that relates to the subject matter as a way to get your students primed for learning.
It doesn't matter what the subject is or what the day's lesson is, your interactive whiteboard will provide a great experience. Your students can experience hands-on learning in the classroom each day.
2. Lectures
Lectures are a huge part of the education system from the top all the way down. They're most often associated with college and university courses, but they have a role to play in elementary education as well. Your smart board interactive whiteboard is a great tool to have at your disposal for your lectures.
Your smartboard acts as an advanced projector that is perfect for interactive presentations with PowerPoint and other programs. You can incorporate videos and even draw on the board with markers as a way to draw attention to the most important parts of each presentation.
Having a whiteboard interactive presentation ready to go will make any presentation on any subject exciting and entertaining. It will be easy to keep the audience's attention from start to finish. It is the most flexible way to teach course matter each day.
Don't be afraid to add documents, pictures, and videos to your lecture presentation. Doing this will help students with different learning styles engage with the course content. You can also share your smart classroom interactive whiteboard presentation with students after class.
3. Summarize Lessons
In addition to using your interactive whiteboard for presentations and lectures, it is perfect for summarizing lessons for your students. You can take large sections of important text and cut them down to size so that your students get the baseline knowledge from it.
Start by deciding what the most essential information is. Make sure that the information includes the most important ideas before moving forward with creating your summary. You also need to advise your students to take that information and put it into their own words rather than regurgitating it.
You can use your interactive whiteboard to record these summaries or make them into presentations. Don't forget to use different forms of media when putting together your summary. Everything from clip art to videos is valuable when you're summarizing lessons from your course.
4. Homework Instructions
An interactive whiteboard is a great tool for a number of learning applications. The most common way that educators choose to use their smartboard interactive whiteboards is to go over homework instructions before the end of the class period. Going over the instructions ensures that your students understand the assignment.
You can choose to go over the instructions by recording a video to play on your smartboard for your students. If they have any questions beyond what is covered in your video then you should answer them so that your students understand the assignment.
You can also use the markers supplied with the interactive whiteboard to annotate and draw attention to the most important parts of the instructions. It is easy to share all of this information with students that were absent, which makes your job much easier as a teacher.
Make sure that it is clear where your students should focus their attention in the instructions. Doing this allows for individualized instructions and a better learning environment. It is a big selling point for the interactive whiteboard installations from Classroom365.
5. Provide Feedback
Providing feedback is a vital part of the learning and teaching process for your students. Your smart classroom interactive whiteboard is the perfect tool for giving interactive feedback to your students. You need to incorporate your whiteboard interactive teaching style as often as possible.
Good feedback is key to allowing students to become creative learners. It also spurs exploratory thinking. Those two things combine to create a better performance for your students.
Do your best to combine interactive feedback with positive reinforcement. It is a great way to monitor the learning progress that your students are making throughout the school year. Your interactive whiteboard is a great tool for reviewing documents and work.
You can edit these documents and show your students how they can improve on the next assignment or test. You'll also have a great medium for highlighting important content. Writing down important content that your students need to remember is another great use of your smartboard.
6. Brainstorming
Helping students grow into creative thinkers is important. One of the best ways to encourage creative ideas is through brainstorming exercises. You can set goals and objectives for your students during brainstorming sessions.
It is also your chance to present problems and help your students understand them. Learning to use creative thinking and problem solving is crucial to the foundation of education.
Your smartboard is perfect for providing a collaborative learning experience when combined with cloud capabilities. Students and teachers can work together on the wireless interactive whiteboard for the classroom. You should also look to embed media to add more ideas to the conversation.
Your interactive whiteboard is the perfect medium for letting your students get the creative juices flowing. Make sure that you make the most of this tool in school.
7. Visual Storytelling
Many students in the 21st century are visual learners. It makes sense that your interactive whiteboard is perfect for allowing visual learning techniques in the classroom. Visual learning makes understanding difficult concepts much easier.
You'll find that your students are much more engaged when you use visual storytelling in the classroom with your interactive whiteboard. You can use graphs, infographics, maps, and even drawings to aid the learning process.
It is also a great way to teach your students how to communicate and work together. Your smartboard interactive whiteboard is perfect for allowing your students to tell stories with drawings. Let them build scenes and characters in your classroom with your smartboard.
8. Analyze Learning Texts
Your interactive whiteboard is also a great tool for analyzing texts with students. Teaching reading comprehension is hard no matter what is the grade. Having tools that make it easier is a great way to boost the educational experience.
You can use your smartboard to incorporate reading comprehension into your lessons. It is perfect for creative lessons and activities in your classroom. You can allow students to collaborate or learn on their own with this.
It is also a great resource for finding the keywords in the text. Your interactive whiteboard is the perfect tool for teaching languages and literature. Your students can analyze the text and find the key points.
Your smartboard is also perfect for encouraging students to present their ideas to the class. They'll boost their reading comprehension and their ability to present.
9. Book Reports
Everyone remembers the joy (or dread) of doing book reports in school. Book reports used to get talked about in front of the glass with no visual aids. That all changed thanks to the interactive whiteboard. Putting summaries of books on the smartboard makes it easy for other students to learn what the book is about.
It also allows the students who read that book to better understand the purpose of the book and the lessons within. You can use the interactive whiteboard to discuss these themes with students and help them understand why they are important. You can talk about the setting, the characters, and the plot.
Focus on presenting the key points on the smartboard during class so that it is clear to your students what they should take away from the lesson. Leave the minor details out as they will add clutter to the lesson and make it more confusing.
You can create interactive presentations with your smartboard that include the cover of the book and the key points to take away from it. It is also possible to use the markers to highlight the key points in the text so that your students won't miss them. It is your chance to present different ideas to them that will help them grow as students and people.
10. Sketch Notes
It is possible that the most fun part of an interactive whiteboard is the chance to draw and create sketch notes on it. Your students can use sketch notes as a creative way to express their thoughts and feelings in your classroom. Their ability to use sketch notes on the smartboard will allow them to explore those ideas and take away the key points from the lesson.
It also makes understanding and remembering difficult concepts much easier since they can learn by doing rather than hearing. Your students will love the opportunity to share their thoughts and notes with their classmates.
Start by choosing a topic that you want to cover in your classroom. You can use a pen or a marker to start a thought tree and let your students continue adding to it. You can use different colors to highlight different things during the lesson.
Best of all, your interactive whiteboard will allow you to record the entire exercise. It makes a perfect tool for allowing absent or virtual students to learn no matter the circumstances.
11. Collaborative Learning
Research is showing that collaborative learning is an effective option for teaching students how to work together to find solutions. The COVID-19 pandemic has made collaborative learning more difficult, but your interactive whiteboard is perfect for bringing them together.
Your students can use the smartboard to develop digital literacy while working together with their peers to understand the lesson in class. A shared whiteboard space is the perfect tool for a collaborative learning environment. Your students will have no problem working together on different projects and assignments thanks to the smartboard interactive whiteboard in your classroom.
You can create different projects on the cloud through your whiteboard that virtual students can access and work on. Make sure that you define the goal for your students so there is no confusion.
You'll also need to use your smartboard to invite each student to the shared project. Don't forget to share the link so that everyone can collaborate to complete the project.
Up Your Interactive Whiteboard Game Today
The interactive whiteboard is one of the most important learning tools of the 21st century. It allows students to learn with visuals and hands-on learning. It is also a great tool for collaboration with students that are in-person and those that are learning in a virtual setting.
For more helpful and fun articles that are similar to this one, make sure you check out the rest of our website today!
Browse by Category