Strutting in Christmas Parties in Style with Fashionable Pieces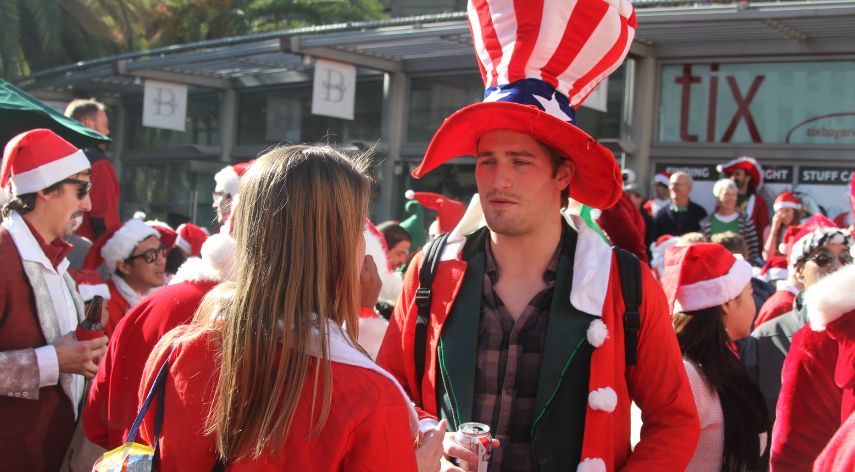 December is fast approaching and the yuletide season with it. Thanks to the vaccine roll-outs worldwide, there are now significantly fewer COVID-19 positive statistics, letting places relax restrictions and allow for intimate gatherings. You indeed brought your A-game on the plate during last year's zoom Christmas parties. However, this time, when you have the chance to attend soirees in person and spend the holidays with your loved ones, you must step up your look and arrive wearing your best outfit.    
Finding the perfect outfit can be a challenge, with many beautiful styles to choose from. You should be willing to try something you haven't done yet to surprise other party-goers. If you're ready to be an absolute head turner for your upcoming Christmas balls, these are some of the best style and costume options you can choose from to be a winner during this season's parties. 
Dazzle with Mesh
Wearing an outfit with a sparkly element is one sure-fire way of arriving in style at the venue. Elegance is a given with dresses designed with a mesh overlay. To enhance the look, you can pair your dress with laced heels and a dainty purse and wear makeup to make your facial features pop.
Wear a Pun
If the theme of the Christmas party your attending is on the fun side, you can choose to be the light of the night by donning on a funny costume. Your go-to fit for this is by selecting clever puns that will surely crack up guests. 
Bring Elegance with Old Hollywood
Vintage and classic themes are also common motifs during the Christmas season. To guarantee that you take home the best costume award, you can wear old Hollywood or the roaring 20s-inspired looks and match that with accessories from a shop that customizes jewelry. You can also enhance the effect with old-timey makeup. 
Comfortable for Christmas Eve
The pajama theme was one of the top concepts during zoom parties last year. If you've already tried this look, you can still rock your nighttime outfit by upgrading your past style. For instance, instead of your regular pajamas, you can wear a nightgown with fur edging and cuffs and complete it with a cute eye mask. 
Preppy Style
The preppy look is undoubtedly a style you'd want to try even when you're not attending parties. However, for the sake of Christmas, you can wear this style and add a touch of the holidays to it. To get the ball rolling, you can cop Ariana Grande's look in her music video for Boyfriend and make it Holiday-ready by having it in an attractive red shade.
Dress as Your Favorite Character
Most holiday party concepts either revolve around luxurious sit-down dinners or casual costume parties. If it's the latter, then you have the liberty to dress as your favorite character. You can wear the best look and be the star this yuletide season by wearing the iconic Mean Girls' Christmas costume.
Something Sparkly
Unlike mesh, wearing sequins takes on a more forward approach if you want to dazzle at parties. Since sequined clothes generally belong to parties, you must take this opportunity to wear one. You can make the sparkly look stylish by wearing it as a dress or as a skirt or top, complemented by a piece in a charming shade. 
Be One Step Ahead
The upcoming year is brimming with stylish fashion. You can be one step ahead in the game by debuting it at the parties you're attending. The styles suitable for formal and casual parties that will dominate the fashion scene next year include bralette tops and pieces with metallic colors. If you still haven't made up your mind about what to wear, you should try these out. 
Embody Christmas
Like pun costumes, Christmas-inspired ones also aim to create a fun and casual atmosphere during holiday parties. Since the concept of the party is to dress hilariously, you can clad yourself in comical costumes, such as a walking Christmas tree, a snowflake, or a giant snowman. 
Upcycle Clothes from Past Parties
Looking for the perfect style for your parties need not be expensive; you can choose to try sustainable fashion by upcycling your old clothes from past events. For example, suppose you have a dress you're sure you won't be wearing anymore. But if the top part keeps you from giving it away, you can alter and match it with a bottom piece to make it look party-ready. 
Sashay Away
Whether you're heading to a luxurious Christmas dinner or attending a casual party with friends and family, it's best to step up your fashion game. By knowing the looks that will suit the season's themes and fit you perfectly, you can be the star of any yuletide event.
To find out more about fancy dress costumes in australia check out Blossom Costumes.
Browse by Category