What Sort of Items Can an Electronics Repair Shop Fix?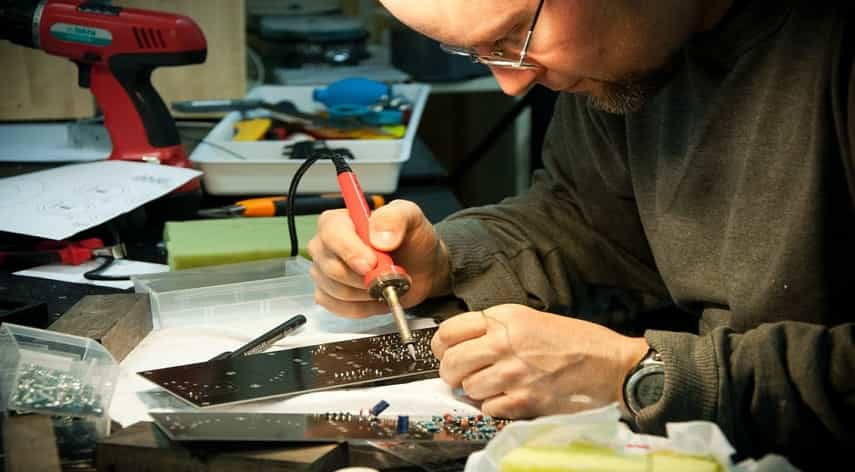 In this day and age, we are flooded with a barrage of electronic hardware that serves multiple functions. From smartwatches to smart washers to robot vacuums. These things serve us well, but just like any electronic piece of equipment, they will fail us at one time or another.
Having professionals repair electrical items is a wise choice. If you're wondering what sort of items can be fixed by an electronics repair shop, you've come to the right place.
Read on to learn about the sorts of things an electronics shop can fix!
Television and Home Entertainment Systems
Repair shops can fix issues with picture quality, sound, and other components. Depending on the shop, experienced technicians can provide services such as the following:
Circuit board replacements and repairs
Screen replacements and repair
Repairing or replacing capacitors or resistors
Diagnosing and repairing power supply issues
There are cases when the part is damaged beyond repair. A technician might be able to source a replacement from electronics manufacturers. They also offer expertise on a range of other items, such as VCRs, DVDs, and Blu-Ray players.
If you are looking for a specific item or component, many of these shops will be familiar with what you are looking for and can help you find it.
Gaming Consoles
A repair shop can figure out what's wrong with Xbox, PlayStation, Switch, and many other gaming consoles and fix them. Hardware, graphics, and connections can all be fixed at repair shops.
The process of figuring out what's wrong with a device involves opening it up, checking the connections, and testing the system with a controller and other devices that work with it.
These repair shops can also fix controllers, headsets, and other gaming accessories that you connect to your gaming console. They can also fix things like scratches on the device that were done by accident. All of these fixes help you get back into the game world.
Audio Equipment
An electronics repair shop can fix a variety of audio equipment, including:
Amplifiers
Speakers
Microphones
CD players and cassette decks
Analog and digital sound mixers
Equalizers
They can rewire audio equipment, figure out what's wrong with sound car systems and fix them, as well as clean and maintain speakers. Repairs can be as easy as swapping out broken parts or as hard as replacing an entire sound system. Usually, shops that fix electronics have a wide range of parts and components to keep your audio equipment working.
Camera Repairs in Electronics Repair Shop
When it comes to cameras, these repair shops can handle broken lenses and cameras that have lost focus. They may be able to restore the camera's software or reprogram the camera to be compatible with different software. Repair shops can fix issues with lenses, shutters, and other camera components.
They can also replace or repair batteries, fix broken controls, and replace broken circuit boards. They may be able to repair cracked or broken screens, replace lenses, and clean dirt and dust out of cameras. Finally, they may be able to fix or replace the camera body itself if needed.
Home Appliances
An electronics repair shop can fix a variety of home appliances, such as microwaves, refrigerators, washing machines, and dryers.
Microwaves can experience difficulties with magnets, fan motors, and circuit boards. Refrigerators can suffer from many different issues that need accurate diagnosis and repair. This may be caused by the compressor, condenser, thermostat or other components.
Washing machines and dryers are susceptible to clogged drains, faulty motors, broken or frayed belts, and sometimes loose or broken hoses or other defective parts.
Smartphones, Tablets, and Laptops
Repair shops can address smartphone repairs by fixing issues with screens, batteries, charging ports, and more. They can offer basic repairs such as replacing or repairing broken parts. They can also do more complex repairs such as damaged batteries, water damage, display or audio problems, port availability, and improved performance.
These shops might also offer laptop repair services. Electronics repair shops can also install new operating systems and provide software troubleshooting and data backup, as well as hardware diagnosis, repair, and replacement. They can provide virus and malware removal, as well as data recovery or security issues.
All of these services offer customers an effective way to protect their devices from becoming outdated or malfunctioning, allowing them to extend the lifespan of their electronic devices. If you are in Carytown, visit fruitfixed.com for your professional gadget repair.
Printers and Other Office Equipment
Repair shops can fix problems with your printer. They can figure out what's wrong and fix it, whether it's because of a broken mechanical or electronic part. This includes fixing the power supply, LCD, fuse, carriage mechanism, and ink cartridges.
They can also reset the printer's memory, install the latest printer software, and help set up the network settings. Most shops offer a full range of services to keep your office equipment running smoothly, such as fixing copiers, fax machines, scanners, and multifunctional devices.
Get Your Electronics Fixed Today!
It is important to note that the exact types of items an electronics repair shop can fix may vary depending on the specific shop's expertise and available resources.
If you choose to fix broken electronic items, you also choose to lessen waste and help the environment. With millions of tons of abandoned electronics every year, e-waste is the waste stream with the fastest rate of growth in the entire globe.
So, if you're looking to repair any of these items, don't hesitate to visit your local electronics repair shop today!
Want to know more about technology and lifestyle? Read on!
Browse by Category